Modern Speaker cabinets
Dunno if you guys have been watching, but bass cabinets are changing.
The same old manufacturers are still cranking out the same old 4x10s and all that, but there IS a cutting edge of bass cabinet out there, and it's not coming from the big names (as usual). Those of us who've carted around 100lb 4x10s, 150 lb 8x10s (plus bigass tube heads, etc.) are now able to get the same performance in a much smaller, lighter, and even more powerful 2x12 or 1x15, thanks to:
1. Very lightweight Neo-based subwoofers sourced from the Pro Audio industry that are capable of high levels of cone excursion (air moving) and extremely smooth reproduction
2. Very lightweight neo-based midrange drivers capable of huge power handling
3. Some very clever crossover design
4. Extremely lightweight cabinets. These are designed for the specific drivers they house and feature very high levels of stiffness (even better than most 3/4" and 1" plywood cabinets) while using lighter materials.
Alex Claber at Barefaced Bass (barefacedbass.com) in the You Kay has been at the front of this for a few years now, and is already in a third generation on his cabinets. One example of this is his new 2x12 (plus midrange plus tweeter) cabinet that weighs in at around 50 lbs but that challenges monster 4x12s and 8x10s for dominance at the rumble end. These cabinets go both lower AND higher in the frequency spectrum, handle some insane amounts of power (up to 1600W on the 2x12) and provide major advancements in dispersion of that sound...
Dave Green offers DIY speakers (freely available .pdf plans) in his fEARful set of designs. The fEARful 15/6/1, for example, has a single 15" Eminence 3015LF bottom-end driver, an 18Sound 6" mid range and a 1" tweeter, will handle up to 900W and weighs in at well under 50 lbs, depending on material used and covering chosen.
Bass players early on appreciated the designs, but even the DIY-ers wanted some more help with the process, so Dave authorized some builders to make cut-sheet kits available. Speakerhardware.com, for example, will send you out a kit of cut-plywood pieces that only need some finish sanding and assembly:
They'll send you anything from plywood cutsheets to an entire kit that includes drivers, pre-built crossovers, hardware (handles, corners, etc.), all the way to the proper glue and even finishing supplies (Duratex looks like tolex but it's applied with a roller, it's tougher and best of all, it's easily repairable).
Some bass players didn't want to mess with the build process at all. So the next thing was to authorize some builders to produce the things and simply ship them out. Thus, there's a network of authorized builders who will build you any of the fEARful designs and ship them to you ready to go out of the box.
But wait, there's more. Green is a bit of a maniac designer, so he's also on generation 2. The new bunch feature some differences in drivers, differences in crossovers (he makes these changes available to the fEARful owners as well), and differences in ergonomics. One of the sweet spots here is the (different series name) fEARless F115, which features the ability to be used as a tilt-back monitor OR used horizontally or vertically OR even put up on a speaker stand, PA style. These are only available fully built through the authorized builders.
This is a 12"-based version:
Last edited by dspellman at Oct 4, 2013,

Join date: Aug 2006
180

IQ
Just a quick correction - fEARful is the DIY series, fEARless is the authorised only series.
Just a quick correction - fEARful is the DIY series, fEARless is the authorised only series.
Oooog. You are correct, sir. I've gone back and edited mine to reflect that (check me again to make sure I've done it completely, will you?), and I thank you. I should know this, since I have a pair of the fEAR (lemme see now...)less F115s. But this was done before my first cup of coffee and....well...I really have no excuse.
These things actually have a pretty flat frequency response and an extremely wide range, so they can be used as PA cabinets in a pinch (and I've been pinched like that). In fact, I'm using mine not only as bass cabinets, but also for modeled guitar (in my case either an old Axe-FX Ultra or a new Pod HD) and for keyboard (Korg Kronos), depending on the project. As a result, I'm dumping a WHOLE lot of gear that's been taking up an expensive storage unit. And the whole rig fits into a Honda FIT.
And I can employ a LOT cuter roadie.
Last edited by dspellman at Oct 4, 2013,

Join date: Aug 2006
180

IQ
All looks good!

I've actually got a fEARful 12/6 that I built myself earlier this year. So far, I'm loving the sheer volume and clarity the cab produces, though I've yet to really test it to it's maximum.

Alex at Barefaced has also released details of his 3rd generation cabinets, which look absolutely ridiculous. A Super Twin or Big Twin 2 might have to be my next main cabinet purchase!
One more thing...
This is by NO means a complete list of lighter-weight neo-based new-design bass cabinets. EAD has some (anyone know what they're doing?), Duke LeJeune has some great designs (his TC 115 is killer with just two drivers) and some of the very high end bass gear is beginning to lean this direction.
Avatar has a TB153 cabinet with some of the same components, but they're still building largely with big thick plywood (it takes more labor and time to build with bracing rather than simply going with thick material), so that cabinet is heavier than it would be if it were done with lighter material and clever internal bracing. (fEARful bracing below)
And there have even been some starts at building with composite materials that produce very stiff cabinets with some eye-popping weights.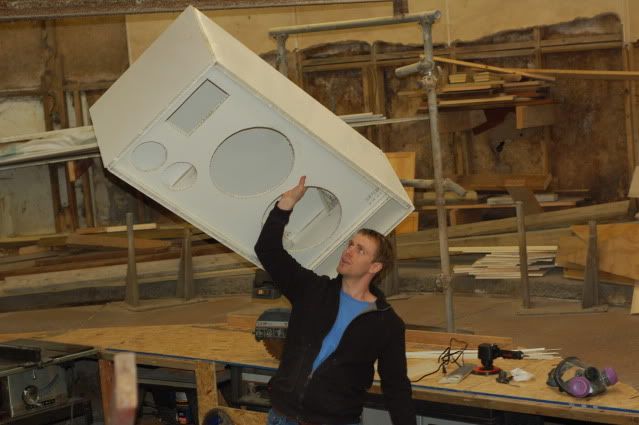 While these have been very successful technically, one builder ended up leaving the business altogether and another cited health issues from working with the materials as his reason for abandoning the process for now.
I think this will likely be the future of bass cabinets, however, and we can look forward to having our girlfriends one-hand our rigs into venues while we watch the guitarists with 4x12s and Marshall tube heads grunting to push those suckers up stairs, etc.
Last edited by dspellman at Oct 4, 2013,