NGD: Now it can be told!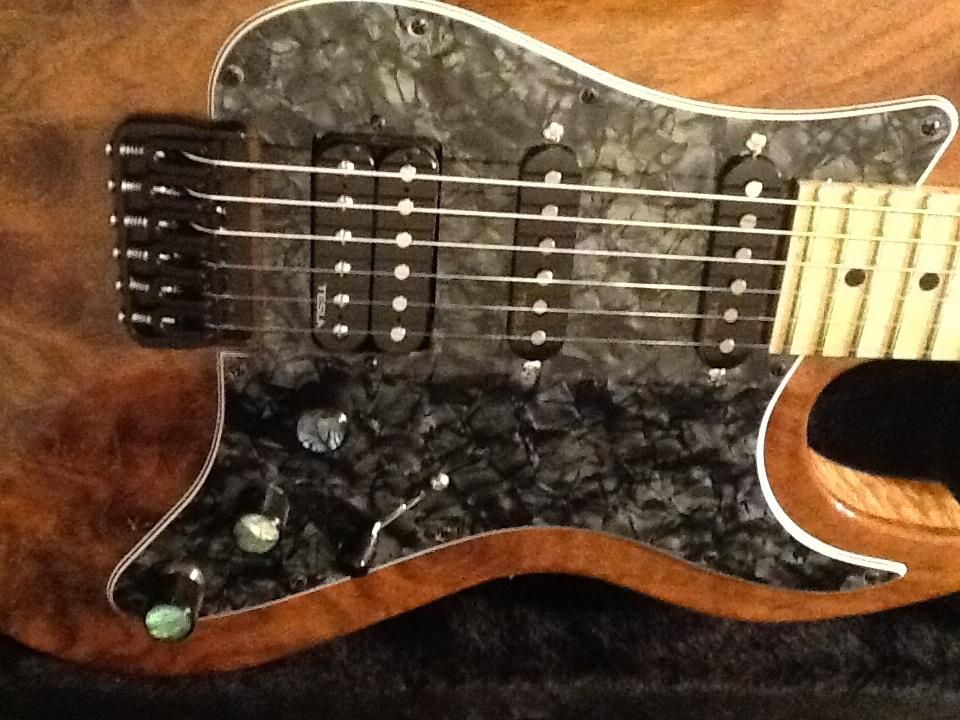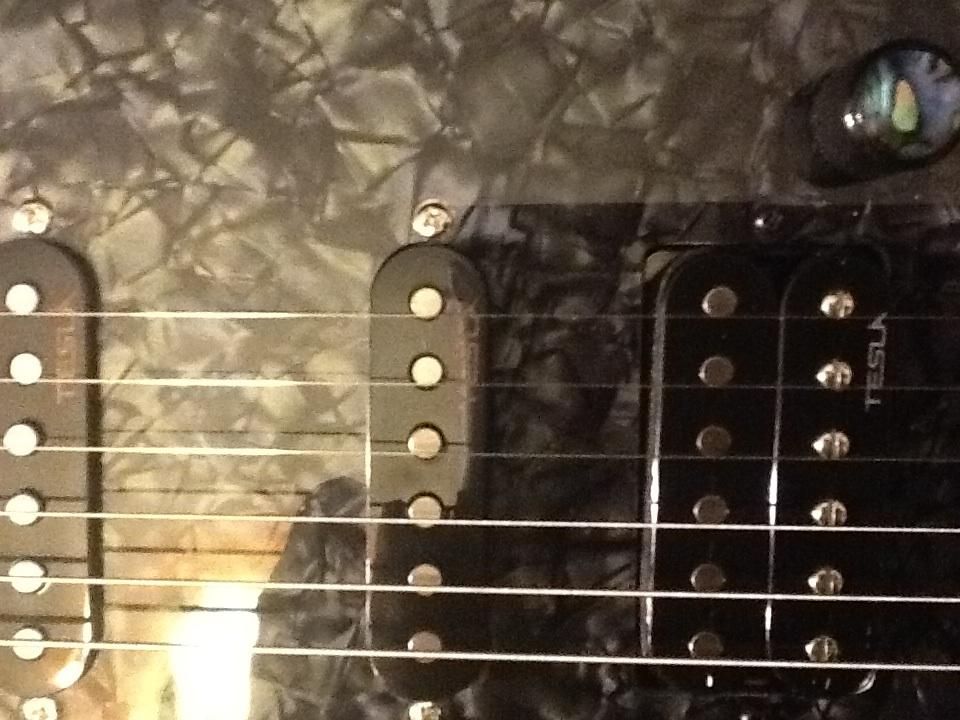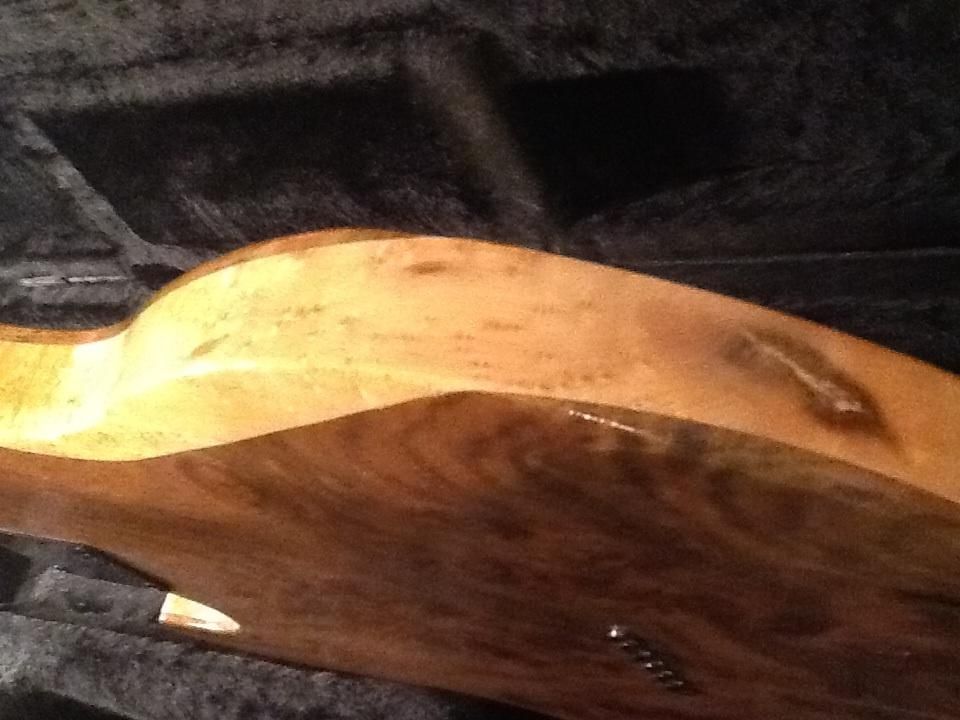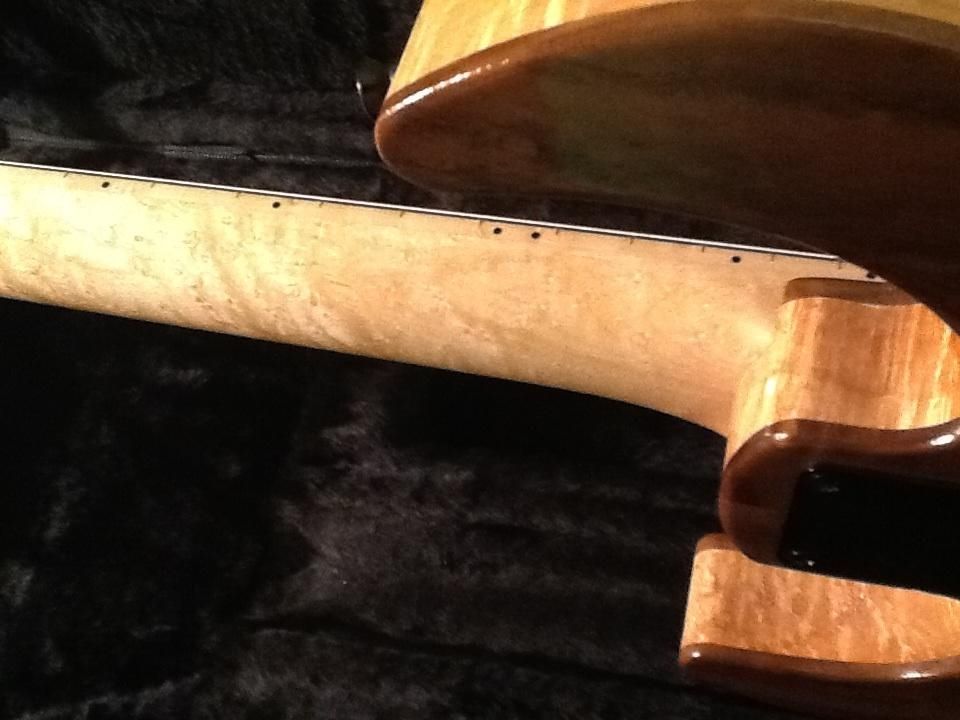 This is my first true custom guitar, a Camelback III from RockBeach guitars or NY. It started with pictures I saw of a Camelback that had been made for another client. I rudely asked how much it cost, and the price quoted me convinced me to give it a go.
Only 2 kinds of wood were used: Claro Walnut and Birdseye Maple. While the is some modest clambering, this is still a slab of wood. Body contouring is modest. Haven't weighed it yet, but it is probably the heaviest guitar I own. The Claro was from a huge slab I picked from Woodnuts, and actually turned out to be big enough to make 2 guitars. So that's what the plan became- the rest of the Claro will be used to make guitar #2, a Telecaster with a bridge HB, a neck P90, and a Bigsby. (Coming in 2014!)
It's a
hardtail
HSS, 25.5" scale, and a bolt on neck. Pickups are a pair of Tesla OPUS-S1 singlecoils in the neck & middle, while the bridge is inhabited by a Tesla VR-Extreme.
Tuning is CGDAEG.
Quoting G. Bogosian, the luthier: "...(t)he tone controls work more like contours than high filters and are much more subtle. Use the controls on the amp for bigger changes. The middle knob is tone contour for the neck pickup and the bottom one which is a push-push switch to change the humbucker from series to parallel (NOT a push-pull) controls the middle pickup contour. The VR-Extreme bridge is balls-to-the-walls straight through only affected by the push-push switch. VERY clean signal."
Here's the funny bit: when I plugged in, the thing sounded awful! I was about to have a major pity party when I realized the tone knob was pegged out all the way to the darkest setting possible. Once I remembered that guitars have controls- you know, the ones he had just pointed out to me- for a reason, I was able to dial in all the sweet tones I was expecting and have been playing it for the past few days.
Happy! Happy! Joy! Joy!
The final price- with case & shipping- was just over $2k. I was about $750 over budget, mainly due to using premium woods for the whole construction.

Join date: Jul 2013
30

IQ
Grats! Nice looking axe!


Join date: Oct 2012
50

IQ
Join date: Apr 2006
190

IQ
Certainly looks nice but that's a big ol' heel on that neck joint, is that comfortable when playing high widdly nonsense?
I don't have particularly big hands overall, and I don't notice it. I have tried out some widdly nonsense above the 12th fret, and it didnt slow me down a bit. Then again, I've never been what one would call a shredder.

Still, I wouldn't be surprised if it didn't affect some players that way.

Join date: Oct 2012
50

IQ
I used to dislike bolt-on necks. Then I realized I almost never play up that high anyway, and I don't go in for the "widdly nonsense." :p

As long as the bolt isn't actively causing me pain (like that giant schecter bolt on the Omen-6), it doesn't seem to affect much.

I suppose I should start looking Carvin Bolts now, haha.

That is some damn nice-looking wood, I can see why you didn't have them put a gloss color finish over it.
great googely moogeley. that thing is friggin awesome. and given that price range, thats borderline carvin status?

must look at site...now. congrats. it looks redic.

BIRDSEYE UNFINISHED NECK? i want!
I've watched Boggs' guitars for years now, pretty much since he first started building them, and that's the most *normal* guitar I've seen him do <G>. You can normally stand his guitars up (two points of contact on the bottoms) and lean them without worrying much about them falling over. He's always done cool woods and unusual pickup combinations. Necks aren't really unfinished, of course, but they feel like it.

The Claro Walnut is gorgeous; great choice. We used to call these kinds of guitars "hippie sandwiches" -- probably some still do, but the term originates in the late '60's. I have a couple of similar guitars, with burl maple where the walnut is, mahogany in between, and a figured maple neck. Boggs has really refined his art, and the prices he charges for a completely hand-built custom guitar in exotic wood make me wonder why I'd ever bother with an upper mid-range production clunker.

Congratulations on this guitar -- it'll always be a one-of-a-kind.

Join date: May 2013
30

IQ
I love the walnut top and back. You don't see that often. Birdseye is my favorite wood ever! I'm sure the wait was worth it. Enjoy that bad boy! I is a remarkable looking guitar.
wow danny, just wow.


Join date: Mar 2011
200

IQ
Beautiful guitar, danny! Congrats, man!
Thanks, all!

Like dspellman says, there actually is a finish on the whole guitar, and it is on the glossy side, but it is very light. It doesn't feel like it was covered in a layer of glass, like some guitars I've handled. And it does have the double-pin design on the lower bout for easy leanin'.

The Camelback design is, as I recall, one of his more recent designs. It's (obviously) a modified Strat idea. He has a few variations on it. This was a CB-III. The I and II have shorter or longer horns, and there may be some other nuances I'm not immediately aware of.

Like I said, because the Claro I bought was so big, we decided to make 2 guitars. The RB-T- his take on the Tele- is something he's just started working with this year. I've seen 1 or 2, and he does a nice job with them, so I'm stoked about the next one! The trick will be coming up with enough design changes so that the 2 RockBeach guitars don't look too much alike.
wow awesome

That's beautiful!
When will you learn to play it?

Congratulations!!!
That's beautiful!

When will you learn to play it?
Probably 2 minutes before the Apocalypse, someone will hear me go "Eureka! I have figured out how to play the guitar!"

Nice!

It's weird clicking on the thread title.
Congrats nice ..how long did u have to Waite for it

Join date: Jan 2013
70

IQ
Congrats nice ..how long did u have to Waite for it
It took a little over a year from start to finish. That is not because Boggs works slowly, but because
I
dictated the pace.
We started off discussing which precise model it would be, than overall aesthetics. It then took me a bit of time to decide which combination of woods I wanted to use to achieve it. Finding the right piece of Claro took me months. Neither that nor the Birseye were in stock, so THAT took time. Heck, the first pice of Claro I selected was actually sold before i could pull the trigger. And certain decisions were changed on the fly as the luthier gathered the materials together and we could compare and revise our opinions.
Then, of course, came...
The Paying!
.
The first big outlay was for the Claro, then the Birdseye. Since neither was "in stock", those were paid for when they were ready. After that, it was kind of a layaway program for the rest.
Last edited by dannyalcatraz at Oct 10, 2013,