NGD: Custom Content
leWild Box appeared!
What does it want? Do I feed it or something?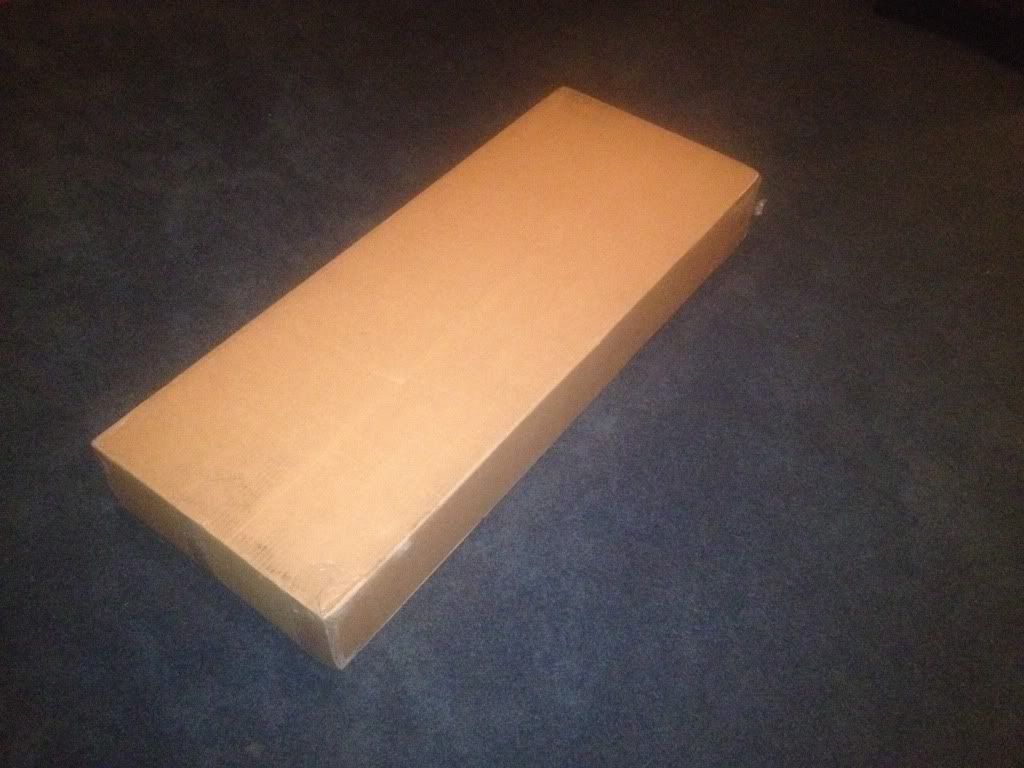 I say it's a piece of logg.
Join date: Oct 2010
460

IQ
It wants you to open it and tell us what it is.
I threw some food at it, but it isn't doing anything.. maybe it's shy?
no TS, you got this all wrong

Confetti?

It's a wedding?!?!

Join date: Feb 2011
310

IQ
I threw some food at it, but it isn't doing anything.. maybe it's shy?
Hurry get rid of it, it's shitting little things all over

Wait a minute, did you get it wet and feed it after midnight?
I go outside for 15 minutes and come back to this. Stupid box shredded newspaper and then shit this thing on my carpet! Boxes these days... no respect.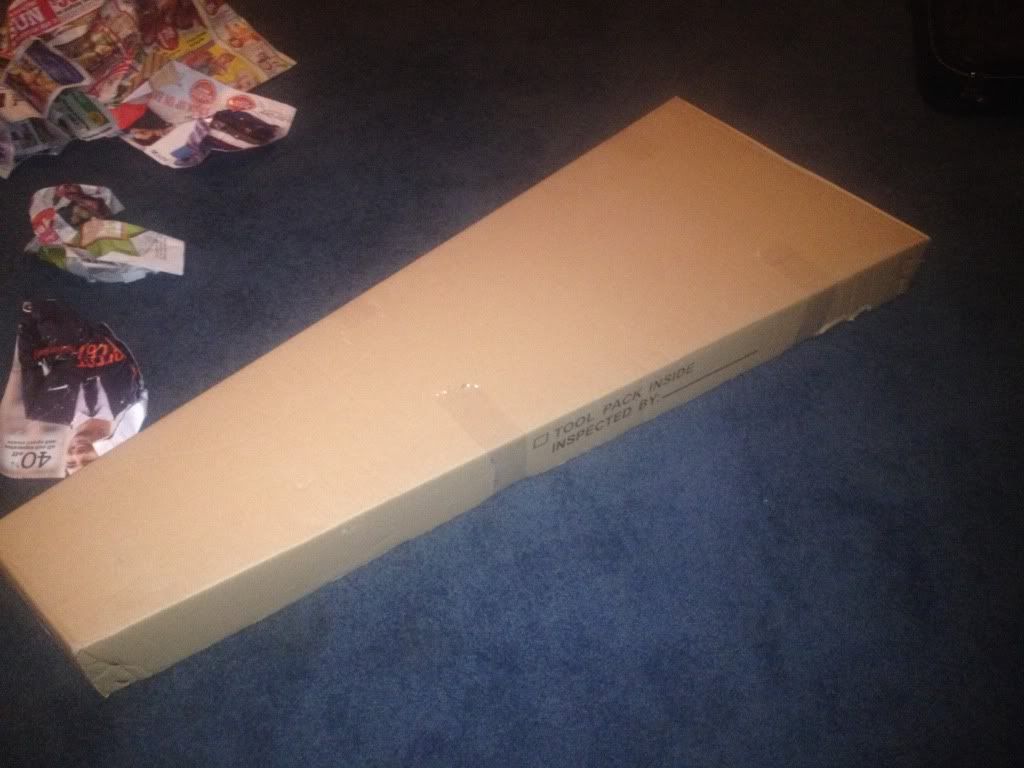 Put a steak on it, man...
Join date: Oct 2010
460

IQ
Maybe the box was shedding its skin.
Metamorphosis....
Man they better not have sent me a cardboard caterpillar


This better not be a strat or something just as common after all the suspense. You're setting a high standard with all the waiting, it better deliver!
I tried to take a picture of the box, and this jumped in the frame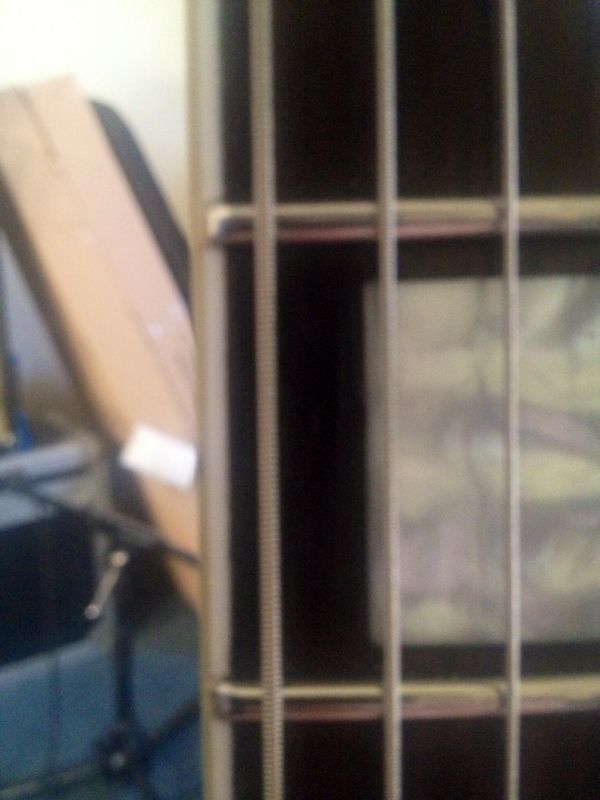 Join date: Dec 2008
350

IQ
It's...it's like Alien...but with wood & metal! RUN AWAY! RUN AWAY!


(Come to think of it, that would make a cool music video...)
Last edited by dannyalcatraz at Oct 9, 2013,

Join date: Sep 2010
140

IQ
Gibson Custom Shop V?
It looks like a Gibson, maybe a LP?

Join date: Dec 2010
10

IQ
Looks like a Les Paul Custom, probably an Epiphone or one of the imitators. In Ebony. Could be a Black Beauty...
Eh, I'm tired of keeping this up

SVK Guitars ELP-C500 Les Paul Custom
24.75" Scale Maple Neck, 60's Profile
22 Fret Indian Rosewood Fretboard
Mahogany Body with Maple Cap
5 ply top and back binding, bound neck and headstock
Mother of Pearl inlay (claims to be actual MOP)
EVJ Alnico 5800 Pickups
2-Way Truss Rod
190NS Fretwire
"No Tarnish" Gold Hardware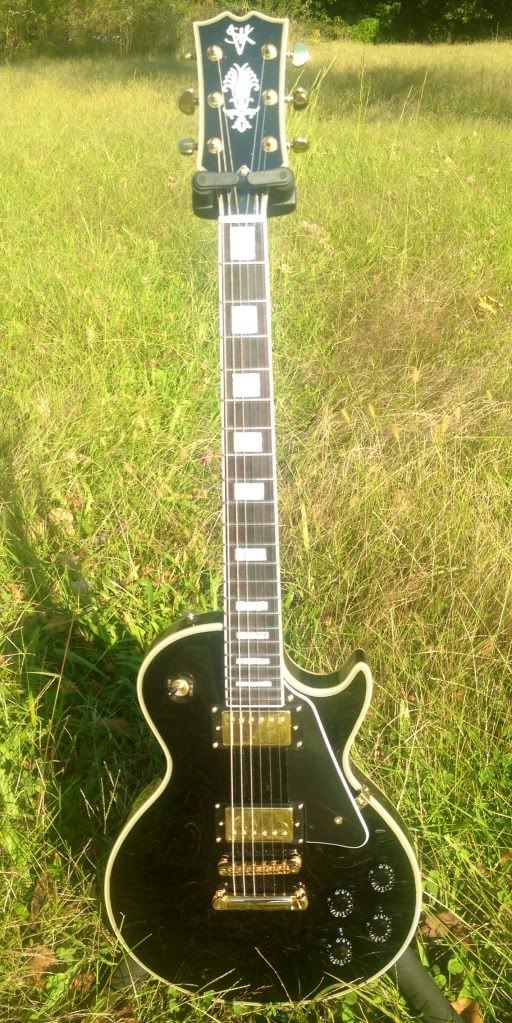 A little backstory... Larry Mitchell (Grammy-winning guitarist who's heavily endorsed by Ibanez) stayed at my place and turned me onto these. The man that was responsible for Ibanez's quality control (Jim Donahue) left the company to found his own called SVK. He was the guy that engineered the method that Ibanez uses to fret and dress their guitars as well. SVK's big selling point is their necks and frets.. just like Ibanez. I'm embarrassed to say out of
all
the guitars I've owned this one has the nicest fretwork without a question.. absolutely perfect out of the box.
Action, Fit & Finish:
All I've done so far is tune it and play it, I haven't adjusted a single thing on it or even removed the plastic film. The action is nice and low, and the neck doesn't need any adjusting. Perfect right out of the box. The finish is done very nicely and I cannot find a single fault in the paint. However, there are a couple VERY minor spots where the binding wasn't masked properly so there's finish on top of it. Again, very minor. The build quality is solid, whenever I hold my ear to the guitar it sounds... like wood! Most of the Epiphone's and Agile's I've done this with have a strange metallic twang, but not this guitar.
Hardware:
Well, it's gold so we'll see how long it stays 'gold'

. I'm curious about their No Tarnish thing, apparently they plate the hardware right there in-house. The tuners are Nameless Wonders, I've done a bunch of awkward bending to attempt to knock them outta tune and they hold up just fine. I usually change out tuners pretty soon on a new guitar, I don't see myself touching these anytime soon.
Electronics:
The pickups aren't really that bad. Definitely useable and they have a very interesting, 'vintage aggressive' snarl through my VTM. I plan on getting a pair of humbucker-sized P-90's in the future, but the stock pickups are just fine. Pots are regular full-size 500K Alphas (not the miserable mini's).
====
If any changes are made to these guitars it's a purely cosmetic and/or personal taste decision, there really aren't any flaws with the stock hardware and electronics. I may change the nut at some point, but I really doubt it.
More pictures and summary will follow in the next post.
Remember I said the frets were fantastic? I'm comparing this against my 2003 Gibson Flying V, 1996 Fender MIJ Jagstang.. 1979 Gibson SG, 1978 Gibson SG Standard, Gibson 50's Tribute Les Paul, various high-end Deans, a pair of LTD EC-1000's and a MH-1000, Ibanez RG1570 Prestige, etc.
Midrange, American, Japanese, vintage, etc. The SVK has excellent fretwork that's on par, if not better. In fact, it's the nicest feeling sub-$1000 Les Paul I've played. And here's the most surprising part:



MADE IN CHINA



These normally sell for around
$500
for this particular model, however Jim Donahue had an order destined for South America and the buyer backed out. So he had the entire shipment of 400 sent to his home in Pennsylvania, and he's selling them at $20ish over cost to get them outta his living room.
Total cost plus shipping:
$260
I cannot think of any guitar these can be compared to in this price range. They are a better built instrument than the 2 Agile 3100's I've played, and definitely outpace Epiphone. With all of that in mind, here's my final conclusion..
Value: 18/10
Fretwork: 9.9/10
Build: 9.5/10
Finish: 9/10
Hardware: 8.5/10
Last edited by Flux'D at Oct 9, 2013,

Join date: Feb 2008
50

IQ
That's great! HNGD!

I admit the top of the headstock isn't to my liking, but that's a personal thing.
Sweet!

PM me the link.

No problem, Ippon

I originally wanted to grab a 335 copy, but he was sold out of them at the stupid cheap price. Then I wanted one of these in white... of course it was sold out. The black looks great in person though, so I'm completely happy

Last edited by Flux'D at Oct 9, 2013,

Join date: Dec 2008
350

IQ
I tried looking up SVK...no luck. Do they have a website or Facebook page? I want to know more.
From what little I've found on the company, it seems they went under from Gibson's pressure. The guitars are floating around out there though. The info I have seems to coincide with what info there is on the MLP forums, and matches what Larry Mitchell told me in person about them.
I'm really, really tempted to buy one of these now, but I dunno if I'm gonna get smacked in the face with import charges in Aus? D:
Shipping still only says $20 so I'm real tempted.
Sitting at check out for a wine red standard LP deciding if it's a good idea

Just ordered a WR standard! Really wanted a custom but they're gone


Join date: Oct 2012
50

IQ
It seems there are quite a few available on ebay.
I wasn't expecting people to buy one based solely on my description

Definitely do some digging around on these and listen to the clips on YouTube
I do want to add this: some of the finer details are a slight miss on mine. The binding has a slight yellow tint added to it and it's not applied evenly around the instrument. For the most part it looks great though, just a couple odd patches where stuf meets. The side dots on the fretboard aren't perfect either, but they're there and get the job done. For $260 though, I feel these are an absolute steal. That's remarkably cheap for something with this nice of playability
For $260 though, I feel these are an absolute steal. That's remarkably cheap for something with this nice of playability
Exactly why I ordered one

Been craving a WR LP for a long time and now I have one on the way

Definitely post pictures and your thoughts when you get yours

EDIT: I'm looking at the wiring now, the pickups in mine are 4 conductor. A set of push pull pots may be in order

Last edited by Flux'D at Oct 10, 2013,

Join date: Oct 2012
50

IQ
Hmm. I may have to get one. We'll see.

Do they sell guitars with ebony fretboards? I can't tell from the photo.