HELP! Trying to fix oldschool Peavey amp
My amp turns on but no sound comes out, no matter what channel or setting I have it on. One day I was playing and it just stopped producing sound. My power tubes stopped lighting up and my pre-amp tubes still come on. I'm pretty sure it had something to do with overheating, so could it be solder overflow on the power tube board? Here's a little .jpg collage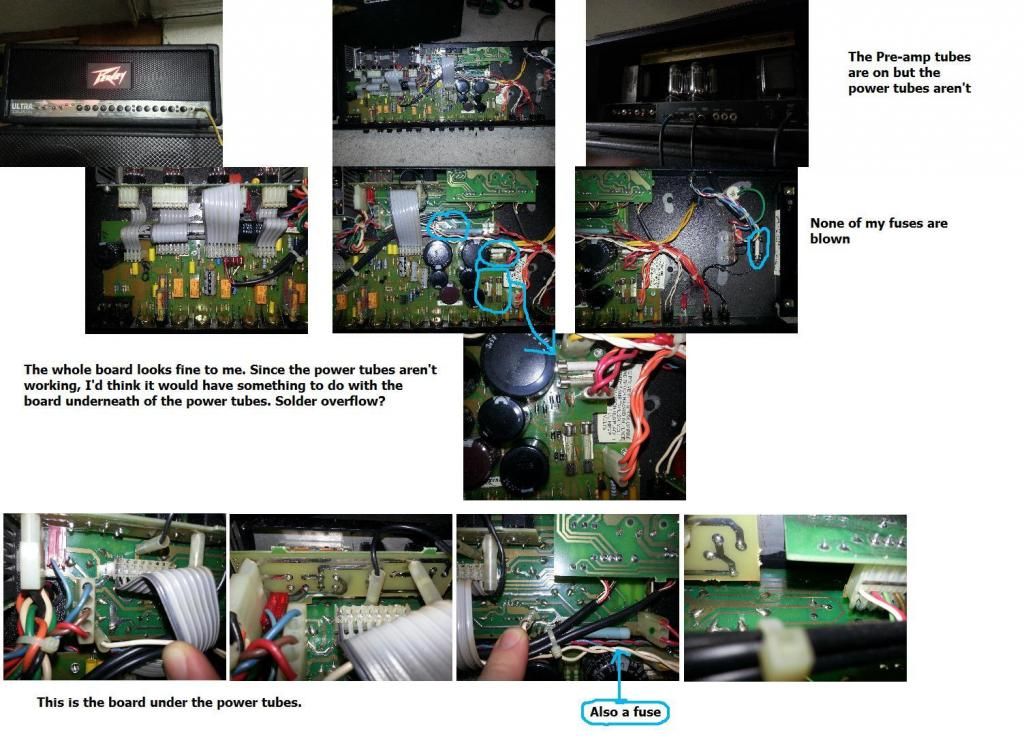 Thanks in advance people!
My power tubes arent glowing and everything else works. Does that tell anyone anything?
Have you tried new power tubes? Have you measured the heater and plate voltages?
I have pre-matched tubes from eurotubes in it and I kept the old power tubes. They had nothing wrong with them when I swapped them and they don't glow either.
I just tried to read my plate voltage and got electrocuted O.o
Wtf does that mean?
It means you should probably take it to an amp tech before you inadvertently kill yourself touching something in there containing a lot more current/voltage than whatever gave you that shock.
I was electrocuted by my bias probe after plugging it into a tube socket with the amp on. There were only preamp tubes in and it was not plugged into a speaker.
Pretty sure that means there IS a current flowing through my power tube sockets?
I've heard that the circuits for these old Peaveys are all connected. Could that mean that the socket I connected it to was the first in the chain and still had electricity flowing to it? That would mean that it probably is a solder problem breaking the circuit.
I have limited experience and little money. Experience is the best way to learn things. If someone is asking a question on here, they probably really don't wanna shell out half the price of their amplifier to fix it.
I wouldnt disagree with that - but amplifiers, especially older tube ones, have enough current stored in the capacitors to kill you if you dont discharge them properly. Safety first - the price of the repair is pennies compared to a hospital bill or the cost of a funeral.

Join date: Feb 2011
310

IQ
Email Peavey and ask for a schematic of your amp.