NPD (PGS Content)
so, i am thrilled with my recent TC delay. for about the 150 range i cant believe how kick butt TC pedals are. I mean, you can send tones through your i phone through your guitar pickups into the pedal. WHAT!?!?! kidding me? Sweet. i bought a TC flashback.....had to follow up with this
Trinity Reverb from PGS: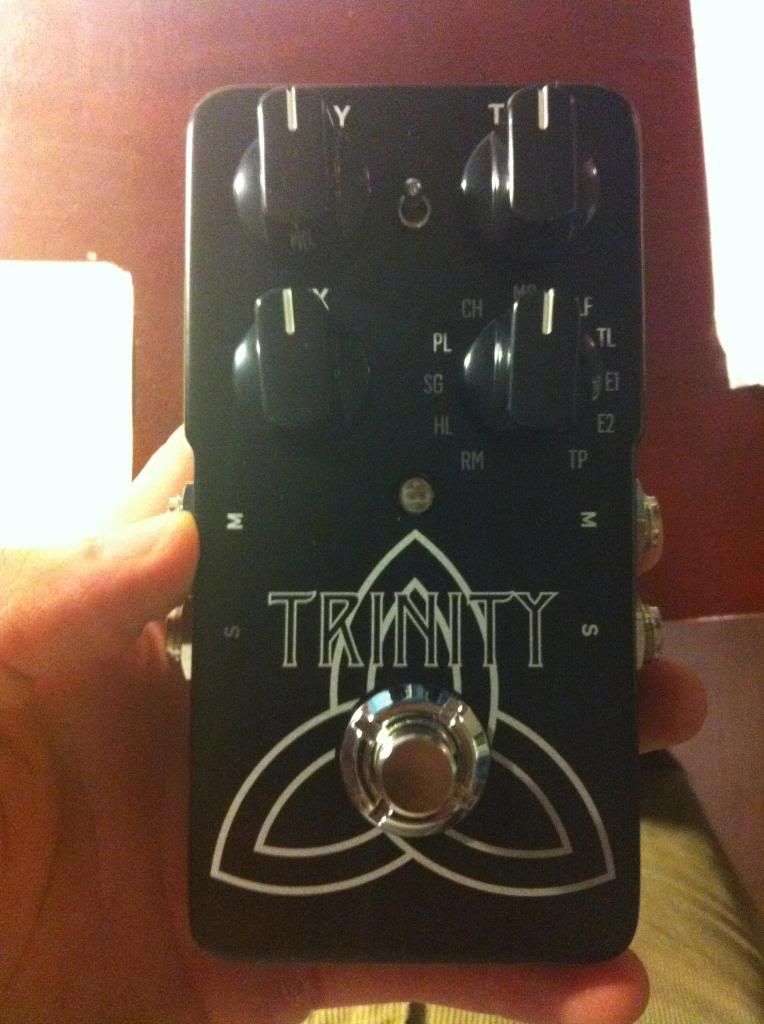 path goes:
guitar>wah>tuner>signa drive>amp loop>tremolo>reverb>delay>boost>end loop
Review to come:
so bascially take all the good things about the TC flashback, and apply it to a reverb. its basically a modelling pedal, but almost every setting to me sounds good.
the PGS version is basically the Hall of Fame without the last 2 settings. i tried it in a shop and found those to be useless anyways. so i decided why not go with a limited edition, cooler looking one, with 2 settings that i may find useful.
the 2 additional E1,E2 settings are SUPER ambient. A church reverb - think of a cavernous big old church and yelling in it. these ethearal ones are like the same thing, but in a cave 3x the size. those are RE-VERB.
the rest are pretty solid, i basically keep it on semi light all the time to add depth to my tone. thicken it up. i hate a dry tone it sounds crappy to me. sterile.
I used to use an analog sounding delay set really low to basically mimic a reverb / echo. now i can use my flashback for other more creative items.
overall solid pedal. for those that have not investigated this tone print through the I-phone madness, its the best pedal tech ive ever seen. awesome.
Last edited by ikey_ at Oct 17, 2013,

Join date: Mar 2009
120

IQ

I was confused because you put Trinity Delay at the top of the post, but then I seen it in your sig and all was well. HNPD! Looks quite versatile. Looking forward to the review.
yea sorry. confused myself.
nice

Jealousy! Thats an ace Reverb pedal.