New Guitar Buyer Needs Help
I've owned two guitars before, a washburn when I was super little, and a gibson sg custom. For whatever reason (rather not discuss lol) I no longer have the sg and am looking for a new guitar to buy between 300-500 dollars. I saw the sticky so here we go.

Budget - $300-$500, preferably somewhere in the middle

FAvorite artists - Jimmy eats world, Dance gavin dance, joy division, Interpol, basically alot of stuff. Looking to play a broad spectrum of music, all those sounds maybe some metal, metalcore stuff.

Pickups - completely unaware (humbuckers make a twang) completely noob.

New if possible, used if something I really like

Location - EAstern long island

Current gear - nothing at the moment

Join date: Sep 2012
90

IQ
How about an Ibanez SA360QM? HSS pickup layout, so you'll be able to play a good variety of music. It's also a pretty neat looking guitar as well.

Your amp is pretty important too though.
Did you like your SG? if so, look at the Gibson SG special or special faded series. Used they start at $350-$450 all the time. Look here for good deals, 30 day return policy also
www.guitarcenter.com/usedgear
I loved my SG, im not sure if I want another one yet though.
Look for a used G&L ASAT, great guitars and $300ish used
Join date: Oct 2009
600

IQ
I hope you're also planning on spending a good chunk on your amp, because an amp is almost more important than the guitar.
As far as an amp goes, what's a pretty penny? I have had line6 & spider reccomended before.
what is you budget for an amp?
For both the amp anguitar I rather not go over 500 tbh maybe a little more.
Given your past enjoyment of an SG, I thought I'd point out this Reverend Daredevil I found a while back- I'm surprised its still available*.
http://elderly.com/vintage/items/30U-17637.htm
* I have had several other used Reverends snatched from my grasp the past month by other online shoppers.
For both the amp anguitar I rather not go over 500 tbh maybe a little more.
$500 for both
combined
or $500
each
?
Look at the G&L ASAT and something like the Peavey Valveking 1x12 would bring you to $500-$600
Last edited by dannyalcatraz at Oct 19, 2013,
500/600 combined, I just want to get into\back into playing as soon as possible.
Where should I look for the g&l at there are just a few used on the guitar center website
OK, that's a different kettle o' fish.

Look for a used axe for no more than $250 and spend the rest of your budget on an amp.

On the guitar, I'd lookd for something without a trem, since at that price, you wouldn't be getting a good one. And a bad trem could make the Little Baby Jesus cry.

For max flexibility, see if you can track down something with a HB or P90 in the bridge and singlecoils in the neck and middle (if it has one) positions. There should be LOTZ of Strat-style and Tele style guitars with that array in your price range. Otherwise, look for paired HBs or P90s.

While I prefer tube amps, your budget wouldn't really support a decent one AND pedals to generate the effects your favorite bands use. So a decent modeling amp is probsbly your best option.
OTOH, the path I went when I first got into electric guitars was using headphones and a portable digital modeler, like the ones pictured below. They cost $99 and up, fit in your guitar case, and let you play without disturbing anyone.
Best of all, they let you spend more money on your guitar while you save up for a decent amp.

Boss Micro-BR 4 track
http://www.guitarcenter.com/-i1169092.gc
Pocket POD
http://www.guitarcenter.com/Line-6-Pocket-POD-Guitar-Multi-Effects-Processor-104391875-i1173933.gc
Tascam GT-R1
http://www.guitarcenter.com/TASCAM-GT-R1-Portable-Guitar-Bass-Recorder-105125306-i1401677.gc
http://www.guitarcenter.com/TASCAM-DR-1-GT-R1-Accessory-Kit-105020473-i1402140.gc
Korg Pandora Mini
http://www.guitarcenter.com/Korg-Pandora-Mini-PXMINI-Guitar-Multi-Effects-Processor-H70754-i1746466.gc
Korg Px4
http://www.guitarcenter.com/Korg-Pandora-PX4D-Guitar-Multi-Effects-Processor-103381554-i1124641.gc
Korg Px5
http://www.guitarcenter.com/Korg-Pandora-PX5D-Guitar-Multi-Effects-Processor-104821715-i1387080.gc
Here is a visual comparison of (left to right) Tascam, my PX-5 and one of my Px4s to my old Aiwa cassette player: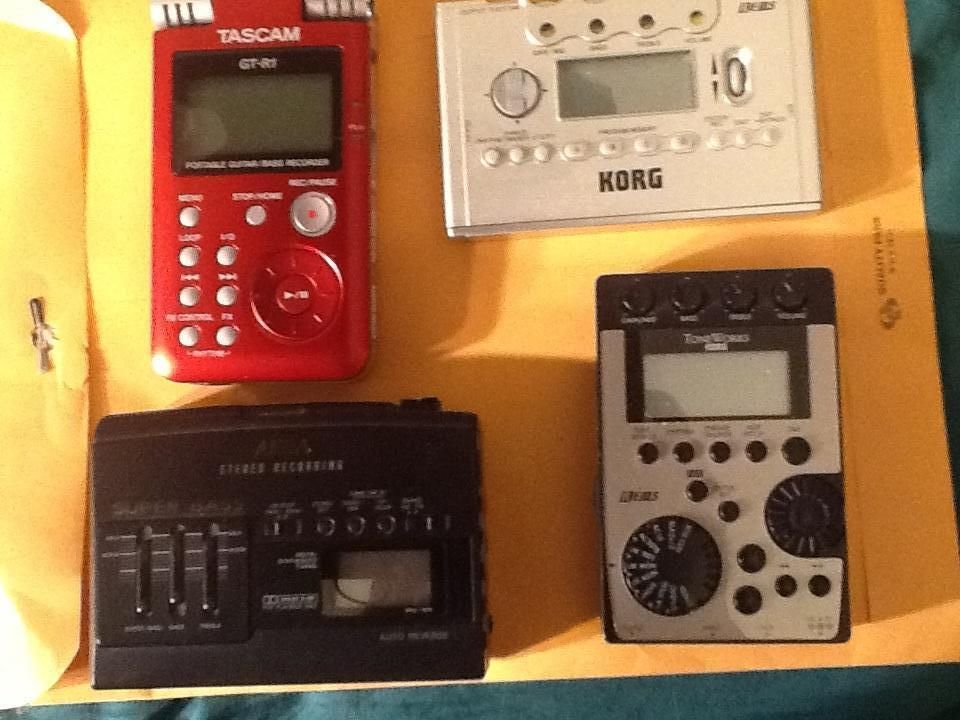 Only the Tascam has decent acoustic recording capacity. All DO have features like tuners, metronomes, drum synthesizers, and digital amp & pedal modeling.
So with decent headphones, you can rock out like you were playing Texas Stadium. And yes, they are all about the size of an old Walkman.
The ones I own: the Tascam has the external mics, a phrase trainer (loop & slow down stuff for practicing), and takes SD cards. Both it and the PX5 can connect directly to your computer via a USB port. The PX4 is discontinued, but it can still be easily found. It is less powerful than the PX5, but, oddly, the PX5 does not have a belt/strap hook.
The ones I don't own: The Line6 PocketPOD is, I believe, the most popular device like this; the Boss might be the most powerful (and priciest); the Pandora Mini is the smallest (its about the size of a stack of business cards), cheapest, and least powerful.
Last edited by dannyalcatraz at Oct 19, 2013,
Where should I look for the g&l at there are just a few used on the guitar center website
That's your best bet
The portable digital modeler sounds good for me, seeing as how I don't live on my own