New lute day (with some history)
My latest addition to my collection of instruments arrived today. It is a xiaoruan, an ancient Chinese lute.
The Ruan dates all the way back to the 3rd century BC in northern China. Whether it is an importation or a Chinese invention is still the subject of hot debate among historians. For several centuries the ruan was actually called the qin pipa until it diverged into two unique instruments. One became the modern Chinese pipa, seen
here
and the other became the ruan, named after Ruanxian, a famous scholar of the Tang dynasty. The instrument was traditionally pentatonic right up until the 1950s when China was newly reformed by the communist party and notions of being "modern" swept through the country, leading musicians to adopt chromatically placed frets.
Here is a depiction of a ruan from the Tang dynasty ~700 A.D.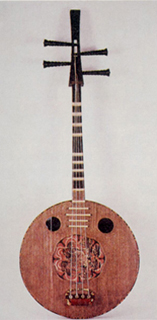 And at last, here is my new baby

I find it quite interesting how little it has changed in construction over the past 1,300 years. A testament to the design perhaps? Today ruans come in several different sizes, from the bass daruan to the gaoyin ruan (literally "high pitch ruan"). My particular ruan is the equivalent of the alto voice and is about the size of a banjo.
Finally, here is a ruan quartet playing the song Little Shepherds. The instruments are, from left to right: xiaoruan, xiaoruan, daruan, zhongruan.
http://www.youtube.com/watch?v=loi46BRneVo
Discuss ancient instruments if you'd like or feel free to ask me questions about this or other ancient music/instruments.