How do I paint a set-neck guitar?
I would like to buy this unfinished guitar that has a set neck. Since it's unfinished I don't have to worry about getting rid of poly or any junk like that but the biggest problem would be the fact the the neck is set. Is there a specific way of taping it so no paint gets on the neck? Like most hollowbody electric guitars, I will NOT be using a solid color. Just wanted to know if it's a tedious task or if I should just get a bolt on. Here's a pic.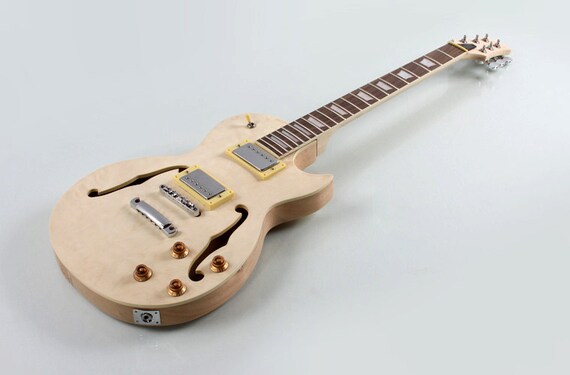 I'd prefer setneck for maximum tones bro.
Last edited by Wontons at Nov 18, 2013,

Join date: Aug 2010
330

IQ
It is the same as any other guitar.
You tape off the top of the fretboard and the side of it during color. then you take it off teh side and only tape off the top of the fretboard, and clearcoat.
Ok I wasn't too sure. Thank you.

Join date: Nov 2013
10

IQ
like this!
Be careful not to use too much paint as it will make the wood resonate slightly differently.
And yes - tape off the neck, or just use soluable paint (be careful of getting it deep in the grain of the wood)
Nitro-cellulose varnish is regarded as industry standard as it is a bit more hardy than other types and it's crystal clear) - anything you're not happy with on the paint that appear under normal light you can x5 for under varnish.
There is paint all over your fretboard.

Join date: May 2011
20

IQ
There is paint all over your fretboard.
Yeah, this. Not sure what you did there, but you definitely didn't tape off the fretboard.
It serves as a pretty good example of what not to do.
That guitar looks sexy, where are you getting it from?