jazzbird firemaster thing build.
jazzmaster? firebird? who knows?
here's the down low-
-Oak?? center block (wood from very old church doors, not sure if it's oak)
-pine bracing for sides
-copper sheeting covering both wings (thinking about artificially patina-ing the copper)
-telecaster neck
-single seymour dunc antiquity II jazzmaster pickup
-behind the bridge lipstick pickup?
-mosrite style bridge
-jazzmaster/jaguar tremolo
-guitarfetish tuners, bone nut.
wiring will be-
killswitch in the form of a heavy toggle switch on the lower horn for the main pickup, volume and a tone switch that will basically be a tone control rolled most of the way off
separate on/off and volume for the overtone pickup (maybe)
progress so far- body glued, cut, neck pocket routed, shoulder contours routed, wing bracing cut (not attached in pic)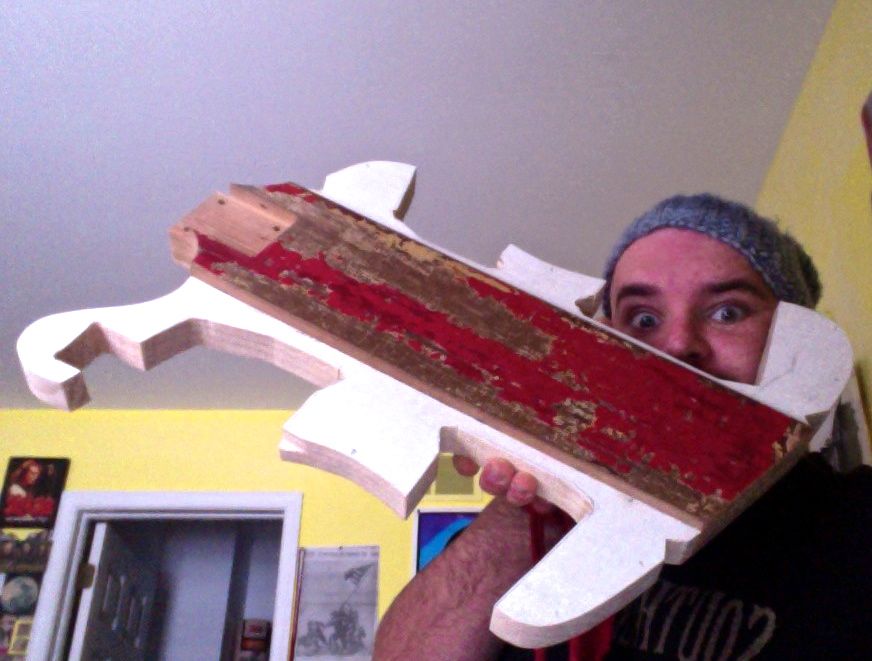 the finish is going to be basically this, just clear coated. also i am not, nor have ever been, a lefty.
This has got my attantion! Really looking forward to seeing it complete.

Pickup behind the bridge? Jazzmaster/firebird body? An instant shoegaze machine perhaps?
thanks! one possible issue- the bridge is fairly tall, and even stringing it with thread with the bridge sitting flush against the body, the action was really high. i'll probably have to shim the neck and possibly recess the bridge, although i worry about that as it would decrease the break angle over the bridge... thoughts?