Getting all new gear, 1500 to spend.
Well, after a long time of financial difficulties I finally have the money to go out and get some professional gear so I can join a band and start playing again. I have 1500 to spend initially, and probably another 1000 within a couple weeks. So I've been thinking about what my best options are as far as guitar / amp / effects combinations. I'm going to buy everything used to get more for my money.

I'm interested in writing alternative music, but I may play some occasional heavier hard rock or metal. For the sake of argument though right now, I would like to get a rig that sounds the best for alternative rock. I have previously owned a 5150, which just wasn't my thing. I played ESP's and a Carvin custom shop. I've been playing for 20 years.

My end goal would be most likely to have a 2 amplifier setup with analog effects pedals and an A/B switch. This would be to avoid fussing over a range of pedals when switching from clean to distorted tones, and also to dial my tones in much more accurately for both.

I really like the Fender American Strat as far as feel, weight, and playability go. I am partial to the single coil pickup arrangement, not so much the HSH or HSS. I understand that for the type of music I want to play the single coil bridge pickup may not have the low end or midrange necessary to get a chunky tone. I don't know if this can be successfully overcome with the right amplifier and effects setup, or if I'd be better off buying one later on for a studio guitar. Even though I'm partial to the strat I'm thinking my best over all option right now for versatility would be a higher end PRS SE.

As well, I've been looking at used Twin Reverbs , at around $500, but I'm not sure I could get a good distortion tone with any pedal for the time being. I need something that is gig ready. So I welcome suggestions for great sounding tube combos or half stacks with smooth clean channels. I don't necessarily think I'll need a half stack as every venue in the area is mic'd and if not is small enough you would never crank your amp even to half volume, plus with transportation to and from practice it would be easier with a combo. I tried a Blackstar out today, and thought it was alright. The clean channel was a bit flat but the distorted channel was pretty close to what I'm looking for.

If I could give any clues as to what sound I'm going for I'd say a mix of like Jimmy Eat World, Smashing Pumpkins, Mark Tremonti, STP, Alice in Chains, etc. My biggest influence musically though is Gilmour and my playing tends to reflect that. I play a lot of melodic leads, and try to fill as much space as I can with rhythms and chords.. So the ability for it to all mesh, but cut through and still hear individual notes is important.

Any advice would be greatly appreciated.
Last edited by dannyalcatraz at Dec 30, 2013,
I play in an alternative rock band and use a Strat (SSS) as my main guitar. Alternative can mean a wide range of things, but I think the tones my band uses is probably in the ballpark of what you're after. The "Black Bourbon Devils" link in my sig will take you to our facebook where you can listen to some tunes. It's worth noting that I used my Ibanez RG on the songs you'll hear there, since our EP was recorded before I got my Strat.

The main components of my setup would be well within your budget constraints.

Guitar: American Special Stratocaster ($800)
I absolutely looooove my American Special Strat. It comes stock with Texas Special pickups, which really sound good for rock and have a nice fat mid-range. The American Specials also have the Greasebucket Tone Circuit and the bottom tone knob is wired to the bridge pickup. This helps you roll off any unwanted high end on the bridge pickup without making your tone muddy. The bridge tone on mine stays locked in at about "7", for reference.

Amp: Jet City JCA20H + 4x12 (Head and matching cab - ~$500)
The Jet City is a great amp for someone who is budget minded. It's single channel, but I've always preferred single channel amps. I believe the newer 22H has two channels, so that's worth looking into if you want a multi-channel amp.
The JC is just a nice, 20 watt rock amp. It's on the brighter side of things, but really sits in the mix well. 3 12ax7's and 2 EL84's. A medium amount of gain on tap. I run mine with the gain a little over 6, 7/5.5/4-5 (B/M/T), and keep the presence fairly low (2-3). This gives me a good sounding light gain tone (with some balls to it) that I can either clean up with the guitar's volume knob or take into gainier territory with ODs.

Pedals: MI Audio Blues Pro + Digitech Bad Monkey ($150-$175 combined cost)
I use these two OD's to boost to my two main dirty tones. I use the Blues Pro to get a nice, ballsy rock tone that has the punch for power chords and the clarity for fuller voicings. The Bad Monkey is the drive for my dirtiest tones. It has more mid-range bite and a tad more compression than the BP, and the Low/High knobs allow me to tailor the tone. I use this for the heaviest rhythm tones I need.
For high gain leads, I'll use both OD's.

Those are the core components of my tone, and I'm incredibly happy with it! I recommend checking out all the gear I've listed, as I think it fits your tonal needs and well as your budget.
Last edited by sjones at Dec 30, 2013,
Bump, 'cause I know there are other good suggestions to be made.
Of you really like SSS guitars, just get a single sized humbucker, Dimarzio are doing some (and other brands too, I'm just more familiar with dimarzio).
You should check carvin guitars. If you are in the USA, you can get one used for less than 1k and they are good guitars. +1 at reverand and godin, great bang for the buck.
Also check G&L guitars, they are IMO, as good as fenders for cheaper.
Also check Axl guitars. They are cheap guitars but some friends of mine got somes and they are great guitars. I would try them at the store first tho because they are quite hit or miss, but as a second guitar, they are cheap and should do the job and will give you more money for a fisrt guitar.

For the amp, used blackstar artisan could be awesome but i think they might be too expensive. +1 for carvin and vox. Also, I don't know them a lot, but some orange amps could do the right job for you.

Hope that helped
Last edited by dannyalcatraz at Dec 31, 2013,
I actually used to own a Carvin Telecaster, it was a pretty nice guitar but the Wilkinsin trem that never stayed in tune and super hot to the point you couldn't always had feedback pickups irritated me. I'm still thinking about buying a single cut with fixed bridge in the future though. I think another mistake is I went for painted neck instead of tung oiled.

Yeah so what I think I'm gonna do is just go with whatever is the nicest single channel tube amp I can find, and an SSS american strat used. If I feel I need to after I dial my tone in I'll look into replacing pickups. I'm pretty excited to get back to playing.
Just like Floyds, I'd imagine the tuning stability of Wilkinsons depend on which model it is. I have one on a Fret-King Super 60HB I bought back in January 2013, and haven't had a single issue with mine.
OTOH, I'm not a whammyholic.
I'm pretty excited to get back to playing.
Amen to that, brother!
Last edited by dannyalcatraz at Jan 1, 2014,

Join date: Feb 2011
310

IQ
Marshall JCM2000 DSL50/100 run $500-$600 used then get a cab. Mesa 4x12 recto cabs are $450ish used, Marshall MF280 are $299-$400
I'm not a fan of the Blackstar HT series

Blackstar is a love it or hate it brand, IMHO. I almost bought a small practice-sized one for at a store closing sale, but didn't. I regret that.

Join date: Jul 2009
80

IQ
I'd look for a 3 channel amp preferably with separate eq for each channel. then you can dial in your tones without pedals at all. I use a Peavey Ultra 212 which has seperate eq for the clean and shared for the crunch and ulta channels. a slight compromise but with an overdrive works pretty well. I'm a strat guy myself.
I've listened to the Jekyl and Hyde pedal quite a bit, and also the rotary simulator you posted I think I'm gonna buy both. I am gonna try to find a smoking deal on an american strat and a twin reverb since they seem to be the most available out of all the amps I've looked at and best value for the money. I've found some in perfect condition for under 500.

The whole thing with wanting separate amplifiers is not that I can't dial my tone in with a dual or triple channel it's that I want to have compression / delay / echo / flange / chorus etc etc on my clean sound in whatever combination with no noise gate so it sustains properly. Then have a tube screamer, overdrive, delay, echo, etc set up for the dirty amp on a whole different set of pedals. That way for any song I it is a one button switch with completely different array of effects.

I don't know how many times I used to have to switch my tube screamer first while still playing a lead or rhythm, delay on before clean channel, then chorus and pickup selector after hitting the clean and same in reverse to get back into distortion on stage. Just a mind **** and unnecessary effort in my opinion if you can afford a smarter set up.

I mean there's always rack mounts and whatever else but I like to keep my gear as simple as possible. Tone comes from my fingers first guitar second amplifier third and effects fourth. The effects are really just there to make the guitar sound more dynamic and full.
Last edited by MooSir2u at Jan 2, 2014,
Perhaps something like a
Carl Martin Octaswitch
would help you out.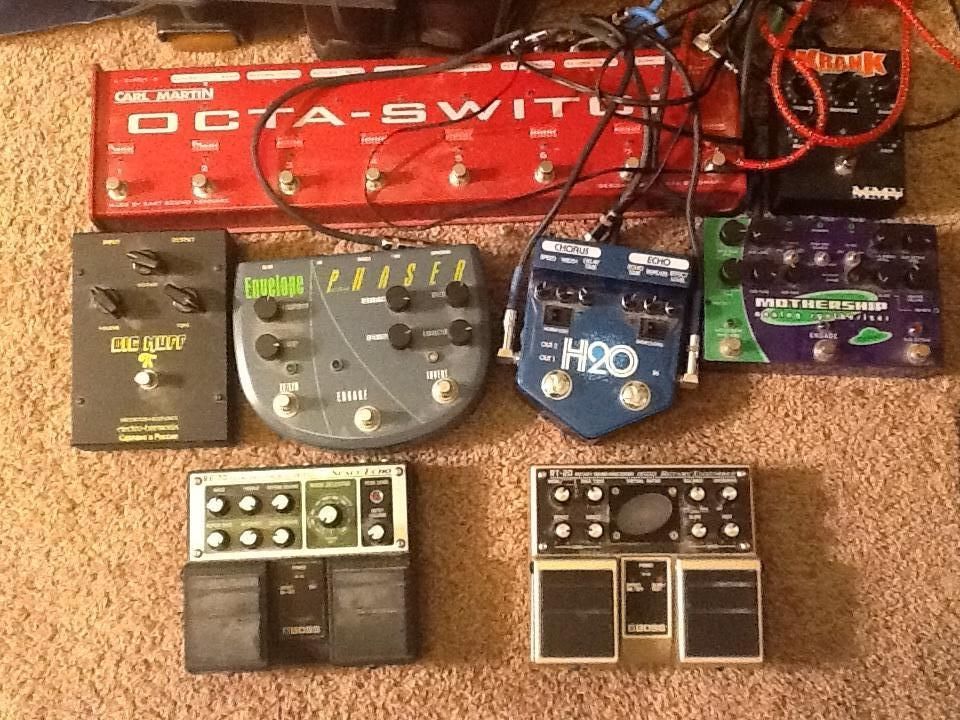 Last edited by dannyalcatraz at Jan 2, 2014,
I walked into guitar center and found some pretty good deals on PRS gear so I decided to go with it for now. I got a Bernie Marsden SE for 399 normally 700 and a 20W PRS tube combo for 499 normally 975. The guitar is nice, and the amp is nice as well, especially for cleans. My only complaint is I can't turn the thing up very loud in my apartment. :/
Last edited by MooSir2u at Jan 9, 2014,
Looks like a sweet rig!


Now for PËDÄLS!!!