my EMGs sound weak and noisy, and other problem
hello, I bought a schecter hellraiser v-1 fr a few years ago and have always had this problem where the bridge pickup would often not work after switching from the neck pickup. sometimes when I switch pickups, the bridge pup would go to about 10% output. this is random.
another thing that happens with this guitar is that it sounds awefully weak when it works. as comparison, I have my rg321 with high output passives and have the gain on my amp at around 9oc. it sounds very fluid and gainy. with the schecter on same settings, it sounds just weak. like I cant hit the strings hard enough. even when I raise the gain to 3oc, it still sounds weak. they are also alot noisier on the same settings.
The amp I am using is a soldano based tube preamp that I built. the battery is brand new and marks 8.9V. the pickups are pretty close to the strings, though Ive experimented with different heights to no improvement. I have a feeling the problem lies with schecters wiring. Its quite scary to open the electronics cavity: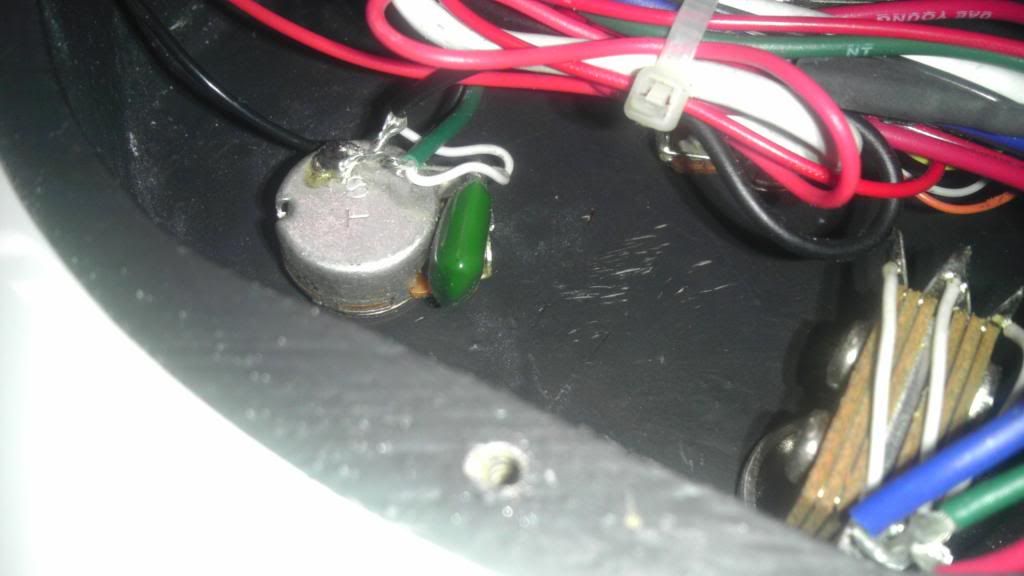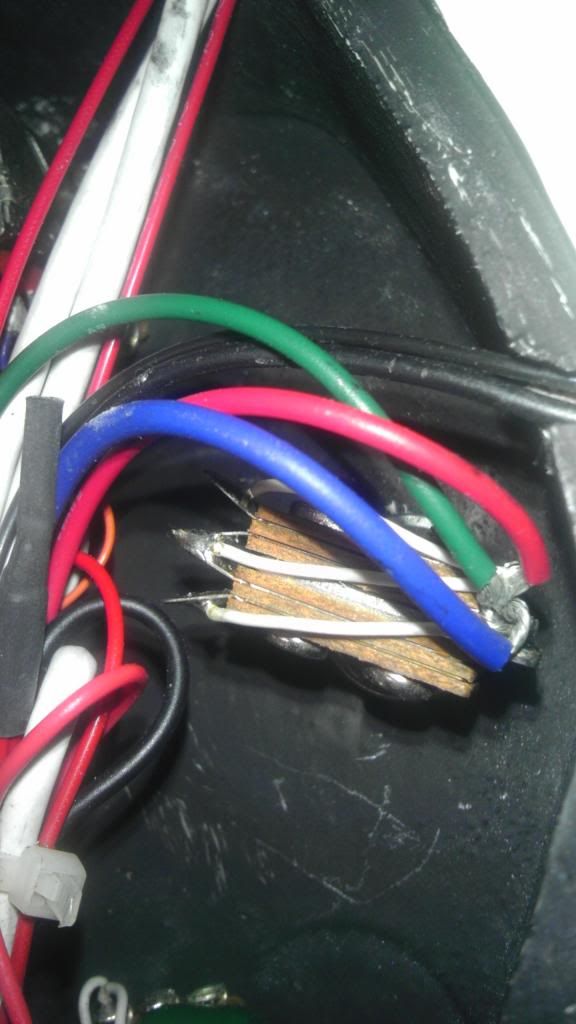 I think cleaning that up would help out with the with the noise and output problems, but Im not sure if thats the real problem. also have no clue why the bridge pickup fails randomly. any ideas?
thanks

Join date: Aug 2010
320

IQ
It isnt the pickup itself. It is probably the switch.
Like explorerbuilder said, good chance it's the switch. Get a piece of wire and try to jumper across the switch terminals (I'm assuming your last picture is the selector switch). Get it in a "bad" state first, then try to bypass around the switch. You can probably just jam a screwdriver across the terminals.

Note that touching the wires won't cause you a real problem, but it will likely make a lot of loud scratchy sounds in the output - so don't do that experiment with the amp turned up loud. If that restores the volume, then get a new switch.

Be sure to pick the correct switch terminals. If you pick the opposite ones, you'll end up adding in the other pickup (which will make it a little louder).
Yeah, those switches rely totally on the springy-ness of the leaves to operate properly and they wear out fast. Their open construction also means the contacts oxidize faster. On "better-quality" switches that shouldn't be much of a problem as the contacts are made of a silver alloy whose oxidation is almost as conductive as unoxidized contacts. Cheaper switches may or may not be made of the same material.

Anyway the switch contacts in my Vex NV were intermittent and black with oxidation but it rubbed off like new with just a cotton rag (NEVER EVER file down switch contacts) and bending the leaves inward a tiny bit tightened up the switch action and cured the intermittency. Now it feels and acts like new.
Last edited by Invader Jim at Jan 10, 2014,
yes, I looked at the switch and noticed that while switching, one of the springy contacts didnt move as much as the other. I pushed the contact inward a tad and the problem stopped. thanks for all the help dudes.

now I have another question that is more out of curiosity regarding driving an amp. as I tested the guitar with my preamp and did side by side comparisons with the other guitar, I noticed that the volume and breakup is similar in both guitars. probably less on the emg guitar(though this may be because its a much bassier pickup than the INF4 on the ibanez).

Im supposing that the INF4 pickup has like 500mV output and the EMG has around 1.5V output. I always supposed that the higher output on the EMG would drive the amp harder,as to say, higher distortion at lower gain settings. but im not getting that. People tend to say you cant get a clean tone by backing off volume, but I get a clean tone just fine.

Im wondering if either the EMG I have is a dud(which I dont mind because it doesnt sound all that bad). would the output is more similar to passives than the rumored 1.5V? and that if more voltage in the input = more voltage in the output of a preamp? my USB interface seems to clip at the same setting with both guitars.
Where did you get those figures? I would imagine that EMG would make their pickup outputs compatible with that of a typical passive humbucker seeing as how basically all guitar amps and pedals are designed for passive pickups.

The magnets in an EMG are very weak compared to passive pickups so to get the highest output you have to put the pickup as close to the strings as possible.

As for what other people say, everyone's rig is different so you can't really use that as a data point.
I don't know - that 3-4.5V sounds high to me, but if it's active with a 9V battery, I suppose you could get that. A passive pickup may droop the output if the input impedance of the first load isn't extremely high.

You're thinking on the bigger drive pickup driving a preamp harder and breaking up harder makes sense. You might get a volt meter or o-scope from a friend and measure (try to measure it with and without a load on the cable if you can). If your ears are telling you they break up the same, then their levels may not be that different. Do you have the pickups closer to the strings on one guitar vs. the other? I doubt this is it, but you could do the comparison with a 12th fret harmonic so that you remove the affect of other harmonics contributing energy.
I wonder if when the EMG spec sheet lists their output at ~4v they are talking about the AC plus some DC offset? The first thing a guitar signal sees when plugged into a pedal or amp is a series capacitor which will remove any DC offset. FWIW, I used to have an EMG 81 (before all this solderless crap) and its output was comparable to any of my passive humbuckers. I never saw why people said EMGs had really high output.

Anyway, datasheets tend to list things at criteria that, while not too far from typical operating conditions, tend to portray the thing in the best possible light. An example is the slew rate listing for op-amps. Op-amp slew rates are always listed for the device at a certain single sine wave frequency, a certain supply voltage, and operating at unity gain but, for us audio guys at least, op-amps are not usually used at unity-gain or with a single sine wave input.
Last edited by Invader Jim at Jan 11, 2014,