New (old) amp day !
So yesterday , after an 8 hour drive back and forth , I picked up a Fender Silverface 76 Twin Reverb.
I played it for a little while and decided to take it with me home.
It played really well, and sounded great!
Though, I'm gonna take it to a technician to take a look at it.
New tubes are required, and I would like to see the amp taken apart so I can clean everything... there's some dirt behind the controls and stuff like that.
I never played a Twin with the Orange JBL speakers, but a lot of people told me they sound much better than most stock speakers in the Twins, so I jumped on that one.
They also keep their value if I in the future would end up selling it.
I paid 800€ (1075 $) for it , while the guy ( who was super friendly and helpful, so thanks again, in case he is on this board also) asked 1000€ for it.
Another one went for 700€ (950$) but with the regular speakers.
While the reissues go new for around 1575€ new, and 1200€ used ... so I still ended up saving some money.
Can't wait to play it some more, but first I want the amp to be in "perfect" condition.
Also really looking forward to buy me some fuzz and OD pedals to throw in before the amp.
I keep the mastervolume at 10 , and don't use the push/pull knob.
Don't need, or don't even want to try to get a break up from the amp.
Gonna use it as a clean platform to built my pedals around it.
Btw, I might end up searching for new metal plates that aren't harmed by corrosion yet , and put on new tolex. Would this do damage to the value of the amp ?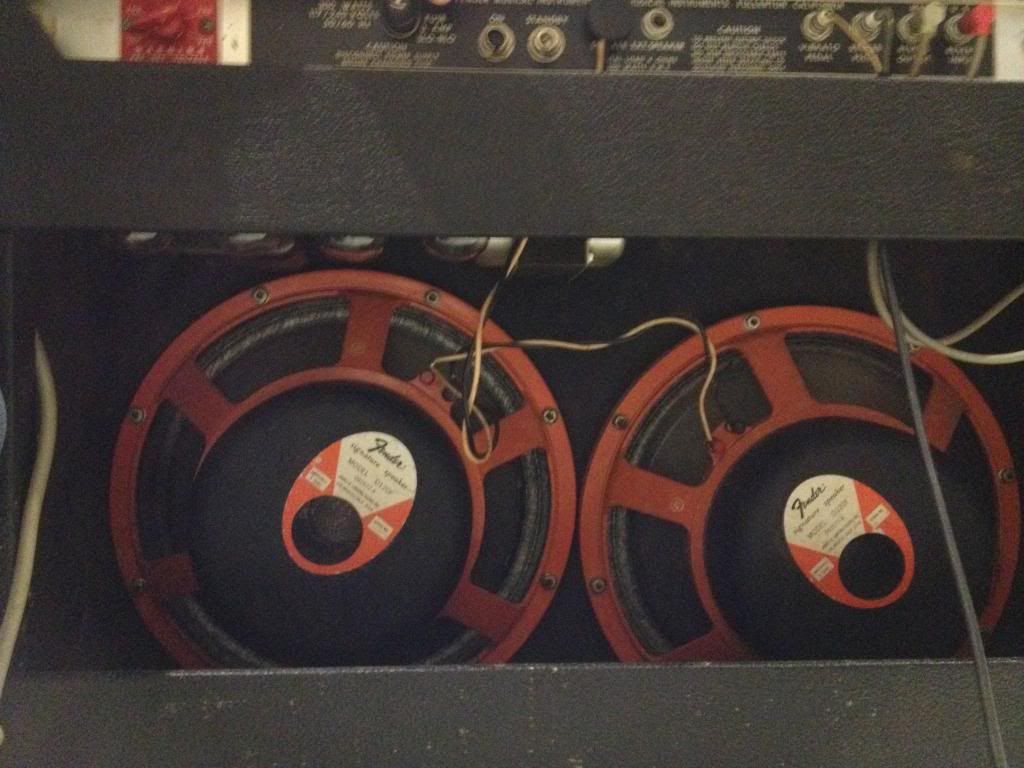 Sweet. That's a nice platform to start from.

Check the preamp tubes, it may have some of the original American ones. They may still be ok, don't just toss them out of hand merely because they are old.

HNAD
HNAD

I wouldn't change anything. The amp has mojo as it is. Replacing that mojo with 'new' aesthetics will probably not increase the value but I'm not a vintage Fender expert.

Join date: Oct 2007
250

IQ
HNAD

I wouldn't change anything. The amp has mojo as it is. Replacing that mojo with 'new' aesthetics will probably not increase the value but I'm not a vintage Fender expert.
+1
i have restored an old fender before but the thing was totally wrecked. in general, replacing stock parts lowers the value of the amp.
the tolex really doesn't look that bad but you can find stock replacements tolex that will match it perfectly. you could removed the corrosion from the plates with some buffing and maybe a little chemicals but you can get the hardware pretty easy too. the grill cloth looks a little messed up, you can find direct replacement for that. but if i owned the amp i wouldn't touch the cosmetics, i'd just get a drop cloth for it to protect it in the future.
you knobs actually look to be in good shape. usually there is a couple missing the silver dot in the middle or are chipped, missing or half broken.
great score on the D-120's. excellent speakers, definitely prefer them over the stock ones. they aren't incredibly hard to find on the silverfaces, but they were an awesome upgrade.
not a bad price on the amp either for europe, i would imagine those things don't necessarily grow on trees there.
congrats

Last edited by gumbilicious at Jan 18, 2014,
yeah - i wouldn't waste money taking it to a tech.

they'll probably tell you it needs new tubes and then keep the tubes that are in there for themself.

tubes are not hard to swap or replace anyway, and is something you can learn how to do easily.

if you want to learn more about what to do here or what kinds of tubes to look at we can help further.

as far as dirt behind the knobs you should be able to just pull the knobs off and wipe down the faceplate
HNAD. Condition looks spectacular!

Join date: Oct 2007
120

IQ
HNAD, welcome to the vintage club :highfive:
Leave the tolex, has a ton of mojo. Still a lot better than my Marshall's cab

Sweet! I agree about preserving the mojo but I also see the appeal of making it look shiny.

As mentioned above, make sure to keep all the old parts (tubes, knobs, etc.)

Thanks!
Well I imagine if I could replace the tubes myself ( there is already a light blue glow in them) it would be much cheaper.
Is this an easy thing to do, just pull ( ?) the tubes out and put new ones in it ?
And which ones perhaps ?
Or will bias and stuff like that also be needed ?
Anyway, if I can get the tubes out safely, I will post some pictures of them.

And for the knobs, to remove them.
I tried a little bit earlier , but they don't come off to easily.
Don't want to put all my strength in it cause I don't want to break anything.
And how do I pull of the push/pull knob without harming it ?
Yeah, they just pull straight out and you plug in the new ones. Make sure the tubes aren't hot before touching them with your fingers, it hurts. Exactly which model is it? The circuit type should be written on the plate on the back IIRC. Most silverfaces have no bias adjuster so they're just plug and play, I'm pretty certain that '76 models had no adjuster. Tell me the circuit number and I can look it up to be sure.

Try to change as little cosmetically as you can. About the only thing I'd replace is the grill cloth and unless I found convincing repro cloth i wouldn't even do that. Original tolex in that sort of condition adds to its value. Most people would prefer the original stuff unless it's really badly torn, which that isn't.
i would not push pull on the knobs too hard - that will mess with the pots.
do they have small screws like the one I'm looking at does?
if you cant get that easily I would just get a paper towel doubled up with some hot water and a very very small amount of detergent - maybe bu not necessary.
don't change the tubes unless you think you really need to or there is a power 'issue'
Fender branded 6L6s or Ruby branded power tubes should be decent.
Preamp tubes is a whole new deal. If you have 15 - 87 dollars to spend we can help you...

If you're lucky it will have RCA preamp tubes which could very easily still be ok. Basically, if the tubes are made in the USA and still work, leave them alone.
So I've managed to get the knobs of and remove the dust/filth that was behind it.
Then I unplugged the tubes and this is the information they had on them :
4 x 6L6 tubes
this was on it :
6L6
GC
76-30
188-5
4x 12AX7A
with on it :
ECC83
7025
013341-000
37 12 22
2x 12A77
with on it :
78-35
188-5 (?)
6201
So when I put the amp on standby, they all give the orange glow.
But as soon I switch it on , the blue glow appears ( only on the 6L6 though )
Standby :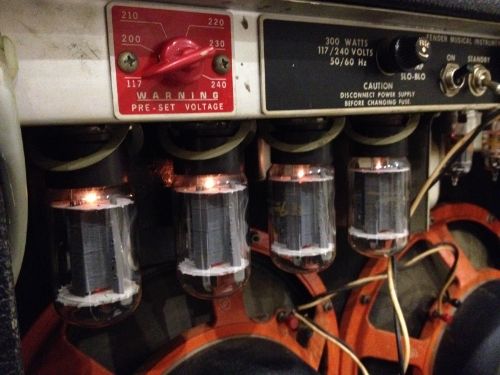 ON: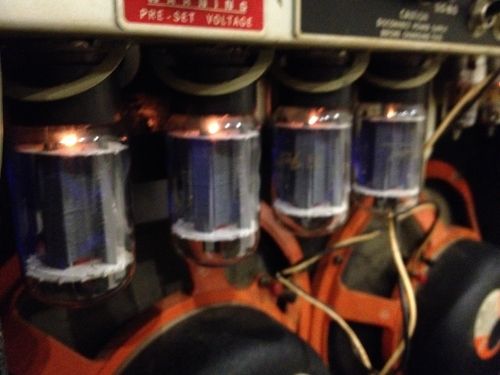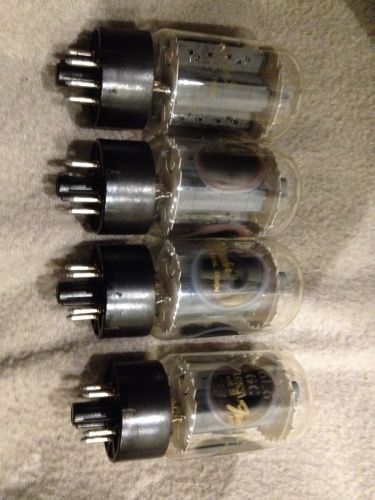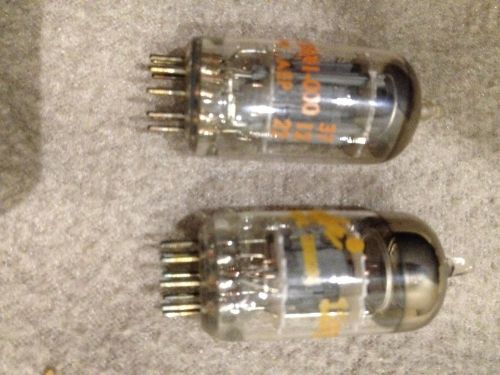 Okay then.
Is their an explanation behind that ?
I had some other tube amps before , and they didn't lasted to long anymore when the tubes where glowing blue.
Blue is just impurities in the plate fluorescing. It doesn't indicate wear, it's just about the metal they used.

Your photos aren't clear enough to really identify what you have.