Holding the pick... I am absolutely lost
Hello UG Community (I apologize for the long post, if you just wanna get to the point, skip the first two subparagraphs),
This is my first post. Allow to quickly introduce myself: I am Jason and I have been playing guitar for a little over a year now. I am self-taught. I mainly play Metallica, a little Slayer, a little Rammstein and some other riffs. For now, I generally do rhythm and a little lead stuff.
However, I've been stuck with a problem for way too long now. It all started back in April last year, I had learned myself how to speed pick. After a while, I could finally make my pick fly over that low E-string to play riffs like Whiplash and Damage, Inc... These are technically not really complicated to play, but seeing as I had only been playing 3-4 months, I was quite proud of myself for being able to do it already.
There was, however, a major problem. Maybe I could do that stuff, but how? I was putting all the pressure on my index finger. It hurt like a bitch but I was like "meh, I'll find a smoother way to do this". Well, nope. The pain lasted for months until I figured out a new way to pick. Being mainly inspired by James Hetfield, I noticed that he used a 3-finger grip. I never understood how he did that, so I wanted to figure it out seeing as 2 fingers was not working for me anymore. I figured it out and for a month or 2-3, all of my problems went away. Until suddenly, the tendon in my thumb started hurting when I was speed-picking. DAMNIT! Yet again I am stuck...
I've been trying to solve this problem for so long, and have looked up "how to hold a pick" countless of times. Nothing seems to work. My guess is that the joints in my index finger are ****ed up... It could also still be that I put too much pressure on my index finger... Even though I really try not to. I just can't help but at least put some pressure on it to get the job done...
Here's some pics to show you how I hold the damn thing, I either use Dunlop 1.14mm or Mediums. Do you guys possibly have some tips for me, or other things to try? I am absolutely lost and really don't know what to do anymore. I am hesitant to get a teacher, simply because it's expensive.
2 fingers (2 pics):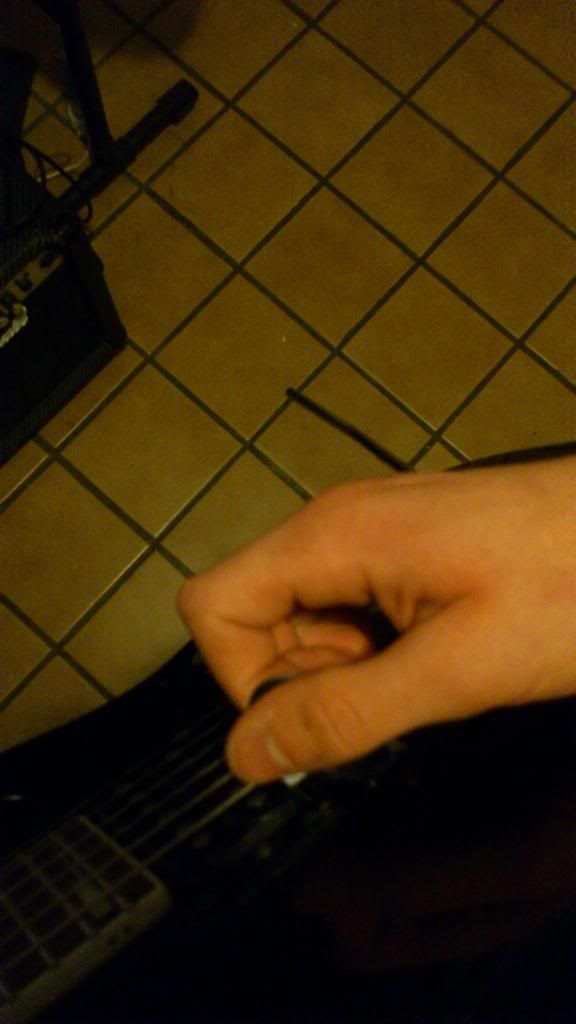 3 fingers:
Thank you very much in advance for any advice you have.
Last edited by Thrasher22 at Jan 22, 2014,