Internet trolls are statistically terrible people

Join date: Jun 2003
356

IQ
The research, conducted by Erin Buckels of the University of Manitoba and two colleagues, sought to directly investigate whether people who engage in trolling are characterized by personality traits that fall in the so-called Dark Tetrad: Machiavellianism (willingness to manipulate and deceive others), narcissism (egotism and self-obsession), psychopathy (the lack of remorse and empathy), and sadism (pleasure in the suffering of others).

It is hard to underplay the results: The study found correlations, sometimes quite significant, between these traits and trolling behavior.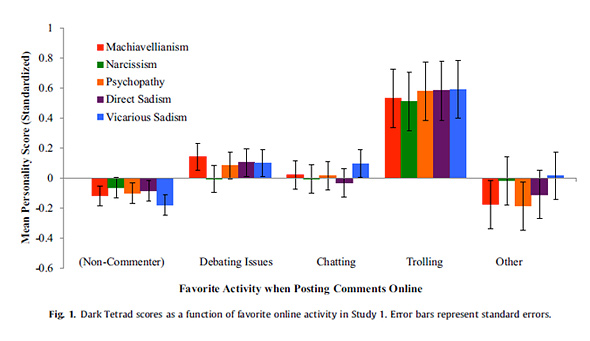 http://www.slate.com/articles/health_and_science/climate_desk/2014/02/internet_troll_personality_study_machiavellianism_narcissism_psychopathy.html
Trolls are bad people IRL too. Does this seem accurate?