Peavey VTM Footswitchable "Channels"
I've been reading up on how to turn a Peavey VTM into a 2-channel, footswitchable amp. The amp has 2 inputs (high and low gain) and each jack drops the signal into a different part of the amp. The low gain jack bypasses the first gain stage and sounds noticeably different than using the high gain jack.
I'd love to be able to footswitch between these jacks, instead of having to stop and physically switch inputs. Here's the problem: whenever something is plugged into the low gain side it shorts out the high gain jack. In other words I can't plug into both inputs and use an AB pedal, or simply plug a footswitch into the low gain side. Both scenarios route the signal to the low gain side.
Here's the schematic for the inputs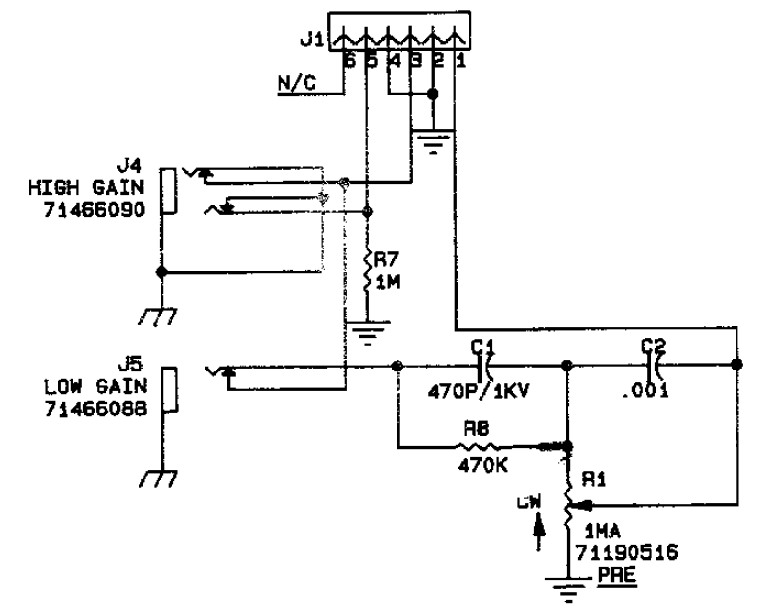 I've read a few threads saying that modding the amp to do this would be an extensive mod.
Would it be possible to just remove the low gain jack and install a relay with a footswitch? Whenever I'm plugged into the high gain I could hit the switch and cause it to 'short' to the low gain side... in the same way that physically plugging something into the low gain does now?
Summary: I want to replace the low gain jack with a footswitch and be able to switch inputs. Can I accomplish this with a relay, and how would I wire it?
Last edited by Flux'D at May 22, 2014,

Join date: Aug 2005
210

IQ
When they say its "an extensive mod" I think that is just code for "idk how to do it".

I don't have time to sit and think about it but I think it will be fairly simple. Ill try to get back to it later.
Thanks, I'd really appreciate it

Also it would be cool to wire up independent pre/post gain controls, using dual concentric pots (so I wouldn't have to drill holes in the chassis). Would I be able to switch the channels
and
gain controls using a 4PDT relay/switch? I have located the proper pots, I just need to know how to wire everything. It seems like a fairly simple mod
Last edited by Flux'D at May 22, 2014,

Join date: Jan 2005
345

IQ
I would skip jack switching, and just stay on the high gain input. Relays would switch the pre/post gain controls.

It's mod I've thought about doing, but never could source 1M concentric pots.
Bumping again. I'd really like to figure this out