Guitar neck specifications
What spec will tell me how narrow the fretboard is and which will tell me about the neck width?

Neck
Fingerboard: 12" to 16" Compound Radius (304.8mm to 406.4mm)
Frets: 22, Jumbo Frets
Scale Length: 25.5" (648mm)
Nut Width: 1.6875" (43mm)
Hardware

I'm looking for a new guitar and I have no idea what these specs mean.


Cheers
the neck width means that on the bridge side of the neck it will be more round (it a jackson or charvel right?)
frets 22 means it has 22 of those metal things on the neck (most of the guitars have 22 or 24) jumbo frets means that they are really big, so your fingers touch the wood less and you can play faster
scale lenght: most of the standard guitars have 25.5 inches of neck
nut width: how wide the nut is (the part that holds the strings in place on the headstock)
the neck width means that on the bridge side of the neck it will be more round (it a jackson or charvel right?)
frets 22 means it has 22 of those metal things on the neck (most of the guitars have 22 or 24) jumbo frets means that they are really big, so your fingers touch the wood less and you can play faster
scale lenght: most of the standard guitars have 25.5 inches of neck
nut width: how wide the nut is (the part that holds the strings in place on the headstock)
Sorry I know what frets are I should have removed them from the list.
Yea this is just an example of a guitar spec, I am looking for a narrower neck so that there is less stress in my fingers and wrists so that I don't have do dig my thumb into the back of the neck like I'm currently doing at the minute.
the compound radius is something that doesnt really make faster, it just adds a different feeling, which you may or may not like, it's up to you. I suggest you try it out, it's better. If you have more questions, feel free to send me a message or to post them on the forum :-D
what exactly do you mean by "how narrow the fretboard is" and "neck width"?
a : Width at Nut 43mm
b : Width at Last Fret 58mm
c : Thickness at 1st 18mm
d : Thickness at 12th 20mm
Radius 430mmR
(from the Ibanez website)
Does this help?
Dave saves the day as always :-)
Edit: Well, damn. Beaten, and in spectacular fashion. Bah!
A smaller neck isn't always the answer. Sometimes it is actually a thicker neck which will aloow your hand to relax more. You really won't know which way you need to go until you go to some shops and actually try a variety of guitars' necks. Everybody is different.
That said, there are many elements—some of which aren't given as measurements—which will affect how a neck feels. There are also a lot which people will talk about which won't actually matter, at least in terms of how large/smaller the neck feels.
Please excuse the crude diagram, but hopefully it gets the point across.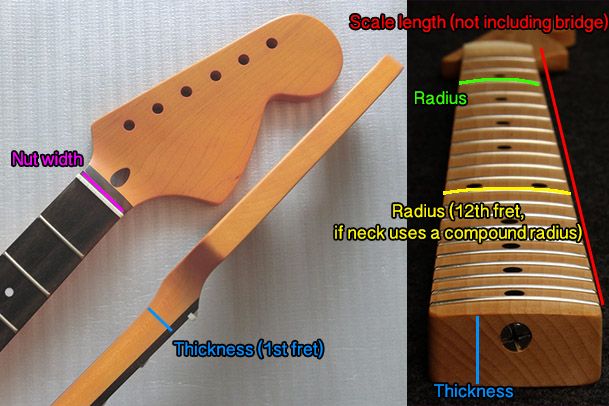 Scale length is the distance from the nut to the 12th fret, doubled. It is also the distance from the nut to the bridge. A shorter scale length means the frets are spaced closer together and also means the strings will feel looser. It does not particularly have an effect on how thick or wide a neck feels.
Radius is the curve of the fretboard. A small radius, like 7.25", means the fretboard and the frets are very curved. A large radius, like 16", means the fretboard is almost completely flat. A compound radius is written as two numbers, for example, 9.5"-14". This would mean the neck is more curved at the first frets and gradually becomes flatter as you go up the neck. Most people find a curved fretboard is more comfortable for chords and flat necks are more comfortable for bends and fast playing with low action, but each person is different.
Nut width is the width of the nut, obviously. This also tends to dictate how wide a neck feels. A narrower nut means you'll probably be able to wrap your hand completely around the neck easier and the strings will be spaced closer together. However, the nut width only really matters up until about the 14th fret. By the time the neck attaches to the body, all necks become more or less the same width. Nut widths are unusual in that they are mostly written in millimetres, whereas most other neck measurements are talked about in inches.
Thickness is the measurement from the very 'tip' of the curve of the back of the neck to the highest point of the front of the fretboard (not including the frets). A lot of people confuse this with 'width'. Generally, a thinner neck will aid faster playing and smaller hands, while thicker necks support larger hands and slower playing better. This isn't always the case, though. There are plenty of people who have small hands and play fast on thick necks and lots of people with huge hands who like thin necks.
The line I drew on the left shows where the thickness is measured at the 1st fret. The line on the right just shows the direction; the thickness of a neck is never actually measured at the end of the neck heel, but at the 12th fret.
Neck thickness is usually written out as two numbers, for example .84"-.92", where hte first number is the thickness at the 1st fret and the second number is the thickness at the 12th fret. If a neck thickness is only given as one number, such as 1", that means the neck is the same thickness at the 1st fret as it is at the 12th.
Usually, the most important part is not a measurement, but the neck profile...
This is the curve of the back of the neck. Nobody can tell you which sort of curve will feel best in your hands. This curve is called the neck contour or neck profile.
In general, the different 'V' shape necks are most used for playing 'thumb over' (e.g. Hendrix & Clapton), 'U' necks are very flat in the middle and are most used for playing with your thumb in the middle of the back of the neck (e.g. every shredder since the mid 80s), 'D' necks have a little bit more of a curve to them so you place your thumb a little higher (e.g. classical position) and 'C' necks are almost completely round and support all playing styles equally well.
Usually, even if the thickness of a neck is kept the same, different profiles will make them feel thicker/thinner. For example, if four necks are made exactly 1" thick all the way along but each with a different profile/contour, the U neck will feel the largest, then the D, the C and then the V. Oddly enough, most very thick necks use a V or C shape and most very thin necks use a D or U shape.
The best thing to do is to simply go to some shops and try out a bunch of guitars and see which necks feel most comfortable in your hands. But if you don't have access to many stores, I suggest you start by looking for this:
If you think you need a smaller-feeling neck, look for a nut width of 42mm (1.650"*) or smaller, a 'C' profile, a radius of 12" or smaller and a thickness of .84"-.90" or less. For example, a standard Fender Stratocaster neck or Schecter neck fits these measurements and is on the slightly smaller side.
If you think you need a larger-feeling neck, look for a nut width of 43mm (1 11/16") or larger, a C or D profile, a radius of 12" or larger and a thickness of .85"-.95" or more. For example, a Gibson 50s profile or PRS Wide Fat neck fits these measurements.
*For some reason, a nut width of 42mm/1.650" is often written as 1.650", though other nut measurements, when written in inches, are given as fractions, like 1 5/8" or 1 11/16". I have no idea why this is. I've asked many other techs and nobody has ever been able to explain to me why people do this. So try to not be confused by why some nut widths are given as fractions and others aren't.
What spec will tell me how narrow the fretboard is and which will tell me about the neck width?

Neck
Fingerboard: 12" to 16" Compound Radius (304.8mm to 406.4mm)
Frets: 22, Jumbo Frets
Scale Length: 25.5" (648mm)
Nut Width: 1.6875" (43mm)
Hardware

Mostly good information above. The nut width has pretty much standardized at that 1.68" (also listed as 1 11/16ths"), though there are some wider guitars (1 3/4", 1 13/16ths") out there. In general, the guitars that are wider at the nut use standard width bridges, so by the time you get to the 12th fret or so, the fretboard width is pretty close on all of them. There ARE some, however, with the 1 13/16ths" nut width that have custom bridges, and those keep that extra 1/8th" of width all the way to the bridge.
What you're going to be mostly concerned about is the neck depth, from the face of the fretboard to the back of the neck, and the shape.
While it would SEEM that a skinnier/thinner neck would be better for smaller hands and larger necks better for larger hands, I've actually found the reverse to be true in most instances.
The thicker necks (think baseball bat) seem to work very well for those with smaller hands, as well as for those with weaker hands and arthritic issues. Those folks will often adopt a less "classical" playing position with their hands that allows them to put the meat of their palms on the back of the guitar neck and bring more forearm muscles into play to compensate for smaller/weaker/arthritic hands. Those folks will often find that a thinner neck will force them into a sort of "sock puppet" hand shape that can easily cramp up.
Thinner necks work well for those with large/strong hands and for players that have a more "classical" technique, where the thumb and the fingers form more of an "O" and the palm never really contacts the back of the neck. This is NOT a "thumbover" kind of technique for the most part. You'll find this kind of technique working better for wider necks as well (such as those on 7, 8, and 9-string guitars). The thumb works more as a placement device than as a clamp to pull the fingers down onto the strings.
One other thing -- @MrFlibble regarding compound radius.
I've only run into compound radius necks that measure the radius at the nut and at the heel (or highest fret). This is how Warmoth does it (
http://www.warmoth.com/Guitar/necks/radius.aspx
), and this is how Carvin did it when they were running compound radius necks. A neck that accelerated from 10" to a 16" radius by the 12th fret would have an even flatter radius at the heel (a compound radius is essentially a conical section) and I'm not even sure what it would be by the time it got to the bridge. I think most manufacturers identify the
entire
neck in that compound radius spec.
Have you found something different in your travels?
Last edited by dspellman at Mar 25, 2014,