Gibson ID'ing.

Join date: Oct 2007
617

IQ
Okay so here is my Gibson (what i believe) Iced Tea. However some have told me its tobacco burst. I bought it form a dude last year, as far as he knew, it was an Iced Tea LP.
However, i can't find out anything about it online, it may be a classic, but i need confirmation.
Serial number is 028660639.
Here are some pictures.
Good luck and many thanks.
Im not sure myself. Those two colors are often confused from what I understand. Im sure someone will know fairly quickly, but the easiest thing to do would be to call Gibson support and give them your serial number....they will probably be able to pull it up. To me it looks most like the honeyburst. The tobaccos Ive seen are usually much darker around the edges than yours.
There's no way in hell that's a tobacco burst.
pull the pups/surrounds and see what's marked inside the cavities.

also, how many pieces is the back?

can you tell if the pups are original to the guitar? cavity shots?
Tobacco burst is black to brown.
Tobacco burst is black to brown.
dark brown to amber.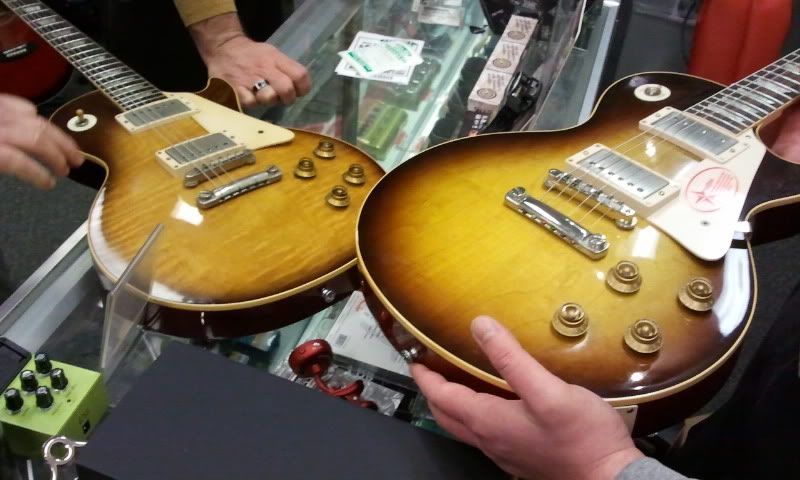 on the right is a 2009 "faded tobacco" R8. (on the left is an old cherry burst).
That finish is either honey burst or a faded cherry burst. Iced tea is usually browner and darker than that, but I suppose that could be a very lightly-sprayed iced tea burst. It certainly isn't a tobacco burst.
This is a picture of my old Gibson in Iced Tea. As you can see, it's not as dark and brown as tobacco burst, but it's darker than your guitar.
Are people still using Guitar Dater?
All it does is decode a serial number & proves nothing.
I think the LP Classics only have 5 or 6 digit serials, but they may have changed that in recent years.

Join date: Feb 2014
10

IQ
What's a vintage classic?

Join date: Feb 2014
10

IQ