Relay remote switching system

Join date: Sep 2009
90

IQ
I was messing about the other day with cables and came to the conclusion that I'd like to use a remote switching system to save me having 30m (10m board to amp, 20m send/return from the fx loop) of cable between my guitar and the amp.
I can't afford the £400+ for a MiDi system and I don't think I'm accomplished enough to make one of those. I'd pretty much given up on the idea till I found this.
https://www.youtube.com/watch?v=xszB3pAGrdw
Could I use a non-latching spst footswitch to trip this sort of circuit?
If that's the case is there a way to use grounding to trip a loop that I could have a pedal in? I read into relays but it's all very complicated and seems to use arduino and MiDi.
It's probably beyond me, but I have some understanding of electronics, and I appreciate any help.

Join date: Sep 2005
60

IQ
Could be done quite easily. I knocked this up for you as a guideline.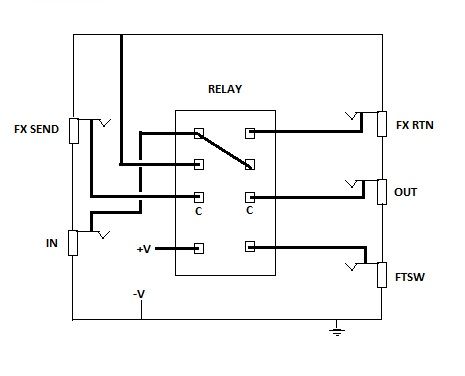 Join date: Sep 2009
90

IQ
Thanks very much! That's a massive help for me, are there any relays you'd recommend to work with 9v?
any relay would work for this type of application.

Join date: Sep 2005
60

IQ