Guitar cab DIY help
Hi, I'm looking at buying a Blackstar HT-5R head and really like the idea of building my own 2x12 cab for it. I studied a music production degree and did a lot of acoustic theory so I know how important the size of the box is and the material used, only problem is that was 5 years ago and I can't remember any of it lol

So I thought I'd cut a few corners and use the dimensions of a popular cab, the Zilla Fat Boy. It's a closed back design which scares me a little, but I think I'm safe as I'm just coping the dimensions of the cab, anything obvious I've missed that might bring my idea crashing down?

The dimensions are 760cm(h)x470(w)x360(d), the eagle eyed of you will notice I'm going for a vertical set-up rather than horizontal. Again any issues with doing this? I'm sure there isn't but just want to make sure!

So my first real question is about the material! Most people seem to recommend "13 ply birch," what does this mean? Is it 13mm thick? I've heard mentioning of it being made out of baltic birch, is that what the 13ply stands for?

My local store has "hardwood plywood" at 12mm or 18mm thick, the zilla cabs are 15mm thick. So two questions, would standard plywood be ok or does it need to be this 13 ply? Will 18mm make a huge difference to the tone, and if it does in what way?

Tone wise I'm going for full fat metal, just want really chunky palm mutes, so quite a bit of low end but really tight at the same time. Really don't want it to be muddy! Speaker wise I'm thinking a combo of the V30 and G12T-75. Unless you have a better suggestion?

Any help appreciated, thanks.

Join date: May 2006
50

IQ
One thing I've heard is that the closed back is actually better for metal.

Otherwise, I'm pretty much in the same boat. Im working on making a combo into a stack, (for a 10w :P ) and I'm actually just using the shell of the combo for a cab, just to avoid having to actually build a cab.

Good Luck to you!
Yeah, closed back should make it tighter and less boomy which is what I'm after!
Thanks, and good luck to you! Keep me posted if you like


Tone wise I'm going for full fat metal, just want really chunky palm mutes, so quite a bit of low end but really tight at the same time. Really don't want it to be muddy! Speaker wise I'm thinking a combo of the V30 and G12T-75. Unless you have a better suggestion?

I'd use a classic lead instead of a g12t75. it's a lot chunkier and also tighter. the g12t75's bass is a bit loose.
the g12k100 might also be worth considering for the same reason instead of the g12t75, but i haven't tried it.
EDIT: and yeah closed-back.
I don't think 18mm versus 15mm will make too much difference (I think my roadkill stag is 18mm) but I don't know about the number of plies.
Last edited by Dave_Mc at Apr 10, 2014,
Ok, I'll check them out. Thanks for the tip. By the name of it though is it not suited more towards a lead tone?

Yeah I don't think the thickness will make too much difference either.
Last edited by rhys111 at Apr 10, 2014,
nah i don't think so. if anything i'd say it's less lead-orientated, it has fewer mids than e.g. a vintage 30.

celestion's speaker names are BS, really.

"vintage 30"?

sounds very modern, isn't 30 watts.

hmmm.
haha, fair enough. I'll do some research into it.
no worries. there are a bunch of options which may well work, there's no one answer to this. and I haven't tried anywhere near every possible speaker so there may be a better option out there that I haven't tried.

just out of what I *have* tried, and going by your description and (presumably) wanting something that still sounds pretty celestiony and which combines nicely with the v30, the classic lead will do what you want, I think (at least in my opinion, lol). I suspect the g12k100 will too, just as i said, I haven't tried it.
At 5 watts, honestly, you're unlikely to get "really chunky palm mutes" unless you stay at fairly low volumes. As you increase volume and more of the power gets used up for mids, your bottom is going to get flubby.
Building a speaker cabinet using existing dimensions is just an exercise in carpentry.
Thick birch plywood is standard for several reasons. It's easy and cheap for manufacturers to work with, it has good impact resistance and it's less susceptible to water damage than something like MDF.
MDF is actually good speaker cabinet material if you're not going to be carting the cabinet around a lot. But in addition to the aforementioned impact and water susceptibilities, it's heavy.
While birch ply is standard for a straight box construction by most manufacturers, you may want to consider going lighter if you're building it yourself. You can attain the same stiffness (one of the important properties of speaker cabinet building), reduce unwanted resonances and decrease weight by using a thinner plywood.
I'd suggest working with a 1/2" voidless Okoume marine plywood (lightweight, stronger) and adding bracing.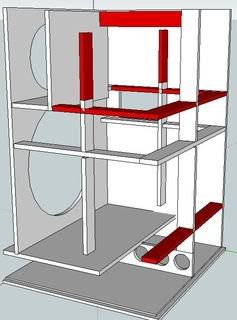 What you're looking at is the construction of a fEARful 15/6/1, a very high end bass cabinet designed to handle a 15" LF driver (and a 6" mids driver and a 1" tweeter) pushing up to 900W. The cabinet *with drivers* weighs in under 47 lbs.
The braces are glued on using Loctite Premium PL glue. In fact, the entire cabinet is constructed this way with butted joints (no fancy finger joining). The glue is not only ultra strong, but also provides an air-tight seal, vital to maintaining bass push.
These cabinets are designed for constant gigging; they're not delicate at all.
Rather than being covered with tolex, they're coated with Duratex (available in various colors), which is seriously tough stuff and which can be easily repaired (unlike tolex). Most Pro Audio gear these days is coated with Duratex (which can be applied with a special roller).
The end product is an extremely strong but lighter weight (depending on the size of the magnets on the speakers you choose) cabinet.
Here's another option you might consider as well.
Add a 45 degree panel to your cabinet design. This will allow you to use the cabinet as a tilted floor-type monitor as well as using it both vertically and horizontally.
This is a single-12" (plus mids plus HF drivers) bass cabinet, but you can see the versatility: