Which wah should I get the Slash,DImebag,Wylde, or Cantrell?
View poll results: Which wah is better.
| | | | |
| --- | --- | --- | --- |
| Slash | | 3 | 20% |
| Dimebag | | 2 | 13% |
| Wylde | | 2 | 13% |
| Cantrell | | 8 | 53% |
Which of these wahs is the best for like rock and metal because I'm stuck between these four and can't decide which one to get.
Bro, do you even morley bad horsie?

They are similar in the wah part.
The distortions I heard coming out from these suck, so I wouldn't even bother getting one of them.

Join date: Feb 2010
320

IQ
Yeah Morley is the way to go. The Bad Horsie had awesome cut, it doesn't get buried under distortion
Agreed, the correct one isn't listed. Another vote for the Horsie here too.
Now that I think of it, have you ever even tried a wah pedal?
'cause I thought I wanted one because of the sound, and after spending 15 minutes with a couple I'm about to finish building an envelope filter.

Anyway the morley wah's are more intelligent in general since they don't have any immediately wearable mechanical part - they use an optical sensor and stuff.
A wah will most likely need to be repaired in a few years.
Also consider that (as far as my memory goes) morley wah's don't have an on-off switch, you engage them by simply changing the pedal's position.
Some do and some don't. The PWA has a switch on the side. Things like the horsie are "switchless."
PWA: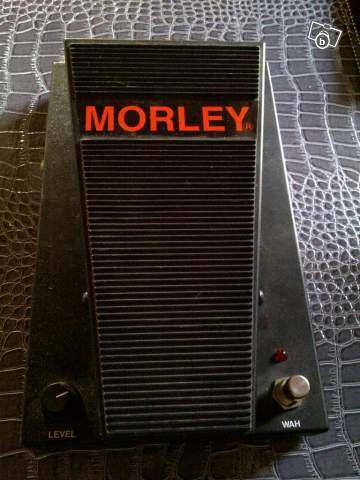 Last edited by Cathbard at Apr 14, 2014,

Join date: Sep 2012
80

IQ

Join date: Jul 2008
193

IQ
I agree with the Morley idea.

If I absolutely had to choose a Dunlop I'd say the Cantrell. It's the most versatile. Guthrie Govan uses it too.

Join date: May 2010
60

IQ
Tremonti.
yes.
I've had mine for probably 7 or 8 years with no issues whatsoever.
prefer the sound over anything Dunlop any day
Thanks for the replies the Morley Bad Horsie one sound sounds great!

Join date: Apr 2014
20

IQ
There is a Dunlop Crybaby ( i forget the exact model) that has a spring in it, it's always 'on' but only engages when you use it. it's a very solid pedal and i've been using it for a few years now. There are 2 knobs on the side that give you control over the tone etc. Great buy.

Behringer Hellraiser is a really good one too if your not afraid of the brand.

Join date: Dec 2013
20

IQ
I have the Slash signature wah. After playing with it, I realized how much I liked the red color. And that's about it.
I love my Cantrell wah. Yeah Guthrie Govan uses it too and for a good reason. You can adjust the tone on the fly with a pot that's on the side of the pedal.

Join date: Nov 2009
660

IQ
Morley master race checking in.
Exp pedals with pots can **** off.