Ridiculously patriotic NGD!
Kazizzah, dilznoofuses!
My latest NGD is a Jon Kammerer American Flag Dorado with Vintage Vibe pickups. The Dorado is Jon's take on the Telecaster.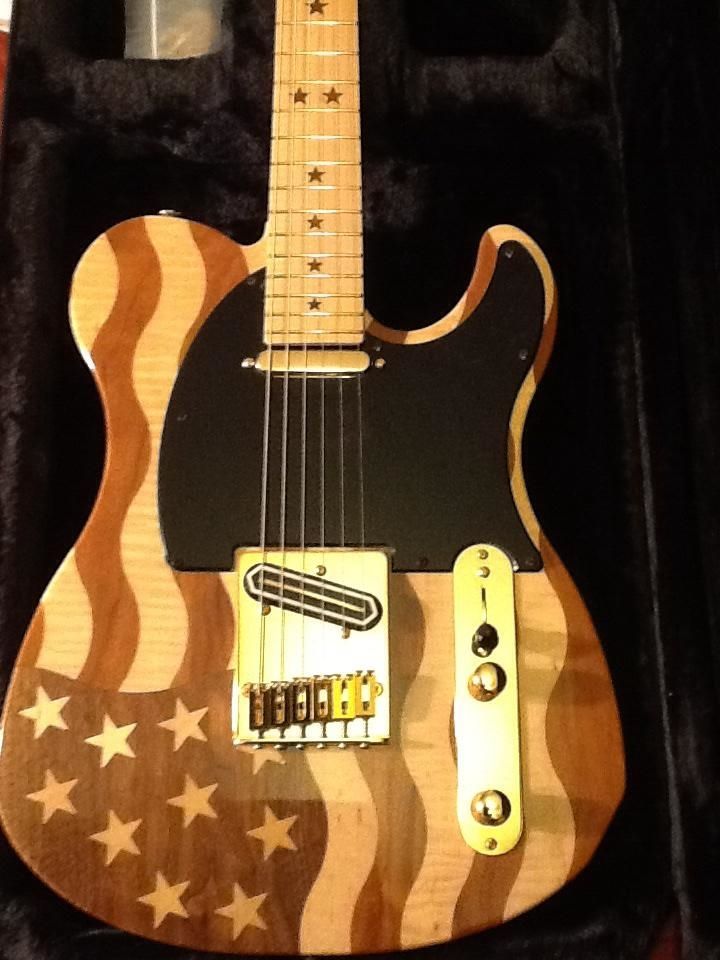 (More pictures will follow, but things have been hectic.)
That is Old Glory on the front, the Thirteen Colonial Stars on the back, and star-shaped fretboard markers...all in carefully measured, cut and inlaid woods. The contouring on the backside is quite comfy.
The neck is moderately slender- neither a shredder's wooden sword blade nor a club befitting a caveman.
Those Vintage Vibe pickups? There is a TON of classic rock tone emanating from them. The VT-N-GD neck pickup chimes like a bell; its a classically voiced Tele pickup, though, to my ears, a little less twangy than is typical. The "Charlie Christian" bridge pickup has a nice heft. It isn't as beefy as a humbucker or P90, but not by much. It is
CLEARLY
more powerful than the typical singlecoil. But it doesn't have a dirty growl, no mud- its aggression is articulate.
When they're blended? MMmmagic! The bell-like chime of the neck pickup and the thicker tones from the CC
Jon's flag series- along with his camoflage series- involve a lot of precision woodwork. While I have several JKGs, I never thought I'd own one. I love them, but as you can imagine they're not cheap.
Why did I buy this one? Well, first of all, Jon was having a clearance sale- still is, actually- and I was looking at a few different things he had. As we corresponded about the sale and possible future custom jobs, I mentioned how much I liked the flag guitars. And he mentioned he had one that was a prototype- his first Dorado flag guitar. But it had a little nick from assembly- couldn't be sold as new, so he was using it as a showcase and a test for pickup combinations.
Theeeenn he quoted me a stupid price. And I didn't own a Tele. So I bit.
As he said, the prototype didn't have pickups in it, but he had some good stuff on hand. I told him to wait, and I'd send him some nice ones. That's when I got talking to Pete Biltoft of Vintage Vibe.
Over the course of several emails, Pete talked me through various options before I settled on the ones I did. Bottom line: I got 2 custom-wound, classically voiced pickups for just under $230, shipped to Jon.
So. You want an ergonomically contoured Telecaster-style guitar, Jon's your man. You want custom wound classic tones? Pete's hard to best.
http://jonkammerercustoms.com/help-template_012.htm
http://vintagevibeguitars.com
Now I need to find a strap to do it justice.

Last edited by dannyalcatraz at Apr 29, 2014,

Join date: May 2011
40

IQ
cool, I like guitars with a strong personality, HNGD!
The star inlays would be a bit too much for me, but the body is glorious. I can totally see Bruce Springsteen pulling off a Tele like this.
HNGD!


Join date: May 2013
30

IQ
Very nice guitar man. My favorite part are the stars on the back. Really like how it looks. Many grats!
It's patriotic if you're Mellican.
Mostly ironic if you live anywhere else on the planet <G>.

Nicely done guitar. Kudos to Jon for the quality of the work.

I don't have a tele-shaped guitar. Growing up in Dubuque, Iowa, I always saw them as country guitars and nothing but. These days I'm more egalitarian, but given the Fenders I've tried, I'd probably be more inclined toward one of Carvin's neck-through teles (would that they'd put a 25.5" scale on one) or to a really cheap version that could double as a cutting board.

I have a Charlie Christian PU on an old ('50's) Les Paul. Neck, though.
Last edited by dspellman at Apr 29, 2014,

Yeah, and nobody would ever call me a hawk or say I'm jingoistic...but I had to go for this one!
You should see his Union Jack guitars...and the Texas and Canadian flag guitars look sharp, too.
I have a Charlie Christian PU on an old ('50's) Les Paul. Neck, though.
With a bridge HB? How does that sound?
Last edited by dannyalcatraz at Apr 29, 2014,

Join date: Jan 2006
241

IQ

I don't have a tele-shaped guitar...
Yack yack yack, stop being Liberace and get a Tele

Flags are of no interest to me but I would consider a guitar with the Palestinian flag \m/
Join date: Mar 2011
200

IQ
'Cause 'Merica!!!

Sweet looking axe though, very unique without being gaudy. HNGD!!!
**** yeah, awesome

Now leaning the National Anthem, 'cause flag Dorado.

Nice! Don't let Greg see that bridge! Xxx
I like the hybrid bridge, notice the brass saddles for just the G B&e? Smart!

hngd!!!
Last edited by gregs1020 at Apr 30, 2014,
Alas, that is just a trick of the light- it's all the same, AFAIK.

I'm curious, though, as to why you thought it smart, Greg. Material durability?
Brass will tame the highs on the high strings. Faber makes a hybrid tom bridge, I'm sure others do too.

Join date: Jan 2005
626

IQ
I didn't notice that. I totally want to try that on a tele now.