Alston/PRS kit build
I Alston/PRS kit build
I got my second kit from Amazon. It was from Alston. I will post a pic tomorrow. I thought I would do a set neck. The neck pocket was cut too large and the heal of the neck was not flat so I thought I would just line it up with the holes for the bridge. Well, I ended up with the neck angle too shallow after it was glued. I had to set the saddle down into the top. That was trickey with the finish done.
Next one will be a neck through from scratch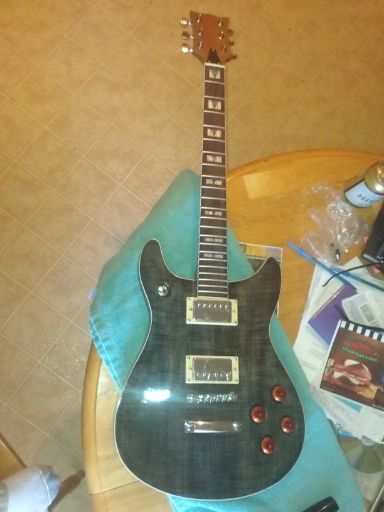 I also had to grind the bottom of the saddle down to get it low enough. The bridge pickup mount had to be ground down as well. it now sets as low as the neck pickup.
Last edited by eoj02 at Apr 30, 2014,
Last night got a little crazy and I thought the neck was too fat. I must have thought it was a good idea to take an angle grinder to the neck. After cleaning that up and putting a fresh coat of oil on it just a minute ago, it now feels more like an Ibanez neck. Hmm, angle grinding after a few might not be a good idea but it worked out

Join date: Feb 2011
320

IQ
It looks pretty good, but that lower horn is god awful looking
Yea, I agree. The shape is out of wack.