NPD Boutique content - gimme that juice!
so after making a thread about power supplies were i basically was talking to myself....i decided to put up or shut up.
Walrus Audio Aetos power supply and a Fairfield circuitry "The Accountant" compressor!!!
look at that sexy graphic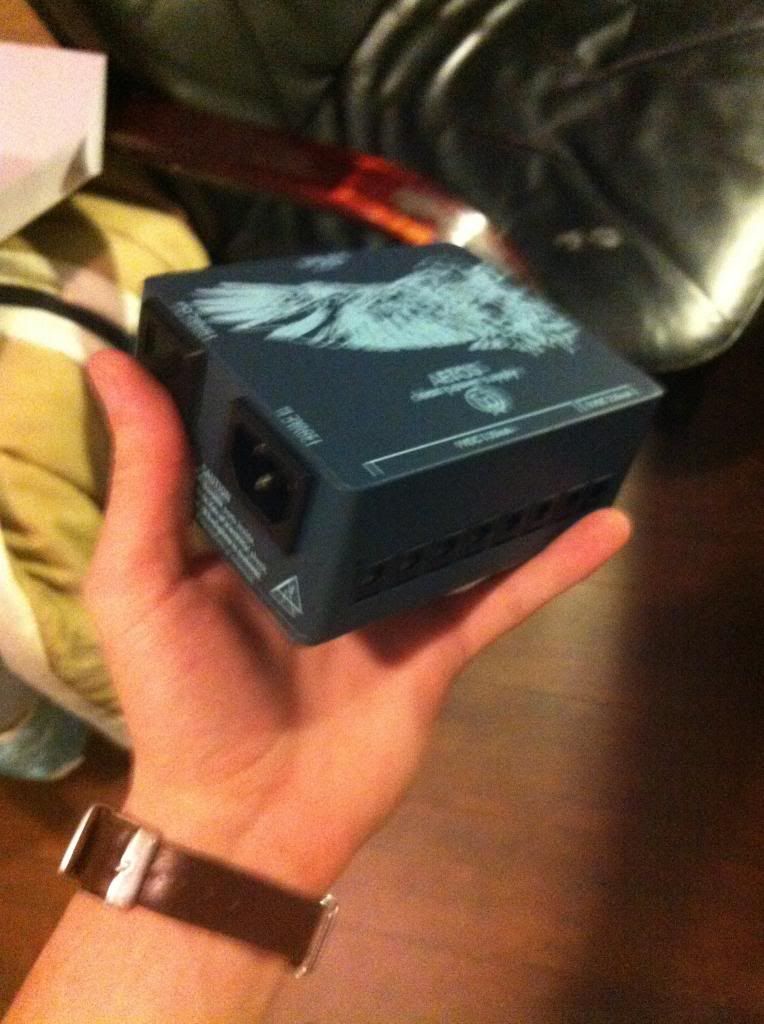 Mini pedals rock
OOO pretty lights . home made board. at this point getting proud.
So the review:
Aetos.
easily the most stunning pedal ive ever seen. its in a dust / matte finish and the eagle graphic stands out. built ford tough. i REALLY REALLY like how the power outlets are to the right and the outlets at the bottom which suit my board perfectly.
it does the job. does it make my rig silent? well it certainly doesnt make it nosier. what it will allow me to do is buy a y jack and run my SIGNA drive and Xotic EP booster at 18 volts, hopefully offering a tonal enhancement. i do notice that my GAIN pedals are slightly less buzzy. pedals dont make hissing noises as much.
do they? well kinda a little. is it worth 169 bucks? i would say no. will running my SIGNA at 18 volts offer a tonal improvement? TBD.
was it worth 169 in tone? hmm. i would say no.
biggest UP - i bought a 5 jack daisy chain, letting me effectively use 7+5 to power to the 12 pedals on this board by removing the wah and amp channel select. i had maxed out my visual sound 1 spot.
upside = POWER MORE PEDALS, i guess quieter, running 18 volts. The eagle graphic makes me feel more like hendrix......(yeah right).
downsides = 169 bucks for very little tonal improvements. i dont own more pedals, so adding more pedals is a future, unrealized benefit.
______
The Accountant
holy hell. this is a gem. a GEM. sell your compressor and buy this.
so i have tried MXR comp and i didnt feel like they gave me that PIZAZ. one trick ponies. 1 knob you get more or you get less. didnt really do it. i had an el cheapo guyatone comp and it really wasnt effective. i had a bad taste in my mouth, but i want that squish tone. that RHCP tone. that classic rock THICKNESS and POP.
this thing delivers better than anything in guitar center at least. it offers about 9 variations of tonal adjustment with a "Louder" knob. it will do anything from a "not there" compressor which slightly limits the upper end of the noise ceiling. to squishy poppy compressed goodness. i have my favorite setting somewhere in the middle where i get the squish but its not totally dynamically killed (for those that looked up the settings, its ratio 2, pad 1).
it thickens, pops, fullness, awesome. it makes RHCP " Cant Stop" come together.
on the highest compression setting i sound like frichante on "Scar tissue", even with my crappy playing on my carvin with coil split on. this is every cent worth of $150 dollar tone. very happy.
Upside - the secret weapon on my board now. the silent but deadly tone enhancer.
downside - literally none. could be more colorful?
Last edited by ikey_ at Apr 30, 2014,
Congrats!

nice


Join date: Jul 2009
80

IQ
Great acquisitons. HNPD!

yeah very happy. definitely satisfies my compressor GAS.

one thing to note - because it THICKENs the tone, a good compressor can be great for a tube amp at low volume where you may not be able to turn up really loud and get the full on tube goodness.

Join date: Feb 2011
140

IQ
How many pedals can the Walrus thing power. I cant tell cos that second photo is as blurry as a wankers hand
Nice. HNPD

yeah it was. i should definitely not be a surgeon.

it has 8 outlets. to power more, i have purchased a 5 outlet daisey chain. i plan to run 2 pedals at 18 volts with a Y connector, so that is 4 spots gone out of 8. then i have 3 spots that get their own at 9 volt, and then i can daisy chain 3 pedals, covering all 8 on my board. i anticipate i can power 12 pedals with this setup, and perhaps more should i get a pedal requiring an AC supply, and then i have that AC outlet built in.