Pick size for shredding/extreme metal

Join date: Jun 2011
260

IQ
So i have recently started a new extreme metal band and i have major problem, when picking or shredding my pick fells of or when doing it. Using Dunlop and fender 0,5 mm. Should i use bigger one like 0.7 or smaller like 0.3 ? I known its ridicules but i can't really play that fast with pick with size of that.

For shredding, I usually reccommend 1mm or even thicker. You need a pick that won't flop around.
Thicker is almost always better. I see a lot of beginners prefer thinner picks. When I started out I didn't play anything thicker than 0.4mm for a while but as I got better I felt thicker picks give you more control and are more efficient because they don't give. Playing with a thin pick nowadays gives me a feeling of "lag".

Join date: Feb 2011
310

IQ
I have used Dunlop Tortex .60 for over a decade and I really like them.

It comes down to personal preference, there is no right answer
I have used Dunlop Jazz III Max Grip for quite a while now, about 0.77mm thick and I would definitely recommend them.
It's quite easy to keep a firm grip of them, regardless of how fast you play because of a "ribbed" area for gripping.
They're also quite hard to bend because of the thickness, so they don't flop around across the strings.
http://i.imgur.com/3es85.jpg
Here's a picture of them, next to a regular sized pick, so you can see the difference.
Tl;dr
Dunlop Jazz III Max Grip ~0.77mm.
Easy to hold.
Easy to play with.
Doesn't flop around.

Join date: Dec 2011
130

IQ
I don't really "shred", but I do play black metal. I use a 1.5 dunlop max grip.
Last edited by deadsmileyface at May 12, 2014,

Join date: Sep 2003
1,521

IQ
Just get a Jazz III that is

Join date: Apr 2011
10

IQ
I love Dunlop Ultex Sharp picks. Or just any Dunlop sharp picks, really.

I just really like the sharper picks for fast playing. And as many have said, thicker is usually better for faster playing, too. But if you're playing with such thin picks right now, I'd just gradually move up to thicker picks if I were you.
I'm using Razers from Gravity Picks in 2mm and 3mm. Sharp point, available in about four sizes (I have huge hands and use the Standards), thick and inflexible. Expensive, which may be why I don't lose them. And they don't fall out of my fingers. I use the standard polished picks, but there are some serious texture options available as well.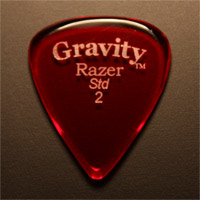 I've been using my Raptor picks lately. When I first started using them, they felt very big compared to the Jazz-type picks I would usually use. I put them down for a long time, in favor of Jazz III picks. But I picked one up today and it felt very good for speedpicking, something which I preferred the Jazz-type picks for.
These are Raptor picks
They have a point for doing pinch harmonics with, but I'm still not very good @ that. But the curved edge makes pick slides very easy.
For shredding, I usually reccommend 1mm or even thicker. You need a pick that won't flop around.
+1
Obviously a lot of it is personal preference, but if you're using a very thin pick and not much enjoying it, try the more usual size for those genres of music and see if it helps.
But if you're playing with such thin picks right now, I'd just gradually move up to thicker picks if I were you.
That's also a good point.
Usually I find that the thicker and sharper - the better,

Personally I also prefer metal picks to anything else (they give you a really nice punch), you just have to work up the muscle to use them accurately...

Also, I prefet larger picks to smaller, Jazz3 types, they you can change where you grip to change from small pick kind of feel to something more resemblind a standard, thin pick

Join date: Aug 2010
200

IQ
I second the opinion that all Jazz III's are the best bet for extreme metal. I've got a bunch in like every variety lying around my room.
Join date: Jul 2010
130

IQ
I can play with any size pick.
Jazz III Ultex. The regular Jazz IIIs slip too much for my liking, but the Ultex is a stickier material that provides better grip. If you can't find any of the Ultex picks, the Eric Johnson Jazz IIIs also have good grip.

Join date: Jul 2013
10

IQ
The .88 mm Dunlop picks I use work good with thrash metal. Anything with some thickness and a sharp point is what you need.

Join date: Apr 2006
490

IQ
Guys guys guys...

Nobody seems to have mentioned the Jazz III XL. They have the same pointy tip as a Jazz III for that super quick clean playing, but are the same size as a regular pick. So the grip on them is awesome.

Best thing ever!