Pachap's got another amp.
Recently got a PRS SE 245. Modded it some, but it was painfully obvious that it wasn't anywhere near the guitar my S2 Cu24 is. My tech offered to trade me for it, so after thinking about it a bit I jumped at the chance.
A few weeks ago I picked up a Peavey Classic 50 on a trade. This time it's a Genz Benz El Diablo 100 watt head and a 4x12 Marshall Cab. I think I lucked out considering the guitar was not going to get any play time.
I have had it all of 2 days. I have played it a lot, but I feel like I have barely scratched the surface of what it can do. It gets the tones that my Classic 50 can get, from sparkly clean to classic rock types of distortion. But it also stretches into heavy distortion very easily. From sludgy, droning, Electric Wizard, to stiff and punchy compressed OD, it is doing it all.
I have found some good tones I have looked for a long time. I've always wanted a tight, heavy sound that doesn't sustain out, and now I finally have the sound that I've kept hearing in my head.
My only complaint is that there is so much to this amp that is going to take a while to figure it out. I am more of a plug it in and play type of person, but it is going to take quite a while to learn the ins and outs of this amp.
Overall, very happy with it. It has some buzz on the reverb, so I may have to swap the tank, I dunno. I am going to have to take a video of it and get some advice on it.
Here it is, the soundtrack to Satan's fury.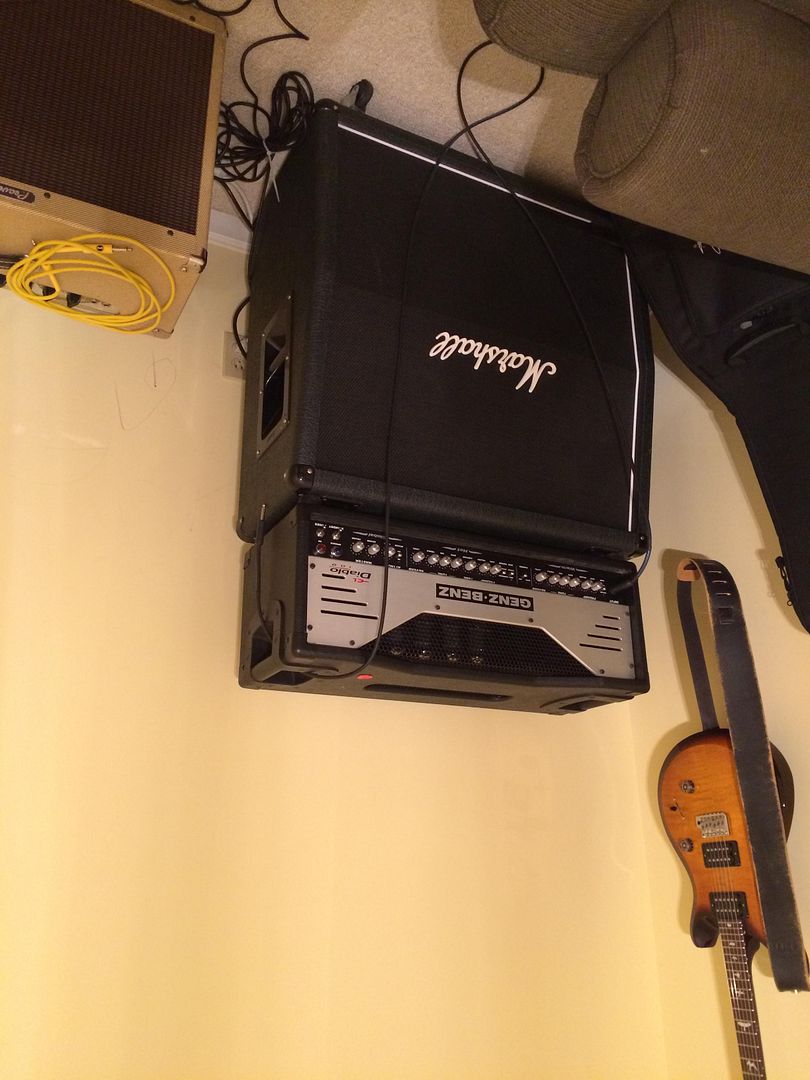 Lotsa knobs you got there. Looks good though, HNAD! Does it have built-in fx like a vyper or something?

Join date: Apr 2010
1,710

IQ
nice! enjoy it. log off and go play.


i have a genz benz bass amp and its a great amp. a bit small for a bass amp (200 watts 2x10" + tweeter) but it sounds good.
if yours is anything like mine, they are pretty bulletproof.

Nice

They can be a bit complex to dial in, but when you figure it out it sounds pretty good

Congrats! The Diablo is always nicely-priced, very versatile, and is pretty solid. I had the same model with the matching 212 cab briefly and I still have 2 GB bass amps (both rated at 1200W!).


Lotsa knobs you got there. Looks good though, HNAD! Does it have built-in fx like a vyper or something?
No built in effects, but it has 2 channels, some kind of "attack" controls, that I really haven't got into yet. Like I said, there are a lot of knobs, and I prefer simplified controls. But the amp sounds good so far.
The eq is very responsive. I've had some amps where it seems like you have to go from one extreme setting to another to get noticeable changes in sound. This one, a little twist of a knob goes a long way.
^ yeah the eq is active on it

^^ yeah i have a streamliner 600, focus 4x10 cab and black pearl 2x12