Most comfortable guitar?
Gibson Les Paul.
Not a well-though-out guitar for comfort, whatever its other qualities might be. It really needs both a tummy (rib) cut and a forearm contour. It needs the contoured neck heel of the Axcess, and it would work better as a lighter, thinner guitar (I've also got both the L5S and the L6S which are better in this regard). The Gibson LP Axcess checks SOME of the comfort boxes; it's thinner, lighter, has a tummy cut and a good neck heel. But I've found that the L5S and L6S were even more comfortable because the body was wider (go figure).
Honestly, the most comfortable guitar I've ever played is a Single 15 from Jim Soloway.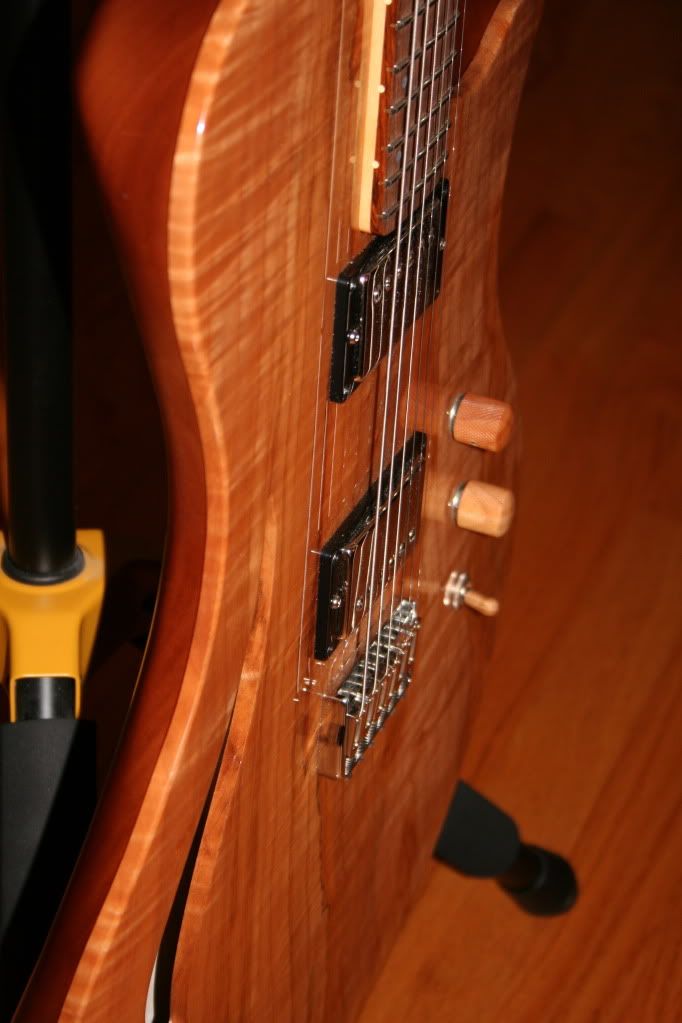 It has a wider body than an LP (15" wide at the lower bout) -- I don't think it can be beat if you're seated. It's carved out on the inside, so that it seems a bit like a semi-hollow, so it's lighter than an LP, though not neck heavy at all. But the top is "bent" (actually carved) to provide a deep forearm contour, and there's a really deep tummy cut, so that the guitar almost seems to wrap around your torso. The version that I used had a 1 13/16ths" wide nut, and the extra 1/8th" was maintained all the way down to the bridge. Jim originally called it a "Fingerstyle" neck, but the extra width made playing a 25.5" scale with 11s *comfortable*, and bending became a lot easier. Frets were jumbo, fretboard was about 16" radius. Soloway is a jazz player and actually prefers a 27" scale tuned standard for its extra real estate for complicated chording and for the piano-like bottom end it provides. I'm a crappy jazz player, but I found that the 25.5" version with 11s became very easy to play (once my fingertips got used to the abuse), even when compared to the LPs with 9's or 10's.