Small Practice Amp
I'm looking for a small practice amp and was hoping for some suggestions.

I have small children and mostly play when they are in bed so I'm looking for something that sounds good at low volumes.

Effects aren't a necessity as I have a bunch of pedals I can use with it, just something with decent clean tones and maybe a nice crunch/distortion for classic rock sounds.

Thanks guys!!!
Play when they are in bed?
You may wanna look into something you can use with headphones.

Fancy a Pod HD500x?
I have a Pod HD300 which I use from time to time but it's not really my thing.

Join date: Feb 2011
300

IQ
Yep a POD HD would be great for what you want. lots of good amp/cab/FX modeling

Even the older POD XT/X3 would work just fine. I have a POD XT that sounds just fine to me and I paid all of $65 for it on Ebay
I have used my HD300 with headphones but I'd like to try a small amp to run my pedals with, thanks


Join date: Jul 2009
180

IQ
Roland Cube.You can use the power squeezer when neccesary to make your output only 2 watts.
Last edited by smittyanthrax at Aug 26, 2014,
...
Last edited by flissful at Sep 14, 2016,
Thanks for the suggestions, I'll do a bit of research


Join date: Feb 2011
300

IQ
If your OK with a small SS amp, Vox Pathfinder would work great and it is cheap.

What about getting a cab and using your VHT?

Join date: May 2009
112

IQ
Try a Blackstar HT-5C or HT-5R.
Blackstar pretty good for your money. Built small but sound better than most.
Was thinking about getting a cab for the VHT but it's still pretty loud.

Join date: Feb 2011
130

IQ
Have a look at those Mesa Cab Clones and use youre existing head?

Join date: Jan 2006
231

IQ
You know it makes sense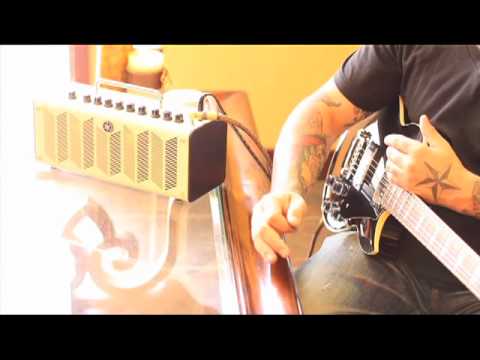 You know it makes sense
Certainly looks the business


Join date: Jan 2012
417

IQ
I use an Orange 35LDX for practice and it does what I need it to. Not a bad buy for the price

Join date: Sep 2010
115

IQ
If you have an iPhone/iPod Touch, give the JamUp Pro app a go. It's not an amp per se, but you won't disturb anyone using it and you can get some cool tones.