NPD!! My weekend project.

Join date: Jan 2006
862

IQ
Hey all.
As most of us here do, i have been suffering from major GAS recently. However with other major outgoings I have had limited funds to work with.
Then i stumbled across a shop on ebay that sells PCBs for a few pedals. (Copies of course)
Chuck in a couple of caps, resistors and a box and the whole thing came to about £40! (I had a couple of jacks and switches left over from previous builds)
I have always loved my Joyo Vintage OD. Nice cheap TS clone, but i thought it was time for something a little different....
Time for some TIMMAAAYYYY!!!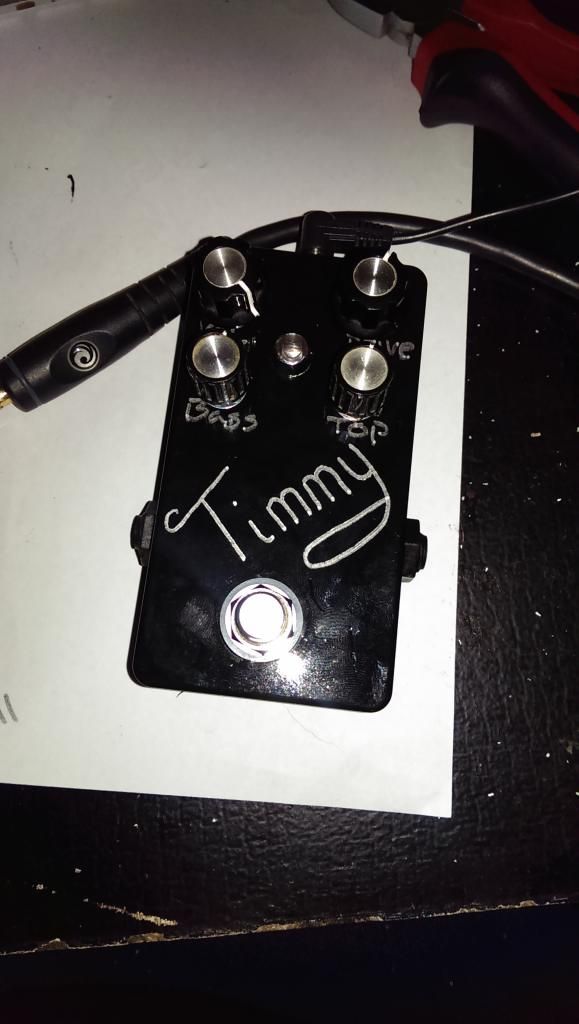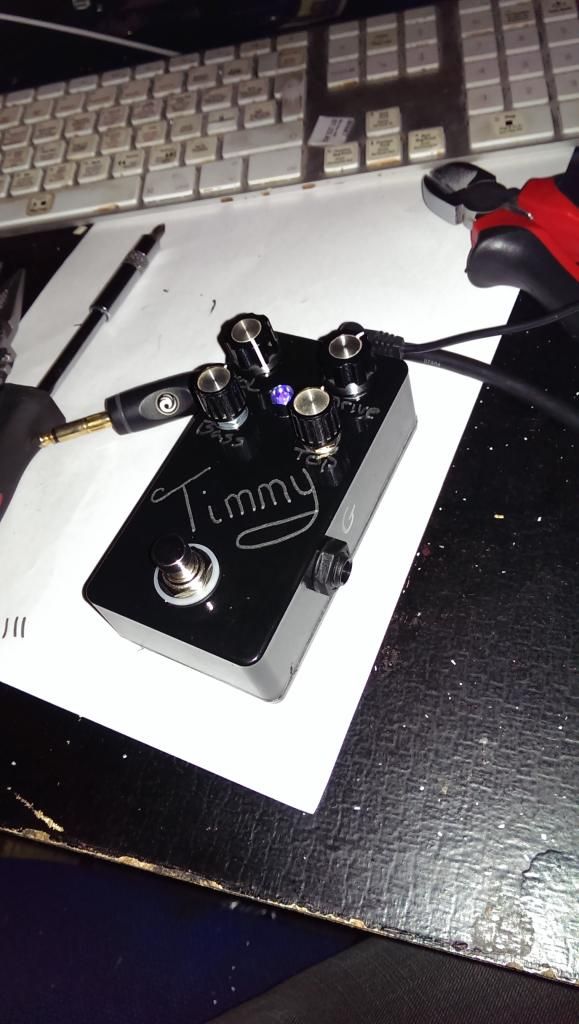 Took me a few hours to piece together on Sat and then a couple more today for some trouble shooting. All is fine and working now though

Painted the box with some £1 shop car paint, labeled with a silver sharpie and then coated with a couple of coats of clear spray varnish.
All finished off with a nice bright purple LED.
Now down to the good shit that you wanna hear.
Wow! What a pedal.
When people talk about a transparent OD I don't think a lot of people realise just how much difference there is between one and your standard SD-1 or Tube screamer.
The Timmy just boosts and adds gain without any colour to my tone at all. Set the amp the way you like it and then just kick some extra gain when you need without adding any major boost or cuts within the spectrum.
The gain range is really nice. Going from crystal clean through a hint of breakup to almost punk style grit.
Having both a Treble and Bass control is one of the things I am still fiddling with. Having been so used to having just a Tone knob and setting it to a little over half way, i now have increased tonal control and I'm still trying to find the sweet spot with my JVM (Using as a Boost for some modern metal). However with the JCM 800 it feels like it was almost designed just to compliment it. No matter where I go with the Timmy it just sings.
All in all, a great pedal and definitely worth my cash.
Audio samples coming soon....