Is this Tele a fake?
Hi guys, hoping you can stop me getting ripped off;
A (supposedly) Fender Telecaster is being sold for £150 ($250) near to me; the seller says he got it second-hand for his birthday and purports to know nothing about it (I think he might be a teenager but might be wrong). That seems hella damn cheap to me, and the decal on the back of the headstock has alarm bells ringing, but I haven't bought an electric in a good while and I just don't want to waste the train fare to check it out if it's obviously fake to you tele experts. If it is fake, is anyone familiar with fakes like this? Is this a common copy? If so are they worth the super cheap price as a decent copy that looks very very nice or are they plywood and scrap metal? Cheers guys, I'm counting on you
(Edit) String-through bridge? Is that normal or a dead giveaway?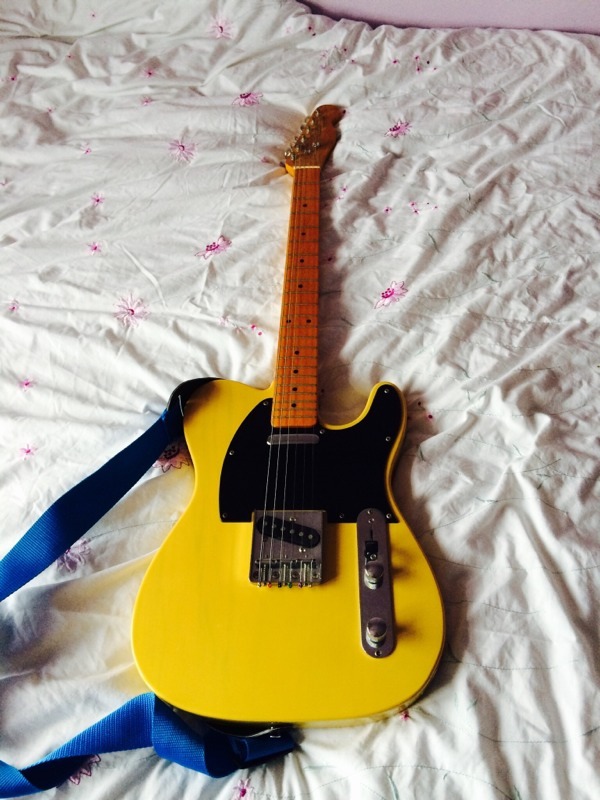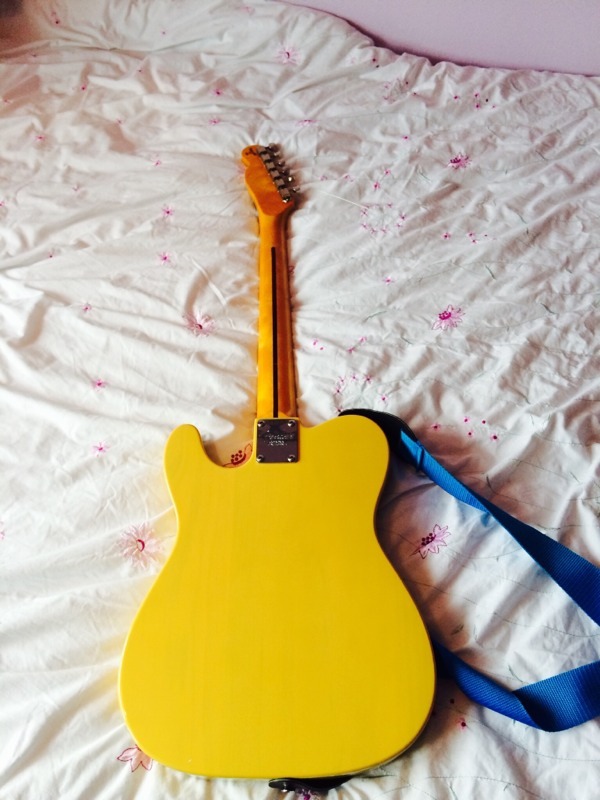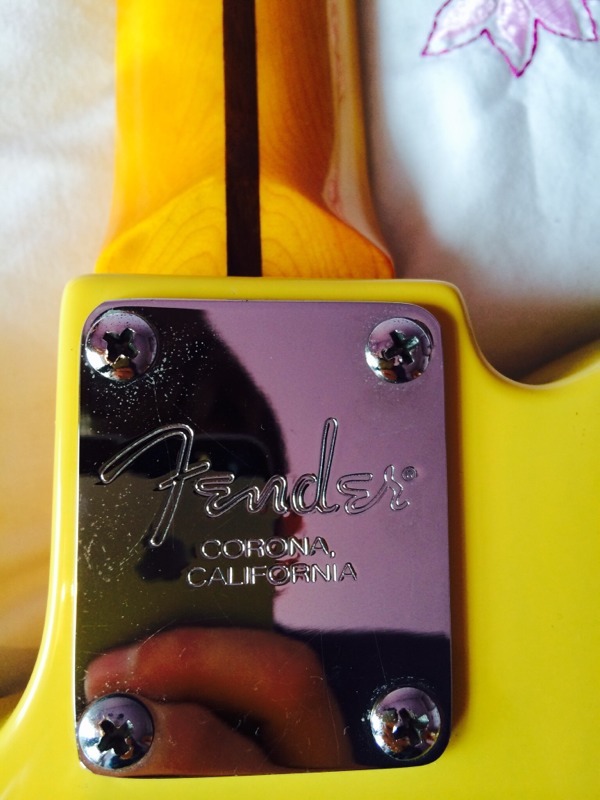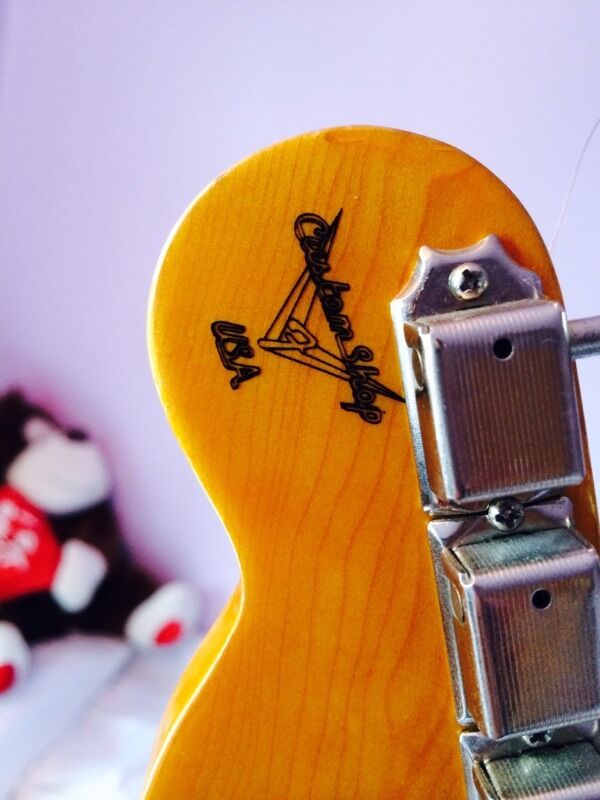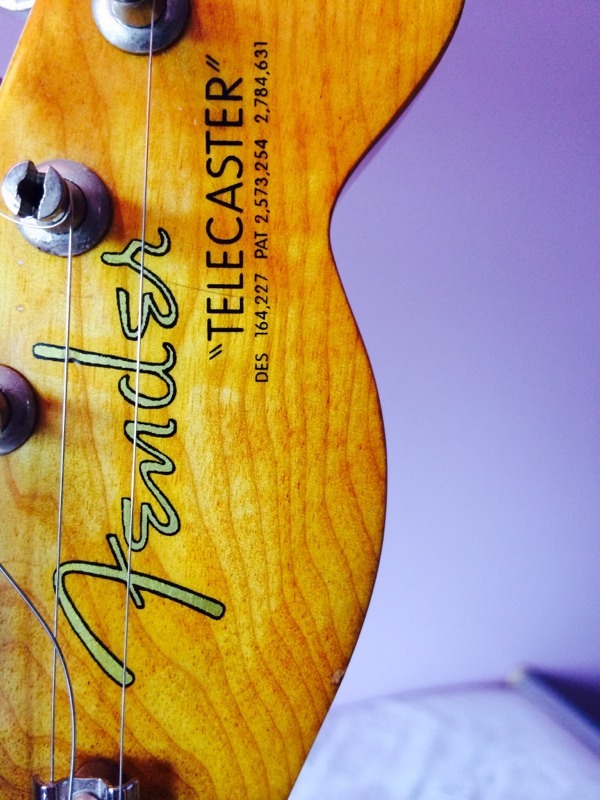 Last edited by ParasiticTwins at Sep 16, 2014,
the fact that it has no serial number would bother me.
the fact that a custom shop tele would cost more would bother me.
the custom shop logo is partially covered by a tuner would bother me.
i mean, this is fender, not gibson.

fake.
the logo should be located there in my experience with custom shop teles.
Last edited by gregs1020 at Sep 16, 2014,
I thought the serial number might have been further down the headstock, I was going to ask about that next

Join date: Feb 2014
10

IQ
Last edited by Cajundaddy at Sep 16, 2014,

Join date: Jan 2012
417

IQ
I love top loaders, I find them more responsive. Anyway, the CS stamp being covered by the tuning key is mighty suspect. Also, it's priced way too low. Even a moron teenager would be smart enough to google what his supposed gift was worth before selling it. Too good to be true, probably is.

Join date: Mar 2013
167

IQ
agree 100%. looks like a fake, made up of a bunch of different parts, but if it plays good then who cares. its still a beauty.

Join date: Dec 2006
150

IQ
Even a moron teenager would be smart enough to google what his supposed gift was worth before selling it.
I agree that it looks like a fake, but I think you're giving modern teenagers too much credit here. I've seen moron teenagers do exactly that, more times than I can be bothered to count. Tons of kids these days are spoiled as hell, have no respect for their own property or anyone else's, and no understanding of the real value of money.
Looks fake to me, or certainly not stock. The serial number on custom shop guitars is usual on the back of the neck plate (at least for my two CS guitars). That has an American Standard neck plate. The CS logo also definitely looks dodgy, like the kinda thing someone added themselves...

I don't know enough about Teles other than that. I could be clutching at straws but the fact there's no info about where the guitar's made on the head stock could mean it's an American Vintage? Then again there's no serial number...

I'd check it out, for the price someone might be selling they don't realise they have. Even £150 for a partscaster would be a good deal.
the shape of the headstock and the shape of the heel don't look right to me. Nor the positioning of any of the decals, or even the decals themselves.

also the neck plate doesn't seem to line up quite right with the shape of the neck pocket, either, which is not typical of a genuine fender.

It could be a fake with some pieces of genuine fender hardware attached to it, or it could be a "ghost built" one or something, but in any case, unless you can try before you buy, you'd be taking a risk by buying it.
Thanks for all the feedback guys, it definitely is too good to be true but I'm not that rich or fussy so I'm going to try it out and see how it plays, love the dark maple fingerboard so much and if it's comfy and the pickups aren't trash I'll see if I can haggle him down a little

Join date: Feb 2014
50

IQ
I responded to this thread earlier, but deleted my post because I wasn't sure if it was accurate information, but if it was me, I'd probably do it. Even if it is a fake, if they went to great lengths to fake every minor detail then you would probably have a great guitar, but our circumstances are different. My reasons for buying are completely different from yours, I already have two humbucking guitars so a single coil guitar would completely add another element to my repertoire.

If you can prove it's fake though you can obviously cut that price in half.

Best of luck.
Exactly my thinking, I've explained my concerns about it and I'm going to try and get him to knock £20-£30 off as he shouldn't really be listing it as a Fender and could have a problem if someone bought it mistaking it for totally genuine and then discovered it was a fake, but I'm happy buying it as a very pretty partscaster if it sounds and plays well. He doesn't seem like he knows anything about it so I think I'm in a pretty good position
I'd **** it off.
Last edited by Mephaphil at Sep 17, 2014,
I'd **** it off.
This could mean so many different things haha
Well I wouldn't risk it.
But if you do think that you're going to take a gamble maybe educate the kid and tell him what you'll pay for it. Don't screw him over, pay him what you genuinely think it's worth. It's not like you know anything about it either, you're pretty much both in the same boat.
Could be a real player!

Join date: Nov 2007
410

IQ
I'd make sure the body isn't veneered and hiding something nasty and the truss rod in the neck is functioning. If all of those are good to go, the hardware isn't cheap, frets aren't sharp and bridge is fully adjustable then I would take the risk probably. At least around that price I would.
I'm going to ask for a close-up of the bridge to see if there's anything stamped on it, the input jack to see if it looks more like a proper recessed tele one (as I understand most of them are) or a flat les paul-style one which a lot of cheaper copies seem to have, can you guys think of anything else that would be useful?

Join date: Jan 2006
162

IQ
Honestly it looks dodgy, however for £150 its worth the punt....

if i had the cash, i would grab it myself.
for the same cash you could get a used G&L asat tribute, which would stomp on any fake.

your coin your choice. good luck.
A little addendum to this thread; I went and checked it out, played nicely but the details were certainly lacking in the flesh and although it had a fantastic clean sound it sounds pretty bad with even a touch of distortion, and the guy's lack of knowledge about guitars worked against me as he stubbornly refused to drop the price in any way despite my comments so I didn't get it. Planning to save my money a little and pick up a second-hand MIM telecaster instead, will be much easier if I ever need to sell it on

Join date: Jan 2005
616

IQ
Seconded on the G&L ASAT Classic suggestion.