Parker PDF 105
I am consider buying a Parker PDF 105. I used to have a P38 but it was not quite what I wanted so I sold it. I have two American Strats and would like something a bit different. My problems is there are no Parker Dealer anywhere close to where I live so I will have to order one. I always like to play a guitar before I buy it but there is no way I can do this for this guitar. Also, I can not afford Parker's line of expensive guitars.

I really like the light weight and the thin neck on these guitars.

Anyone have an opinion I would appreciate any comments or suggestions??
I have the PDF100 and absolutely love it. I will admit, the construction is a little shoddy. I ordered mine off the internet as well. There were some spots in the would that had small chunks out of it, and they just finished right over it. Not that big of a deal, you can't see unless you're right on top of the guitar. Also, I took off the back plate and all of the screws were much larger screws that had been ground down to the appropriate length. Just a lot of corners cut it seems. But I like the way it looks and plays, so I'm not too upset about it.
Thanks for the reply. I understand that the 100 does not have the pizeo pickup, is that correct?
Yeah that is correct. I think I paid $500 or $600 for mine, I can't remember which one, but as I mentioned - its a great guitar. Mine has the coil splitters on it, which Im assuming the 105 does as well. So it's got a few different sounds you can get out it of. That and the fact that it came with genuine SD pickups was awesome. I use it as my drop C guitar, so I don't play it very much, but it's crazy light, so its super comfortable to play. Even with the crappy construction, and gouges out of the body, I still love it.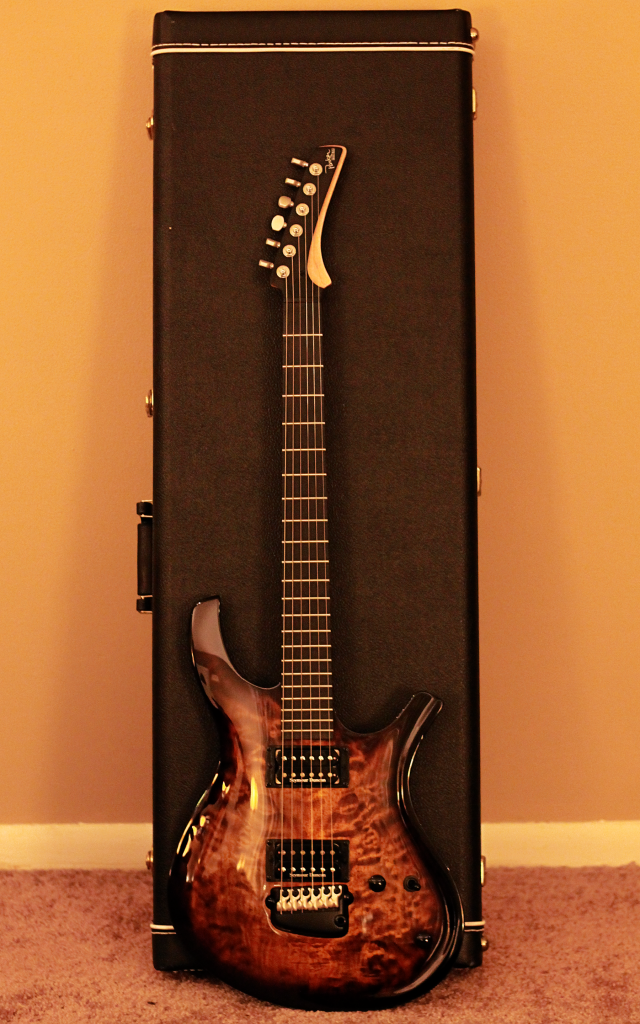 Last edited by CkY freak at Sep 30, 2014,
Thanks for the reply. From my reading I do not think the 105 has the coil splitter switch.

Join date: Oct 2009
160

IQ
The Parker PDF 105 is a hell of a lot of guitar fir the money. No; it isn't the same as one of their $4,000.00+ guitars - there are some construction issues, but they are largely cosmetic, but it is a fine guitar all on its own. It is much better than a lot of other guitars in that price range. I think you will love it. I was sorry I sold mine.
Last edited by FatalGear41 at Oct 2, 2014,
Thanks for the reply.

BTW, I contacted Parker and none of the PDF's have coil splitter switch.
If you do indeed have the coil splitters then they were added by some third party since Parker says that none of the PDF's have these. I wonder who installed them and how much of a job this is. I am not a technical person and would never do it myself. I would also be concerned it would cause problems with the warranty.

BTW, that is a very nice looking guitar CyK. Why did you sell it?
I bought mine directly from a music store on ebay. The coil split/tap is a push/pull tone knob. It's a fairly common feature on guitars.
Also - there's 2 reviews of the PDF100 guitar on this site (mine included) and even the other review mentions about the coil tapping, so I think Parker has misinformed you -
http://www.ultimate-guitar.com/reviews/electric_guitars/parker/pdf100/index.html
So, I think Parker has misinformed you.
I didn't actually sell mine. I did put it up on Ebay, and then it somebody did buy it, but they never paid for it. I guess it was a sign for me to keep it. So I haven't thought about selling it since.
Last edited by CkY freak at Oct 4, 2014,