2x12 wiring help

Join date: Dec 2010
10

IQ
Hello
I'm trying to wire a 2x12 in parallel with just 1 input
I've got this kind of input jack
The problem I'm having is that I'm not sure where to solder the cables to. There's 4 solder lugs on the input jack, and in the diagrams I've been following, it's just ring and tip, so do I solder both +s onto 1 of the lugs and both -s to another or would I solder 1 wire to each lug? Also, how do I know which lugs are + and which are - ?
I'm completely new to this kind of stuff, I'm sure you can already tell
If anyone has a diagram with this kind of input jack, that would be super helpful
Thank you

this should be how to wire it: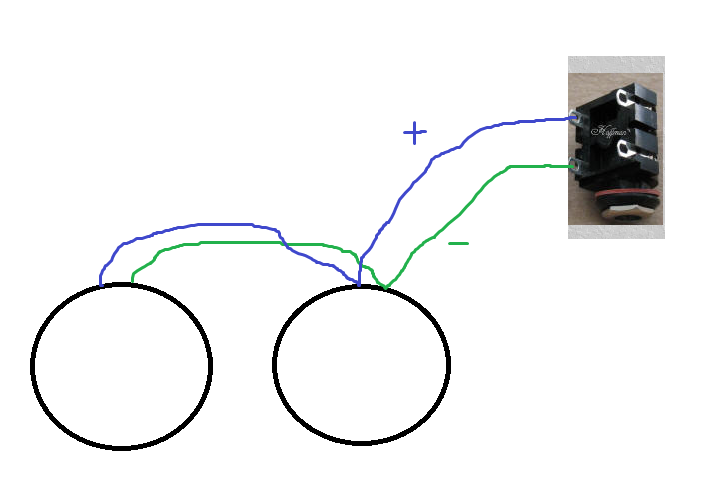 if you insert a jack into the socket, youll see that the 2 metal contacts on the top lift. when theres a jack inserted, only the 2 pins connected to the contacts that lift are active. When jack is out, the other 2 are activated as well. These jacks are made primarily for inputs n amps which have multiple inputs so that one can be grounded when theres no guitar connected. you only need 2 pins for this project.

Join date: Dec 2010
10

IQ
Thank you very much!!

Manage to actually get some sound coming out. Eventually
Join date: Feb 2011
310

IQ
Hello

I'm trying to wire a 2x12 in parallel with just 1 input

I've got this kind of input jack

The problem I'm having is that I'm not sure where to solder the cables to. There's 4 solder lugs on the input jack, and in the diagrams I've been following, it's just ring and tip, so do I solder both +s onto 1 of the lugs and both -s to another or would I solder 1 wire to each lug? Also, how do I know which lugs are + and which are - ?

I'm completely new to this kind of stuff, I'm sure you can already tell

If anyone has a diagram with this kind of input jack, that would be super helpful

Thank you
Yes you can, You can also do it the way pictured above^