NPD - muffy content
Vick Audio 73 Rams Head!
So i posted my Signa drive online for sale and a guy out of Texas hit me up for a straight trade. technically my signa retails for about 15ish bucks more than this, but whos counting.
This is supposed to be a Big Muff clone but with a 3 mode dip switch for EQ, flat, mid scooped, and Mids boosted.
Quality -
VERY nice. i am very impressed at pedals selling for 70ish-120 at the quality. its every bit as good as CMAT Mods. appears to be true bypass.
Sound -
its a muff fuzz clone and a very nice one. like any fuzz, it can get a tad noisey especially with single coils. i dont have a lot of basis for comparison.
the tone knob is responsive with a large sweep. anything from box of bees to super dull. i keep it at about 1:30.
Dip swtich is the secret sauce. flat is pretty much self explanitory. you want the muffiness but as transparent as possible. the scooped i feel is the more classic muff tone. deep, grinding, THICK, bassy. the boosted tone is another hybrid fuzz type. its like a muff mixed with a tube screamer. probably really great for leads to cut through a mix? i wasnt really much of a fan for chord work. depends on the tone knob a lot to me. in my mind, i want that muff type tone so i keep it scooped with enough tone knob not to get muddy.
and how can i forget looks! i have hendrix to inspire me. pretty sure i play better because of that. for the record, the new pedals do not have hendrix on em. i may have lucked out.
DEFINITELY recommend! almost all of his pedals are under 100. im shocked. again, another reason to seek boutique!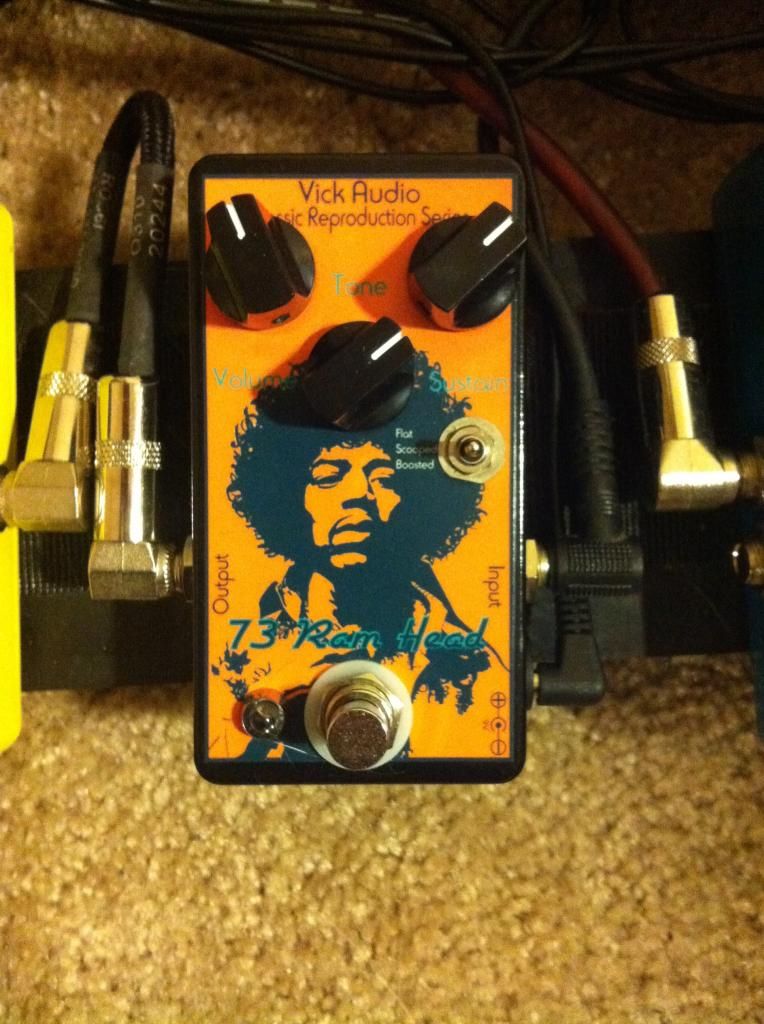 Last edited by ikey_ at Oct 20, 2014,
HNPD

Nice score man. If you haven't seen already, there's a guy on youtube who does epic demos for Vick pedals, I think his channel is named 'peteytwofinger' or something.
HNPD!
HNPD, man!

Sad to know that you let your Signa Drive go, though. You didn't have use for it anymore?

Join date: Nov 2009
690

IQ
Ram's Head?
Shoulda got a Manx Loaghtan.

HNPD!

not really. i have a carvin v3m which gives me 3 channels and i got a Xotic AC booster as an "overdrive". it can be used as one but its mostly a boost. i wanted a less "mid hump" pedal. if i want a mid boosted tone, i have the flexibility on my amp to use 1 channel as a mid boosted EQ channel. it was baiscally redundant.
very nice


Join date: May 2010
420

IQ
I just recently heard of Vick audio, and since then they've been popping up everywhere. Happy new pedal day

I have to admit that I don't like the print though