NGD & Review! 2006 Paul Reed Smith CE-24
Sorry guys, this is a long read...
So I actually got this guitar a couple weeks ago, but I wanted to play it and get used to it before I made a NGD/review. All pictures were taken with my Galaxy S4 the day I got the guitar.
Thoughts:
Overall, this guitar is fantastic. I've been playing since 2006, coincidentally when this guitar was built. Tuned to E-standard and Drop-D, I can easily say I can play whatever I want to with it, and my Mesa Boogie Mark V. I
personally
think this is one of the best combinations of guitar and amp you can buy. And the kicker: I bought this guitar blind, on the reputation of PRS guitars, and how well my Korean made SE Custom 24 played.
This is a PRS guitar that can be a workhorse, without having to ruin a pretty maple top and paint job. However, the solid Blaze Copper finish is stunning, and I'm pretty sure there's a yellow or gold flake under the orange. You can see this in the pictures. This is a guitar I can really grow into. Minus a couple nicks, she's mint.
I bought the guitar through Reverb(dot)com, from a superb and helpful gentleman named Paul, from the 1919 Guitar Shop in Pensacola, Florida. This beautiful guitar made it home to me after being shipped 3490 km, or 2169 miles. All she really needed was to be tuned. He even through in the truss rod wrench and a pamphlet from 2006 about all the PRS models at the time.
Specifications:
Made in 2006
Blaze Copper finish all around
Mahogany body
Carved Maple top (thanks Robgnarly)
Maple neck
Rosewood fretboard
Abaolne dot inlays
PRS brand tuners
PRS HFS Treble/Vintage Bass pickups
Recessed 5 way rotary pickup selector knob
Recessed Volume and Tone knobs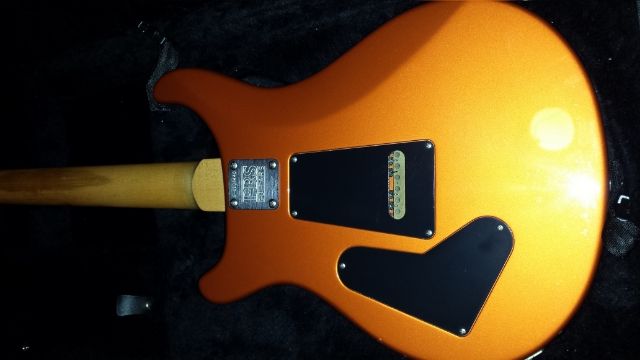 Sound:
It sounds close to my PRS SE, but the CE cuts through much more than the SE, and seems to have more bite, without adjusting my Mark V. Strung with what I believe are a set of .10's, the CE sounds like a leaner and meaner SE. Obviously there is a price difference, and a better sound is to be expected. The CE has great mids and top end, with not so much a thumpy low end, but more lower mids than bass I think. The CE has more clarity and articulation. With the way I have my Mark V set, its a lead guitar sound, which is what play in my current band.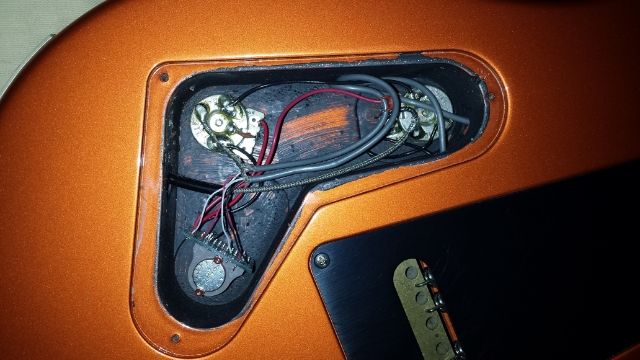 Neck and Feel:
The neck on this CE-24 feels just as beautiful as she is. Its the PRS Wide-Thin profile, and seems like a D-profile. Theres enough there for you to grab onto for whole tone bends, and its still thin enough for basic sweep picking and 3 finger tapping. The satin feeling neck definitely helps. Its a pretty Strat-like neck I think. Not really a Les Paul feel, and definitely not like an Ibanez Wizard. She also has what looks to be abalone or MoP dot inlays, which while not as pretty as the Birds, still have some class of their own.
Hardware:
The knobs are a little too smooth turning, and may be a bit loose, but they turn without a hitch and are equally responsive both way. The 5 way rotary pickup selector was definitely new to me, and is probably my lone complaint with this guitar, and I can see why others aren't big fans either. The 3 way blade selector on my SE I feel is slightly better, but you can easily find the neck position if you're on the bridge, and vice-versa. The in between positions are interesting, and will take some getting used to as I've always only had guitars with 3 pickup positions. The tuners are pretty responsive, but can be a bit tempermental at times, needing to go back and forth a few times to hit the wanted note. This could also be a small problem with the nut though too.
Bridge:
The tremolo is a little stiff with 4 springs in the cavity, but very usable if I was to use it. I don't plan on using it in my band, but its good to know its there. I haven't blocked the trem on my SE, nor will I block it on my CE, as I find both to be stable enough to have them set level, and be able to play bends. The frets have seen some wear, or at least it seems so to me, but with this guitar, I would get it re-fretted, no question.
Verdict:
For $1450CAD, shipping included, with a case, this is an absolute beast of a guitar. I will keep this guitar for as long as I live, and don't desperately need money. I would love to pass this on to my future family after I pass. Thats how awesome this guitar is. If you have a chance to pick up a PRS CE of any kind, under $1400USD, I would highly recommend it. I really feel like you won't be disappointed.
Last edited by AWACS at Nov 18, 2014,
HNGD!

Those CEs are fantastic guitars, I can't wait to be able to afford one.
HNGD! That color is tunning.

and FYI... There is no such thing as a bad PRS CE! A very underrated guitar.
HNGD!

I've got an identical CE24 myself, they're fantastic guitars.
excellent