The Thing.

Join date: Feb 2012
20

IQ
I love the sound of stratocasters.
I Hate the guitar, don't like the scale, don't like the (Lack Of)upper fret access, don't like the size and how it sits when hanging.
What do I like?
Ibanez Artists - All of them, From the mid 70's original to the current incarnation called AR series. Even the Humble GAX version.
What's a single coil guy to do when he likes guitars with twin 'buckers?
Why do something incredibly time consuming and install 3 single coils in a GAX body along with custom wiring of course.
I Introduce you to............THE THING
GAX donor guitar from a pawn shop for $68 CAD
Spare Squire standard single coils for middle and neck (Alnico for those who don't know)
Spare GFS overwound bridge pickup wound to a very hot 9.4K
5 position rotary switch
Volume
Push pull tone. 0.015 mF orange drop cap
Switching works as follows:
P/P Down: Standard stratocaster wiring.
P/P UP: Position 2 & 4 are now in series like a humbucker. Single coils positions are still single coil
I was going for a classic rock dirty growl with this wiring, but ended up with amazing clean sounds
The standard strat position......sounds like a start should. Lots of quack and sparkle.
The series positions.... sounds kinda like Brian May's red special. it also never quite loses the single coil snap while in position 2, Even with lots of dirt pushing the sound.
Guitar body: basswood
Guitar Neck: maple
Guitar fretboard: rosewood
It's sitting beside my 1984 Ibanez artist that I need to refret.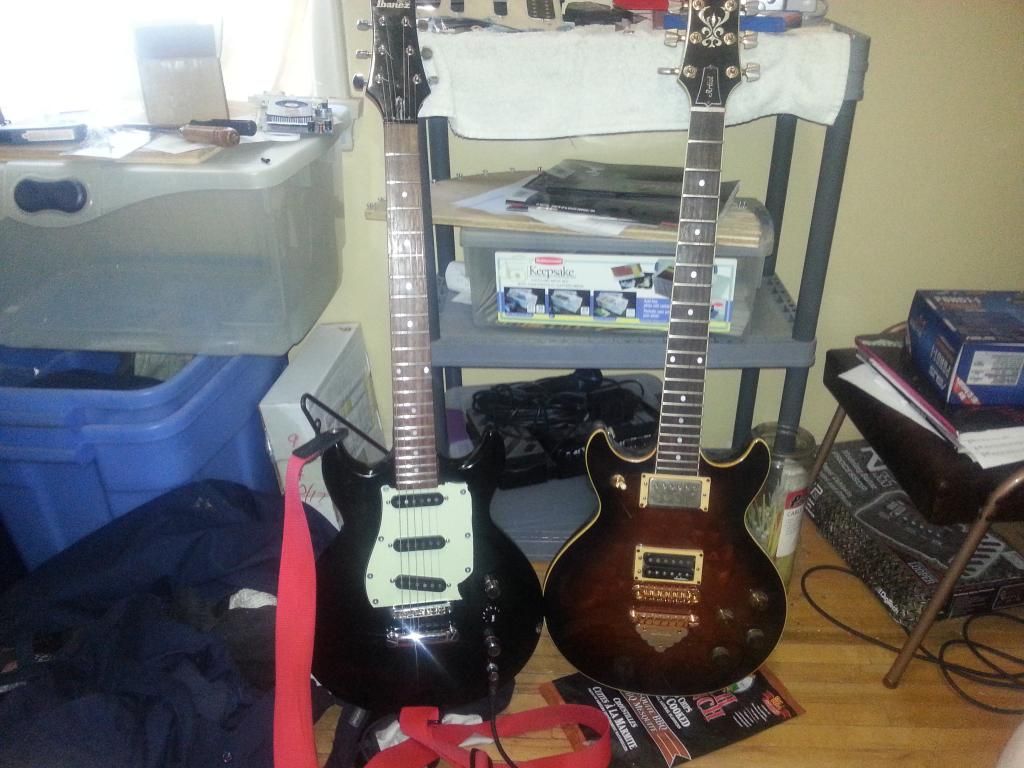 Join date: Nov 2014
200

IQ
I agree there is so many things wrong in my eyes with the strats fender makes that are production models.

a 25.5 scale and a sculpted neck joint to hit the higher frets helps. That and hum cancelling pickups. On all my strats I wire up though I do a 2 band EQ (both master tones) and a 7 way mod to make the guitars more useful. I try to avoid coiltaps but it's tough.

The 1984 Ibanez looks nice too. I had a customer come in for a pickup swap and long story short after he paid me he ran his hardshell case over by accident and didn't realize it until 2 hours later.

Join date: Feb 2012
20

IQ
The strat is "iconic" Fender sells so many of them they really do not need to change it.

But I've played some of the competition's S knock-off's and they all have the same type of failings.

Lack of upper fret access, Most times my playing hand smacks that 3/4 inch mounting block for the neck and that's it.

The body sits in a awkward place for me to play it - again in the upper fretboard.

This is all in comparison to the Artist/double cut LP guitars I do like.
So this was a concept build to see If I could build something like this.

As I search my local pawnshops, I'll see if i can find a better donor guitar and do some transferring and re-wireing
Nice, I probably would have just slapped a couple P-94's in there and called it a day since I'm lazy and I like to think simple