BYOGuitar Flaxwood Kit
I acquired a Flaxwood Guitar Kit from BYOGuitar. If anyone is interested, i will post the progress of my build. Here are the options I added
Flaxwood Humbucker Kit with Finished Neck
Bridge Hardware Kit - Gotoh 510UB Wraparound
Tuners - Grover Mini Locking - 406C
Pickups - Seymour Duncan Hotrodded Humbuckers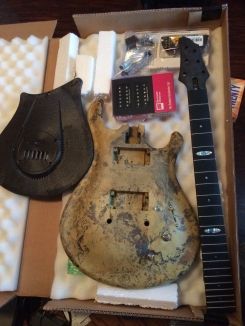 Last edited by epefeman at Jan 20, 2015,

Join date: Jun 2010
320

IQ
Those look interesting, but I'm personally new to kit builds, so I'm starting off with a cheaper kit to learn my lessons on. I like the concept of the Flaxwood kits - keep us updated on the build!
nice

is it officially licensed by flaxwood?
nice

is it officially licensed by flaxwood?
Good question, but I dont think it is officially licensed. The box had the flaxwood logo on it, but the kit did not come with any stickers or decals to attach to the guitar.
huh, that's strange. looks nice anyway.


Join date: Jun 2010
320

IQ
I'm pretty sure you can actually buy those kits directly from Flaxwood guitars...
Got it sanded and ready for paint. Had to sand off some of the tags left over from the mold. The material sanded down much like normal wood. I started painting the outside first and then moved to the center. So far so good. Ill probably add another coat of toner and call it good for color. Still need to lacquer it up and buff it till it shines.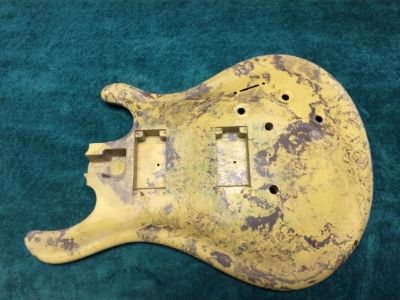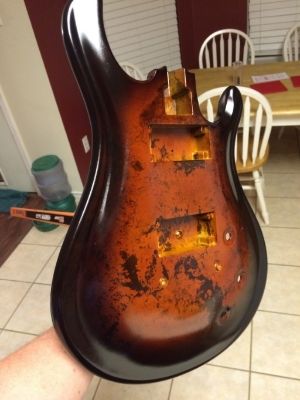 Last edited by epefeman at Jan 22, 2015,
are you going to post a demo of the finished instrument ??
I've been eyeballing the p90 kit with the F-hole.
That has a removable back plate, correct ? So you can soldier the pots and switches from inside the body cavity.

Looks like your using the referenced finish products also.

Looks great, much buffing done on it ???
I might post a demo. As far as the back cavity, yes, it does has a removable back plate that gives access to all electronics. Don't mind the green on the inside of the first pic, I was just testing to see how the material accepted dyes. I am using the finishing kit that BYOGuitar sells. The kit was kinda pricey, but I wanted to get something designed for instruments and not some home depot stuff that will turn yellow in a few years. The second pic shows the guitar with about 5 coats of lacquer applied. I have not done any buffing whatsoever and it looks great already. There is some slight orange-peel look to it but that will smooth out in the buffing process. The lacquer seems to be some top notch stuff..much better than what i've used in the past. It sets up nice and coats can be reapplied after an hour or two. They do recommend letting the guitar sit for a week before doing any buffing. This will give me time to work on the neck. More to come!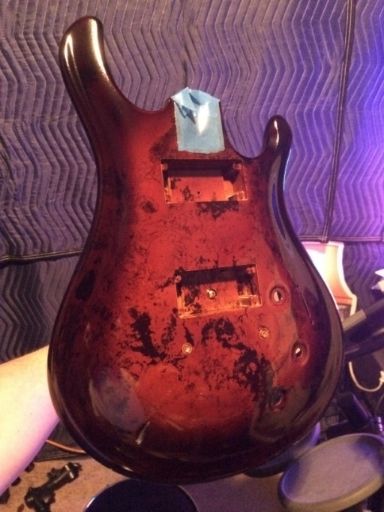 Last edited by epefeman at Jan 26, 2015,

Join date: Dec 2012
610

IQ
Nice work so far. The finish looks lovely. Did you receive the kit with a pre-filed nut? Also, what are your plans as far as wiring goes?
The kit did come with a pre-filed nut. It was kinda high for my taste, so I sanded it down a bit before I glued it in place. As far as the electronics, it came pre-wired with 1 volume and two tone pots (along with a 3 way switch of course). I just had to solder on the pickups to the correct spots and its done. I actually got lazy and stopped taking photos during my build. I got it all done now and Im really diggin' it. The pickups are very responsive. I had to go back and file a few high frets though. It plays great! Here is a finished pic.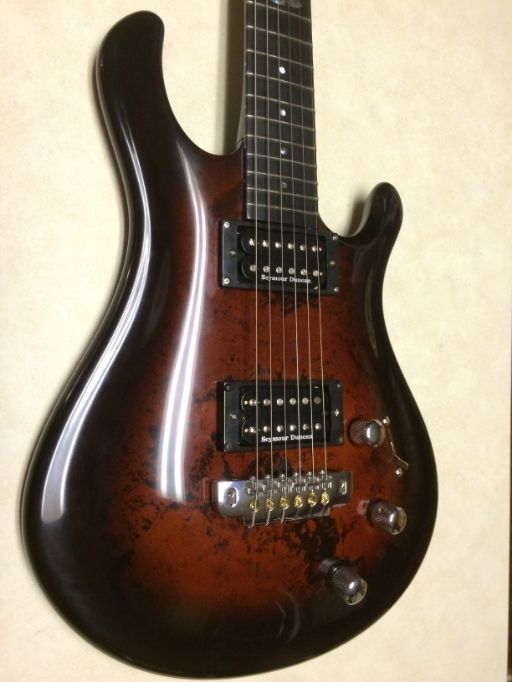 Last edited by epefeman at Feb 9, 2015,

Join date: Nov 2007
450

IQ
Man, that thing looks really great.
Good job

Very nicely done finish! I wasn't aware of this kit and the special features of the neck and body material but now I'm interested.


Join date: Nov 2011
360

IQ
So, looked up shipping costs. $76 into the UK, but still tempted.
very nicely done


Join date: Apr 2010
20

IQ
That turned out very well. How well did the set neck line up with the bridge?

Join date: Nov 2013
10

IQ
OOOOOOOU KILLEM!

What a beauty!
That turned out very well. How well did the set neck line up with the bridge?
It lined up perfectly actually. The holes for the bridge were pre-drilled by the folks at BYO depending on the type of bridge you buy. I just had to hammer in the inserts, but I did that before I painted. I figured I didnt want to go banging on it after I spent all that time painting, lacquering, and buffing. As for the neck, its a 3D neck joint so it only fits one way. Kinda hard to screw that up. Just slather with super glue gel (BYO Recommended Method) and clamp it together for a few. I was really nervous about the super glue setting up too quickly, but I think the gel doesnt cure as fast as the runny stuff.

Join date: Dec 2015
10

IQ
hello,

I'm curious about new way building, and I would like try this project.
I have only one fear, about that kind of guitars.
I own a dozen guitars, among which one Parker Fly deluxe. which it is a futuristic guitar, but to me it does not seem to have a personality, it is "too perfect", cold, so I play mostly les paul, telecaster or others. However in this decision making phase your opinion, after one year playing that guitar, would be very welcome.

best regard

salvovulcan
Love the Axe. I am going to build one of these. I love your finish. Can you provide more details about how you did it, products used, etc.

Thanks
preceng
, the kit i purchased from BYO (Guitar Finishing Kit) came with a DVD on how to prep, paint, lacquer and buff. it also came with several grades of sand paper needed to remove the orange peel look after numerous coats of lacquer. However, this is probably a lot of resources elsewhere. Here is a summary: Sand body to remove all imperfections from the molding process. I used a sharp chisel or knife on some areas - sanding would have taken all day. Mask areas you dont want painted (i.e. neck joint, etc). I screwed the body to a stick so I could manuever the body without ever touching it. This also allowed me to prop it up while drying -- Absolutely critical if you ask me. I started painting the outside of the guitar first (see previous post) with the Guitar Toner Encore Brown from the BYO kit. After sufficient coverage(2-3 coats), I moved on to painting the center with Guitar Toner Starcast Amber from the BYO kit, while overlapping with the Brown coat to blend.. I probably did 2-3 coats of that. Then there was the sanding phase that used very high grade sand paper to knock off any specs of dirt or imperfections from the paining process. Finally, came the lacquer process. The process required several coats of lacquer - I probably applied 10-15 coats of lacquer on it and then let it dry for a week. When I say a week, I mean, give it a fully 7 days to fully dry. I jumped the gun and tried to start sanding after 2 days of drying and I could tell right away it had not fully hardened. It gummed up the sand paper and left the portion i was sanding very unpleasant. I ended up having to wait for it to fully dry, so I could re-apply lacquer to that spot and then wait another 7 days to finalize with sanding. The sanding process went through a few grades ending at around 4000 grit (I think). Hope this helps
salvovulcan
I certainly wouldn't say it is a perfect guitar. It has the same unique characteristics that any guitar has. If i was to try and build another guitar just like it, It would be hard to replicate. After having this guitar in my arsenal of Strats, Les Pauls, and Ibanez, it still manages to get its fair share of play time !

Join date: Nov 2004
419

IQ
I love the finish. Getting a nice smooth burst is very difficult. I've been building for more than 15 years and still struggle with it. Well done.
i can tell already this isn't going to turn out good in the end