Whammy Bar on Les Paul
Join date: Oct 2010
450

IQ
No offence, but you sound like you're 14 years old.
Generally speaking, a guitar that doesn't already have a vibrato bridge is probably not worth modifying to retrofit one. Granted this depends on what sort of bridge you're intending to use. But with the sort of guitar you have and the sort of literacy you have, you're probably going to want either a Floyd Rose or a Kahler. Those bridges are really the only ones that are going to have the range of movement and tuning stability you need for "TEH EPIC DIMESQUEELLLZZZZ" (kind of cringing that I used such a term)
But the truth is, it would be extremely impractical to do what you're considering to your guitar, mainly because your guitar has a TOM bridge. A TOM bridge is designed in such a way to sit relatively high over the plane of the body compared to other types of bridge, such as a Fender Vibrato bridge (or for that matter, a Floyd Rose). Because of this, the neck needs to be positioned at an angle relative to the body to make the guitar playable. You can see this angle relative to the body by placing a straight edge on top of the fretboard and comparing their difference in geometry.
This is a serious problem because Floyd Rose and Kahler bridges are relatively low in profile compared to a TOM. If you fitted such a bridge to a guitar with a neck angle, the end of the fretboard would choke out the strings on every note behind it. Making the guitar unplayable. So converting a guitar with a TOM bridge and a set neck/neck through to use a Floyd Rose/Kahler is a non-starter.
This diagram is a good illustration of what I'm trying to explain. The 3rd diagram from the top represents your guitar's current configuration, and the 4th diagram (the one on the bottom) illustrates what would happen if you put a Floyd/Kahler in it.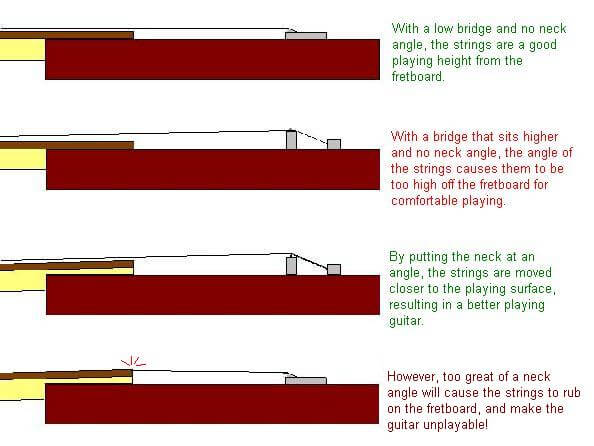 Even if it
could
work, those sorts of bridges require very extensive modifications to retrofit onto
any
guitar. Doing such a modification would destroy its resale value (even if the work done is competent), and the work itself would be very cost prohibitive.
Its more cost-effective to just buy a new guitar. Such an extensive modification is more trouble than its worth.
LTD actually makes an EC1000 with a Floyd Rose, so if you really like your current guitar, but you also want a Floyd, this is what you should've bought. I personally think the abalone all over the guitar looks hideous though.
http://www.gak.co.uk/en/esp-ltd-ec1000fr-reindeer-blue/94133?gclid=COjpnOKm3MMCFe_JtAodJ2sAvw
The reason this guitar has a Floyd is because the guitar does not have a neck angle.
Last edited by T00DEEPBLUE at Feb 12, 2015,