Amp head DI question
Hi all,

I have a 1965 Bandmaster with which I'm trying to recording silently in my apartment. I'm using a Weber MiniMass to load it down. The idea was to go from the head to the attenuator, and then from the line out of the Weber to a Torpedo CAB (cab simulator). The problem with this method is that the line-level signal is pre-attenuation, and the CAB only has a switch for line vs instrument input (there's no variable input control). Even on the line setting, the signal was way too hot. I'd have to turn down the volume on the head to where there's no power tube saturation to get a signal that doesn't clip. This kind of defeats the purpose for me. It's usable, just not what I'm after.

My question is this: Would I be able to use a DI box with a -20 db pad and go into my interface or it cause a noticeable degradation in sound quality? So head --> attenuator --> line out --> DI --> interface into Torpedo Wall of Sound (same software as CAB).

If not, what other options am I looking at here? An attenuator with a line out level control?

I could get the Torpedo Live but I'd like to avoid spending $1000. I'd also like to avoid units that add any speaker simulation before I hit the DAW, because I like the Torpedo software.

Thanks for the help!

Join date: Apr 2005
110

IQ
Some small mixer will probably do it as well.
I think you'd be fine with a pad to bring down the signal if the signal quality is clean. I'd suggest Radial for DI, but there are some decent cheaper options, just don't get Behringer


Join date: Dec 2009
530

IQ
just be aware that if you have the 40watt bandmaster head you are definitely putting out more then 40 watts into the mini mass if you turn it all the way up to power tube distortion.

you really need a 100 watt attenuator for that.
Yeah, I've since done a bit of reading and understand that a 100W would be the way to go. I will probably end up going with a Jet City attenuator, which has a line level control. Thanks dudes!

EDIT: After doing some more research I think I'll go for the Fryette or a Rivera RockCrusher. It seems the Jet City sucks out a lot of high-end, way more than par for most attenuators.
Last edited by muffinman123192 at Apr 27, 2015,

Join date: Dec 2009
530

IQ
I was going to do it, I'd just save up a bit more and do it right. The fryette power station is not that much more and it is amazing for attenuation.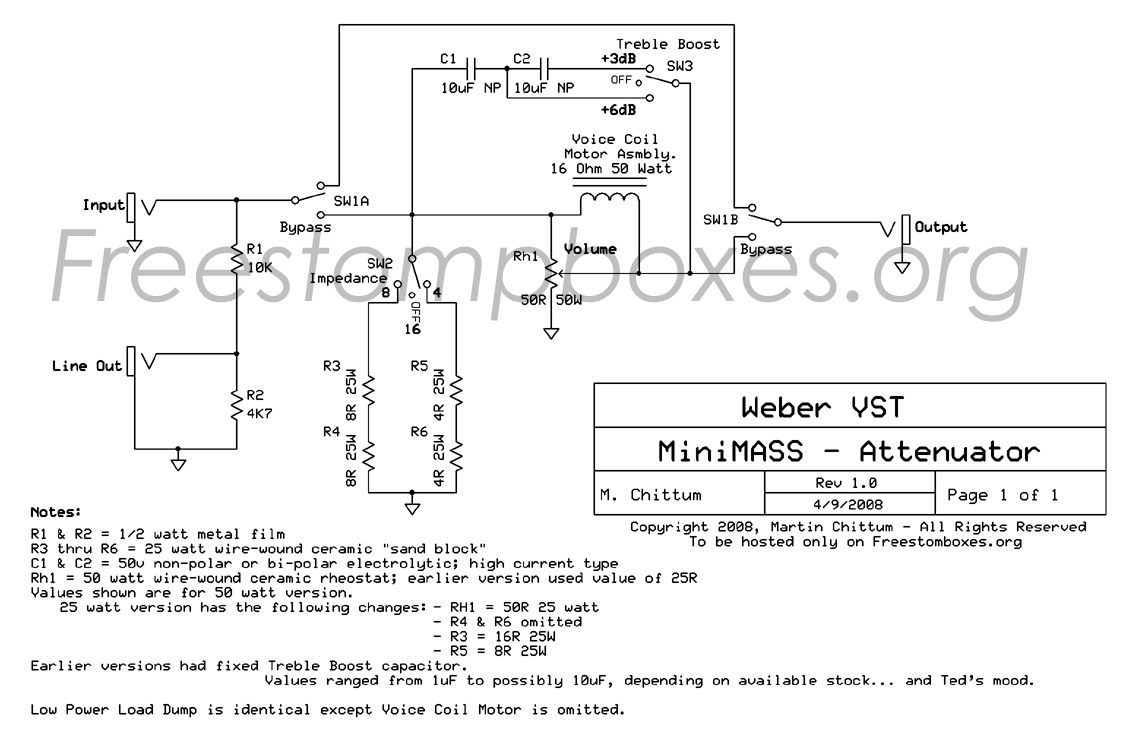 Try a 2.2K resistor in R2, maybe 1K. Experiment.
Thanks for the input, guys! I ended up finding a used 4 ohm Hot Plate on Reverb for pretty cheap, so I'll give that a go.

What would fail when I put the Bandmaster into the Weber? I've used it without issue thus far, but I understand that I'm putting out more than 50 watts so I'm just curious as to what will be the first thing to go in that case. OT? I'm not gonna use it anymore though, at least with that amp.
You'd first hear the sound **** up as the attenuator failed. After that, the OT is in danger. Those old Fenders had hella good OT's though so you'd likely survive it just fine.