Inanimate Carbon Rod 2016!

Join date: Oct 2008
580

IQ
Are you tired of political candidates who're just like the competition? Do you want someone who stands out as a no-nonsense straight-shooter with a mind for practical solutions?
Then why not consider Time Magazine's 1994 Man of the Year, Inanimate Carbon Rod!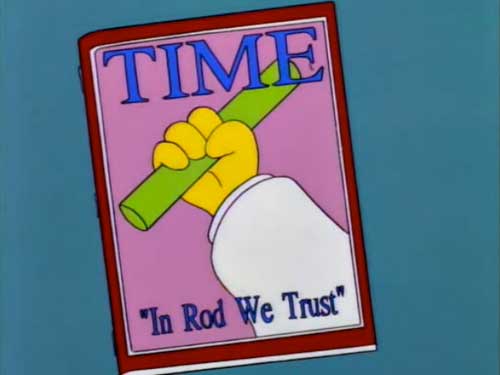 I.C. Rod isn't some Washington insider. He's a blue-collar joe, just like you. From his humble beginnings working on structural stability at the nuclear plants powering the beating, glowing, radioactive heart of America, he knows what the average American wants and needs out of life, and he's got the brains to deliver it, as evidenced when he saved the lives of fellow astronauts B. Aldrin, R. Banyon, and H. Simpson with his quick-thinking resourcefulness and pure gritty strength.
If you're tired of career politicians who're only in it for the next term, who play the two-party game without ever thinking about the people they represent, who're in the pockets of each and every lobbying agency, maybe it's time to give Inanimate Carbon Rod a try.
I.C. Rod: He saved space. Now he's saving America.
An organic politician, how refreshing
Join date: Oct 2010
460

IQ
Dental plan!

Lisa needs braces!

Join date: Aug 2013
280

IQ
Well it is a convenient shape if it ever did become corrupt and decided to screw you over.

Join date: Mar 2011
41

IQ
great

Join date: Oct 2008
580

IQ
great
Your image is broken. Now tell me something, is that acceptable? You're an American, and you want to express your opinion in a humorous fashion, so you pull up a funny picture and post it. What happens? It doesn't load. It doesn't load because big government doesn't want you spreading joy and humor. Hell no that's not acceptable.
That won't happen on I.C. Rod's watch. I.C. Rod will work tirelessly to ensure that your constitutional right as an American to freedom of expression is protected, no matter how stupid or passive-aggressive your image macro is. Rod may not like what you say, but Rod believes you should get to say it.
I.C. Rod: He'll fix broken images and protect your right to say whatever you want, no matter how fu
cking vulgar.