The UK Politics Thread: Austerity Edition
THE UK POLITICS THREAD
PART 1: 2015-2017 PARLIAMENT
THE AUSTERITY EDITION
The UK government has formed with a Tory majority.
David Cameron will be our PM until 2020 now, following his manifesto policies including a long term economic plan focusing around austerity for all in the UK.
Theresa May is the UK's unelected PM until 2020 and now we got Brexit hell coming up it is awful. The opposition doesn't exist and politics is exciting and uncertain but also completely terrifying.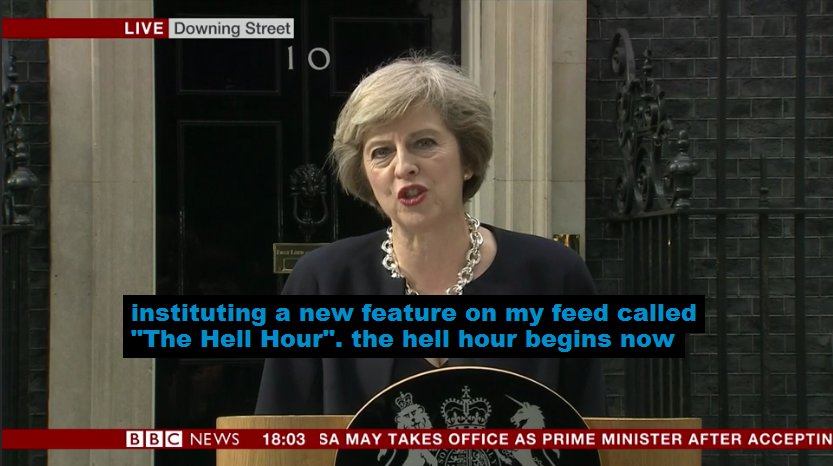 Recent image showing the UK the morning after Brexit:
The general election thread went well so time for a dedicated UK politics thread, away from the politics/philosophy thread. We can do this like the football thread and have an OP with users and what party they support so just shout out if you want to do that. I'll get seat numbers and maps and stuff up in the OP too.
Party Sizes in the House of Commons:
Conservative Party | Theresa May |330 | 51%

Labour Party | JEREMY CORBYN | 232 | 36%

Scottish National Party | Nicola Sturgeon | 56 | 9%

Liberal Democrats | Tim Farron |8 1%

Democratic Unionist Party | Peter Robinson | 8 |1%

Sinn Féin | Gerry Adams | 4 |1%

Plaid Cymru - The Party of Wales | Leanne Wood | 3 |0%

Social Democratic and Labour Party | Alasdair McDonnell | 3 |0%

Ulster Unionist Party | 2 | 0%

UK Independence Party | NONE | 1 | 0%

Green Party | Natalie Bennett | 1 | 0%
UK POLITICAL PARTIES
Conservative Party
Green Party
Labour Party
Liberal Democrats
Plaid Cymru - The Party of Wales
Scottish National Party
U
K
Independence
Party
Last edited by EndTheRapture51 at Jun 8, 2017,