NAD: Vintage head content...
Well, after many weeks of researching and listening and a little bit of playing, I got myself a new amp. It's 16 years older than I am, but oh man does she sing through a closed-back 2x12 cab with Vintage 30's. Oh. Man.
I introduce to you all my 1979 Fender Bassman 100! (New Fender logo is in the mail, btw)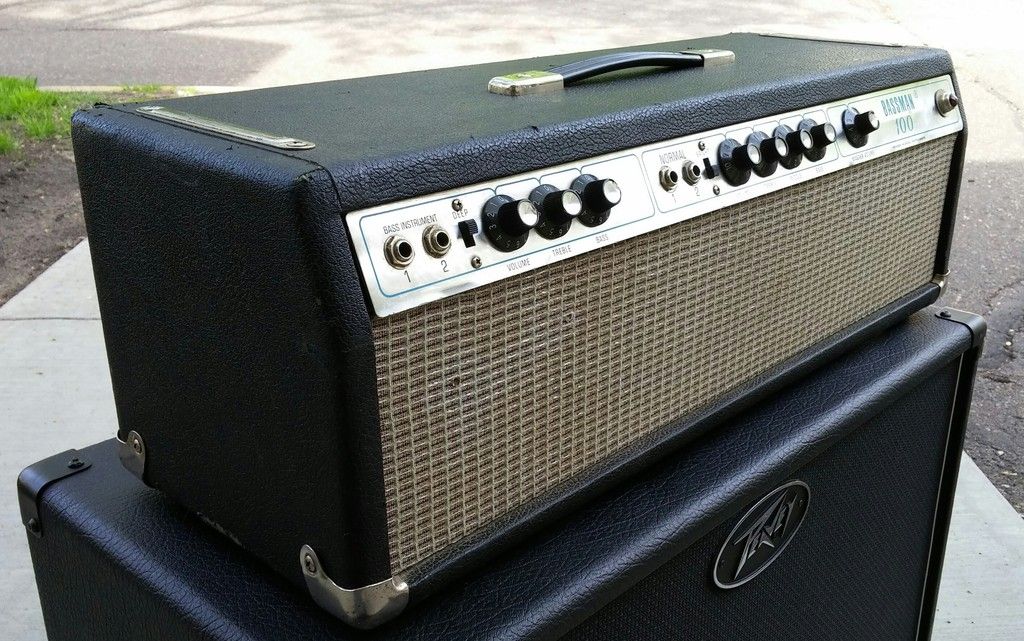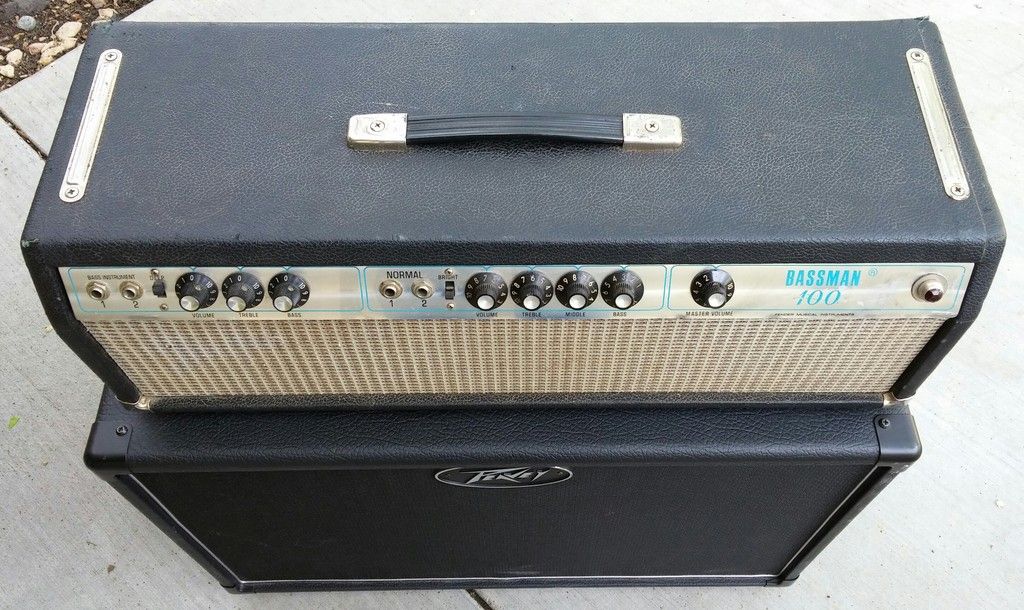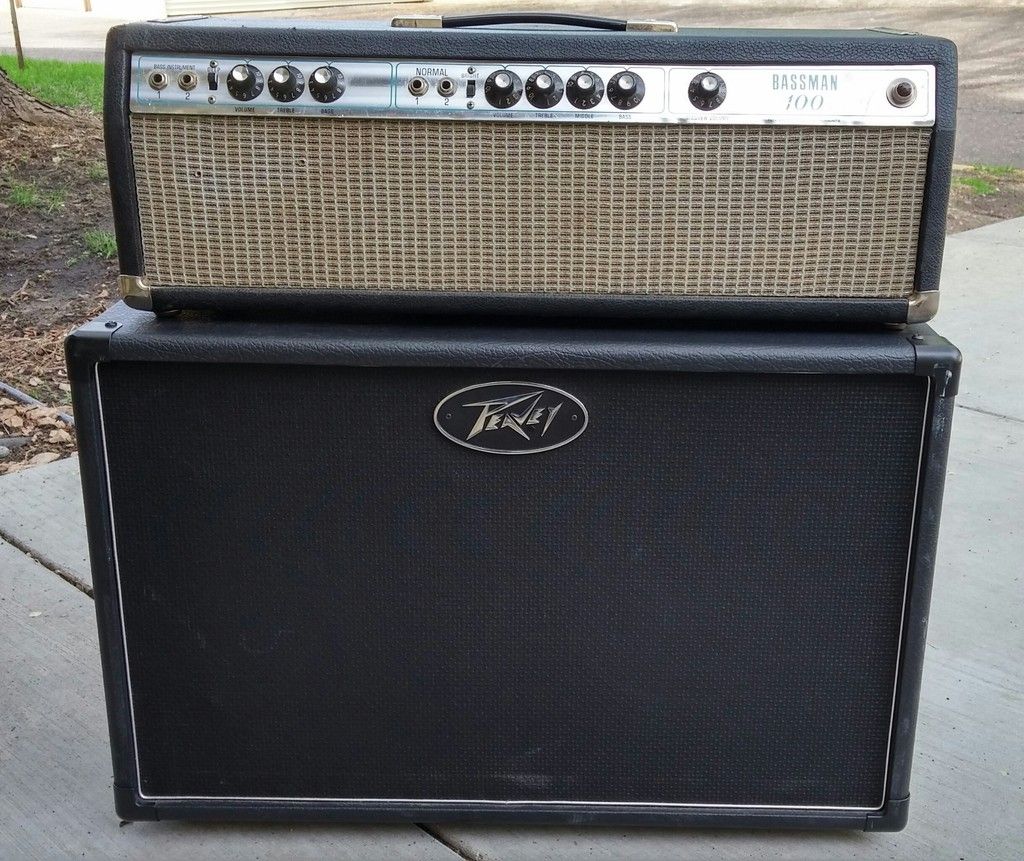 I didn't want to post a picture of the back because all the tolex around the rounded parts of the cut outs had come loose. I glued it back down and now it looks very clean.
And I played a show with her last night...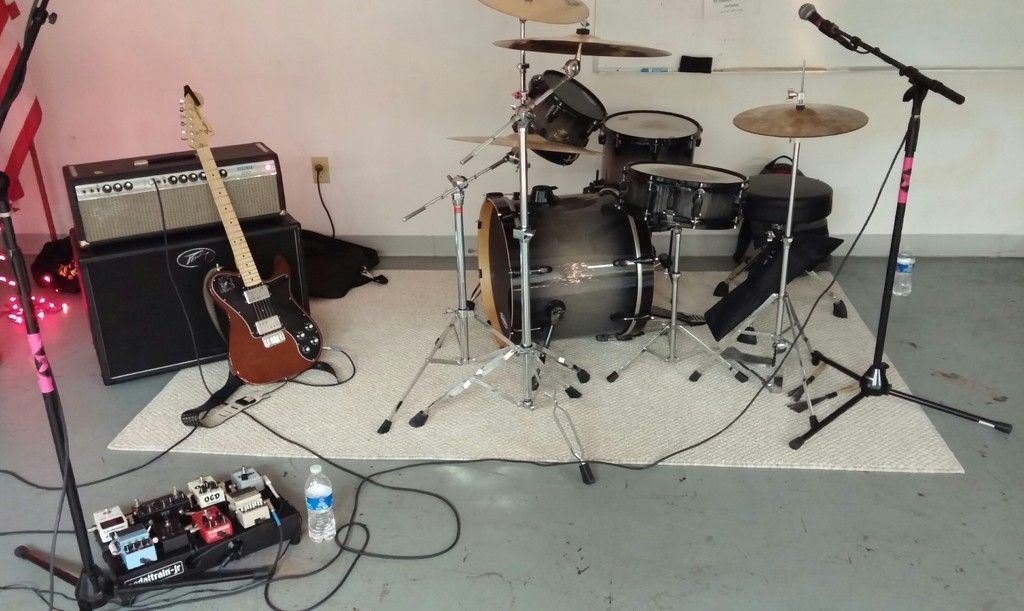 And I might as well throw in the latest pedalboard pic (except now I run a 3 foot cable from the Freeze to the CH-1 since I don't have a effects loop anymore)
Well, there you have it!
I love this amp. After playing it for 5 minutes I knew it was a great choice. This thing does not distort or breakup. It comes close with my Schecter that has a JB in the bridge, but it doesn't. Simply mindblowing to me. It has all RCA tubes in it except for one Sylvannia power tube that gave me a difficult time because the plastic knob on the end broke off. Let me say that I didn't line up the pins correctly and I got a little bit of fireworks in that bottle.

After I fixed that, it was love.
I am surprised how quiet this amp is when I'm not playing! It's so lovely. And I can play it at bedroom levels while maintaining pretty good tone.
As you can see, my band is a two piece. This set up is incredible. We don't really have an issue with not sounding big, but this rig fills space like nothing I've ever played with before. The cab is a closed-back Peavey JSX prototype cab. It's a compact 2x12. I immediately swapped out the JSX speakers (which actually weren't half bad) and put in a Hellatone 60L and a Vintage 30, basically the same speakers. The Hellatone 60L is a specially voiced Vintage 30 with enhanced low-end and it really shows. I think I want to eventually run a 2x10 cab as well. I may add a port to the Peavey cab to lighten the punch a little bit.
The most recent change to my board was the GE-7. I swapped out my Soul Food for it. I think it made a bigger difference on my VK than it does on my Bassman, but I'll have to just keep tweaking with it. Without the effects loop, the CH-1 sounds a lot more prominent, but I have it set very subtle. Overall, I'm very happy with how the Bassman takes pedals.
So let's talk about damages now...
$600 shipped for the head (was serviced recently and the tubes are all healthy and HOLY PACKING PEANUTS!!!

)
$200 for the cab
$150 for the two speakers
$950 for a new set up and I still have to sell the JSX speakers and the VK212! Not too bad, I don't think.
Last edited by nick.culliton at May 16, 2015,
It's 16 years older than I am, but oh man does she sing
Happy NAD!



through a closed-back 2x12 cab with Vintage 30's.
A bassman through a closed back cab with v30's?
Man do you also put nesquik in your whisky?
Like, seriously, do you have no shame?
Anyway, apart from my very radical ideas about bassman's, you might wanna go and convert it to blackface specs if you're even a bit into electronics.
Lots of people run Bassmans through cabs with V30's! The dude I bought it from even recommended those speakers. I'd rather have the cab be open-back or at least ported, but finding a compact 2x12 was extremely difficult to come by.

Also not a fan of Nesquick... or whiskey.


Join date: Jul 2009
100

IQ
had a head like that back in teh mid 80s. ran a Rat through it for my higher gain stuff. always like that amp. good choice ejoy

Thanks! Anyone know where I might be able to find a replacement faceplate for this?
@311
I get that it has character, I am just a little bummed because I ended up scratching the plate when I was trying to remove this black gunk stuck to the plate. If I could buff out the scratches myself, I wouldn't be opposed to that!

Great job on that! Looks fantastic. I haven't taken out the guts yet, and I don't think I really plan on it anytime soon. It shouldn't need servicing anytime soon.
That's a beauty. Nice board.
Lots of people run Bassmans through cabs with V30's!
Yeah, and you can count them on the fingers of a single cartoon hand.
The dude I bought it from even recommended those speakers.
The dude you bought it from clearly didn't have a clue what he was talking about, and the first indication of that is the fact that he sold that amp instead of keeping it

Also not a fan of Nesquick... or whiskey.
With such tastes, no wonder why you play a bassman through v30's




@Spambot
I truly don't understand the big deal. There's absolutely nothing wrong with the fact that I am using a Fender Bassman through a cab with V30's. Yes, the Fender is American. Yes, the Celestions are English. I like the way it sounds. Some dude at the show last night was running a Bassman through two 1x15 bass cabs, one was a Music Man (while that in itself might make more sense than using V30's) and the other was some random cab.
I didn't buy the head with the intention of replicating a vintage Fender tone. I bought it to have lots of clean headroom and a good pedal platform. I wanted speakers with mids, not scooped Fender-style speakers. In fact, I bought the head over a 50 or 70 because of the "middle" knob. I greatly enjoy the Hellatone 60L because it's incredibly punchy with the low-end. Considering we don't utilize a bass player, it fills up space very nicely.
@Grawgos
Thank you! I appreciate it.


Join date: Apr 2005
160

IQ
PTP wiring...perfection!
Lovely amp, congrats!
Thank you!
I polished up the control panel and it shines well enough to almost see my reflection in it.


Join date: Sep 2007
10

IQ
Cool amp.

If you like the way it sounds, who gives a flip what someone else thinks about your choice of speakers. I play a Peavey MX through a 1967 Kustom 2x12 rolled and pleated with a pair of Emminence speakers, and a 1974 Fender Champ with a Gorilla speaker. So what...I like them, screw what others think.

Can't blackface a master volume amp, usually a different rectifier tube. Fender Amp Field Guide says solid state rectifier. Nothing wrong with that...but it can't be modded to blackface specs. As long as te bass response is not really loud and boomy, should be a good amp. If it has the really loud boomy bass my Super Reverb had, it can be tamed with a simple capacitor swap, under $10 for the cap and a 20 minute job for a good tech. I did mine long ago, love the way it sounds now. Before replacing the cap, I couldn't turn the bass past 2 or so and it was way too much, now I run it around 5 and it's great. I think it was around $4 or so for the cap.

You say it's been checked out, do you know if all older capacitors have been replaced? That's a 35 year old amp, electrolytic capacitors dry out after that long. If one fails in the right place it can fry a transformer, it's around $150 for just the transformer, plus labor. Last one I bought, 15 years ago was $125. I replaced everything in my 73 Super Reverb and 74 Champ long ago just to be on the safe side. The Super Reverb is a similar circuit to yours, probably around $50 to replace every cap in it. I did the soldering myself.

Our bass player has a 1969 Bassman 50 watt, I plugged into it a while back, makes a great guitar amp. Never did get him to sell it to me...dammit...I wanted that amp...plugged into my Kustom cab it sounds excellent.

Bassmans have been a favorite guitar amp for a long time, the old 60's Marshall 50 watter was a modified 1959 Bassman circuit, Jim Marshall just gave it a little more gain and tweaked the circuit to handle the British EL34 tubes. The 59 bassman has been considered one of the best guitar amps ever made by some for a long time.

I wouldn't bother replacing the faceplate, some scratches give it character. Make sure it has a good ground on the power plug, good tubes, and play the thing.
Last edited by Paleo Pete at May 16, 2015,
You'll almost certainly need to recap the power supply. Pull the chassis, take some photos and let's have a look.
And get it off the ground. Seriously, even milk crates would improve it.
HNAD.
Very nice.

Pete, the original old Marshall JTM45 ran KT66, not EL34. EL34's came with the plexis.
Last edited by Cathbard at May 16, 2015,
@Pete
The bass is actually pretty boomy, but I have a difficult time discerning if it's the head or the cab. The one speaker is supposed to have extra bass oomf and the cab is closed-back. I run the bass at like 3.5 or 4 and that's plenty bassy enough.

@Cath
Will do! I'll take it out tomorrow. Do I just take out the screws on the top of the head? I have no idea what kind of upkeep has been done on it except for the plug has been converted to a 3-prong. I also considered buying those speaker mounts that are supposed to tilt the speaker back. Good idea? As much as I agree with you, I'd like to avoid having to carry around more stuff.
HNAD man, looks epic. I think the GE-7 is a great choice over the soul food too!
....amp gut shots would be lovely

Back panel. Four screws on the top and it slides out the back. There may be an extra couple of screws inside the cab on angle brackets, can't remember. You'll work it out.
set the amp head face down on carpeted floor or table some extra towels.
unscrew the 4 long screws and keep track of the nuts
don't touch anything on the inside obviously
then, grab the transformers and slide the chassis up and out of the headshell
Well, I decided to take the guts out at 1:45am. Only took me about 20 minutes to take out and put back in! I took 15 pictures. Pretty sure everything has been photographed at least once and from a variety of angles. They're really big pictures, so you should be able to zoom in on anything.
http://s37.photobucket.com/user/Nicholas_Culliton/library/Bassman%20100%20gut%20shots
I've been comparing gut shots to what might be an all original Bassman 100 and I believe this is 100% stock except for the red capacitor on the left side of the amp. The original would be blue. Also, the white, black and pale green wires also on the left side aren't wrapped in a white wire.
@7thString
Thanks, I thought so too! Some people were complaining about it saying that they thought it was too noisy and needed to be modded. I don't have that issue at all unless I boost the frequencies a lot, and usually anything more than a dash in either direction is overkill. Overall, super happy with that pedal and I had no idea it would make such a huge difference.
Last edited by nick.culliton at May 17, 2015,
@Spambot
I truly don't understand the big deal.
Sorry, I definitely came out as too aggressive, that wasn't my intention.
It's not a matter of provenience, a matter of brand or anything like that, I just am not a fan of v30's for clean tones, and being the bassman my favorite sounding clean amp I felt pretty uneasy seeing somebody doing something that to me is plain nonsense.
Tho different gear works for different joes and there's really nothing wrong if you like the sound the thing produces, so again, sorry for sounding so aggressive.
Do try a pair of jensen P10Q if you have the chance tho

Can't blackface a master volume amp, usually a different rectifier tube. Fender Amp Field Guide says solid state rectifier. Nothing wrong with that...but it can't be modded to blackface specs
I stand corrected, thanks for the clarification.
Last edited by Spambot_2 at May 17, 2015,
I actually debated whether or not I wanted to get Jensens or V30s, but I would have needed a bigger cab for the Jensens because of their lower power rating.

I would like to get another cab, likely a 2x10 to go with the 2x12, so I am always open for speaker suggestions. It could be a pretty cool tone combination with the different voices.
Nice

Thanks, Dave!


Join date: Sep 2008
150

IQ
****in' sweet brother

Well I see no filter caps in your pics. The SF must have them on the other side of the chassis, probably under a cover. Find them and photograph them.
Yep. That's what I thought.
Be very careful removing that cover. There are no bleed resistors on those IIRC. Gloves are a good idea.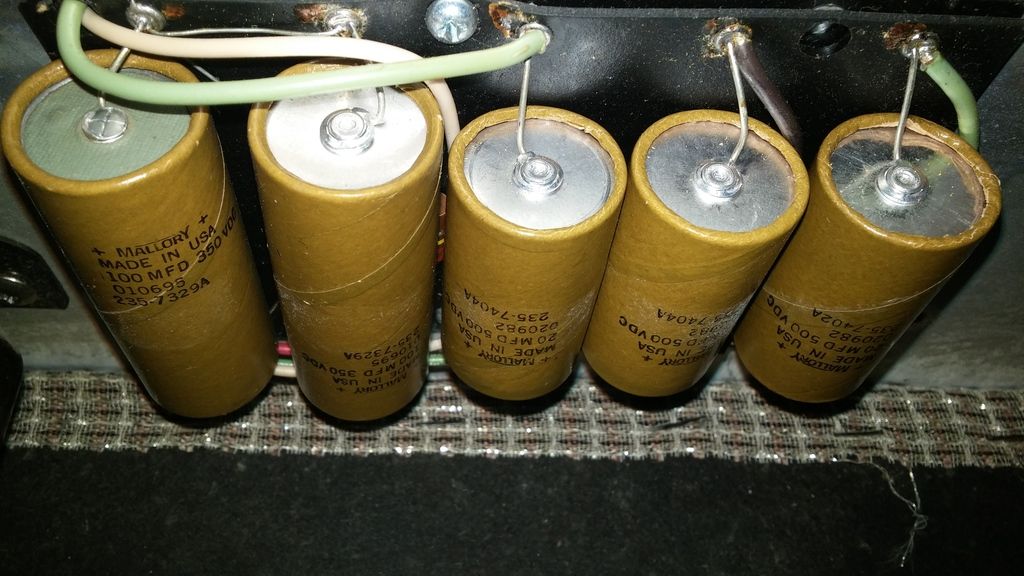 Anything else? Do we think this guy lied about having it serviced last year?
Last edited by nick.culliton at May 18, 2015,
Those look like they could be original caps. On a good note, they look ok. No bulges, no rupturing, they're probably ok.

It does look like somebody's poked around in there. The ceramic disks look quite new.
The heater wiring isn't twisted enough but it's probably ok.
Based on what I've seen and read, they are the original caps. Could they be NOS capacitors or is that not really a thing?

Can you please explain what the heater wiring and ceramic discs are?
Last edited by nick.culliton at May 18, 2015,
They could be NOS. More likely original. If you start to get 120Hz hum swap them out, otherwise, I wouldn't bother.

The heater wiring is the green wires snaking their way between the tubes. It's AC so they need to be twisted to limit 60Hz hum.

Ceramic disks are those small brown disk like capacitors. They are signal capacitors.
I don't have an issue with 60Hz hum and I don't think I have the 120Hz hum. From the audio clip I heard, I think I would be able to tell.

The really small brown ones? What about those two larger ones towards the middle next to the blue capacitors?

I think I said this before, but the only non-original part to my eyes is that red capacitor on the bass channel. If it was original, it would be blue.

One more question, I know some people mod these amps to run the bass and guitar channels at the same time with a patch cable. Is there any evidence of that?
Last edited by nick.culliton at May 18, 2015,
Yeah, those too. Ceramic disks all look the same, those just look newish.

It's just an external cable between 2 and 1 of the other channel. It wouldn't leave evidence.
Thanks for the clarification.
It's not just a patch cable, though. Allegedly, that doesn't just work. If I do that without the mod, it'll run the channels out of phase. I'm assuming I don't have this mod done.

Actually, one MORE question...
The preamp tubes are all (I believe, can't remember off the top of my head) RCA tubes. Two 7025 and a 12AT7. Made in USA. Now, the power tubes are two Sylvania tubes and two RCA tubes, also made in USA. Three of the tubes are roughly the same size, but one of the Sylvania tubes is longer than the others.
I am not concerned in the slightest about the preamp tubes. In fact, they practically look brand new. I'm sure the casing has kept them well-preserved.
Seller said the tubes were replaced at the same time as the last servicing. These tubes are clearly not new, but could have been NOS. Do I need to be worried about the power tubes being mismatched? I suppose this probably isn't an easy answer because I'd have to test them. I also read that Silverface amps were made to keep up with the inconsistency of production power tubes. Is that true?
I did some checking on the tubes... the two 7025s go for about $40 apiece, the 12AT7 for about $20, and the power tubes from $40-$60 each. Not bad, all made in USA tubes. I think the two RCA power tubes could be original or a few years newer than the amp. The Sylvanias appear to be much newer.
Last edited by nick.culliton at May 18, 2015,
The two channels are in phase. Run a jumper and see for yourself.

You'd have to stick a bias probe on all four tubes to see if the biasing is ok. You get a fairly big range so chances are they'll be ok. If it was mine I'd check it anyway.
For sure, I'll look into getting one of those and probably consult you again.

Thanks, Cath! It's very nice being able to get wisdom and advice about this stuff without paying someone for it.

Last edited by nick.culliton at May 20, 2015,