guitar Amp Dilemma
Hello guys,

This is my first log in since 2006. I haven't been really active and don't know how much rules might've changed. But I digress...basically I'm looking at buying and Epiphone Les Paul (the exact model I'm not sure yet) a Dunlop Wah Pedal and I had my eyes set on a Marshall Haze 40W Combo or Marshall MG Series MG50CFX. Its always been my dream to own something Marshall related (I know its just a name brand) and I'm not a guitar techie by any means. I've always been the kind of guy that just likes to plug and play.

But here's the deal...I live with my sister and she has a lot of health problems and is insanely sensitive to noise. I originally thought to myself, "np I'll just get a combo amp with a headphone jack and problem solved." However, once I started doing research I realized tube amps do not have headphone jacks hence I am screwed.

I was wondering what kind of amp you could suggest that has headphone jacks but will not sacrifice the sound I am looking for...to give you an example I love playing "Night Train" by G n R on my guitar as well as "Under the Bridge" by the Chili Peppers. I wanna capture that classic Les Paul sound but at this point I'm pretty sure Marshall's aren't an option. Any suggestions on another type of amp would be appreciated. Thanks!

Join date: Dec 2008
330

IQ
If you're only planning on playing through headphones and/or interfacing with your PC for the forseeable future, consider a portable digital modeling device like one of these (some are discontinued, can still be easily found):
Boss Micro-BR 4 track
http://www.bossus.com/gear/productdetails.php?ProductId=818
Boss Micro-BR 80
http://www.bossus.com/gear/productdetails.php?ProductId=1167
Pocket POD
http://www.guitarcenter.com/Line-6-Pocket-POD-Guitar-Multi-Effects-Processor-104391875-i1173933.gc
Tascam GT-R1
http://tascam.com/product/gt-r1/
Korg Pandora Mini
http://www.guitarcenter.com/Korg-Pandora-Mini-PXMINI-Guitar-Multi-Effects-Processor-H70754-i1746466.gc
Korg Px4
http://www.youtube.com/watch?v=zvaXhaTW-B8&sns=em
Korg Pandora Stomp
http://www.sweetwater.com/store/detail/PandoraSTOr/
Korg Px5
http://www.guitarcenter.com/Korg-Pandora-PX5D-Guitar-Multi-Effects-Processor-104821715-i1387080.gc
Here is a visual comparison of (left to right) Tascam, my PX-5 and one of my Px4s to my old Aiwa cassette player, all resting on a 9"x12" manilla mailing envelope: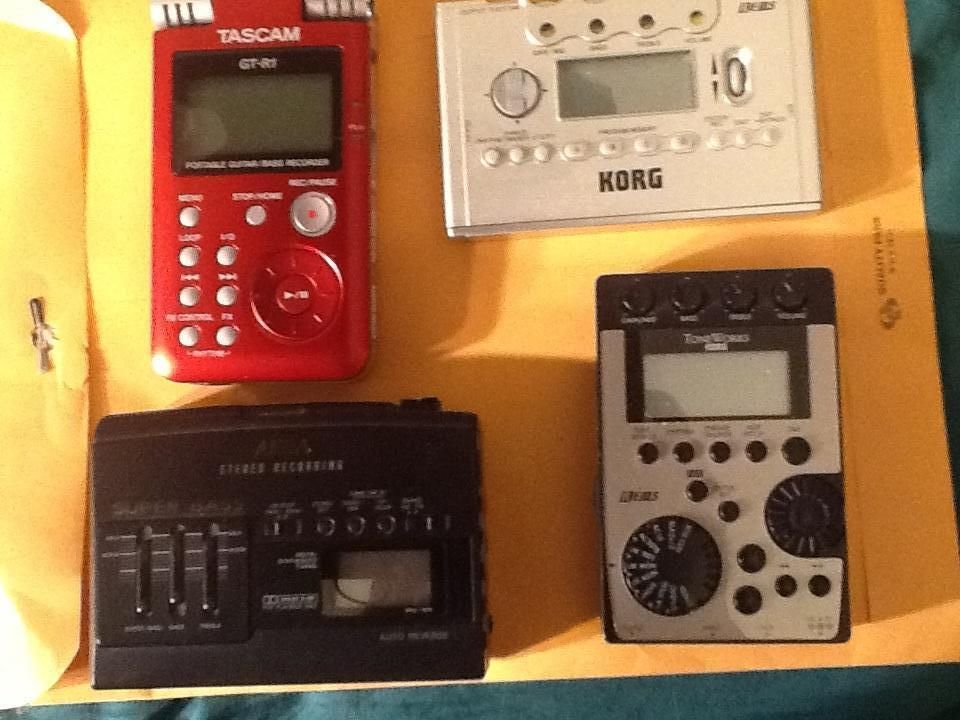 Only the Tascam has decent acoustic recording capacity. All DO have features like tuners, metronomes, drum synthesizers, and digital amp & pedal modeling.
So with decent headphones, you can rock out like you were playing Texas Stadium. And yes, they are all about the size of an old Walkman.
The ones I own: the Tascam has the external mics, a phrase trainer (loop & slow down stuff for practicing), and takes SD cards. Both it and the PX5 can connect directly to your computer via a USB port. It is less powerful than the PX5, but, oddly, the PX5 does not have a belt/strap hook.
The ones I don't own: The Line6 PocketPOD is, I believe, the most popular device like this; the Boss might be the most powerful (and priciest); the Pandora Mini is the smallest (its about the size of a stack of business cards), cheapest, and least powerful.

Join date: Feb 2014
10

IQ
Digital Multi Effects unit. Buy an amp when it's time to gig.
Most solid state amps I've seen have a headphone jack and sound great through them. Or as others have suggested a multifx unit, like the Digitech 360XP which has an expression pedal.

Join date: Dec 2010
50

IQ
Look at a used Line6 POD HD500 or HD500X and a set of nice headphones (Audio-Technica ATH-M50x work very well).

also look at amp sims on the computer and an interface. I use Peavey ReValver with a Rocksmith cable along with those headphones but there are many options. . I've never tried a wah pedal into an interface but I believe it will work fine.
Thanks for all your help guys. I'm thinking I'm going to go with a digital multi effects unit and a smaller amp like a Marshall MG Series MG30CFX 30 W. That way I can still play through an amp what I want without paying too much for something I probably won't be using a lot. Again, thanks a lot for the great responses.

Join date: Dec 2010
50

IQ
Those Marshall MGs don't get much love but regardless of that, the MG is not a good choice paired with a Multi FX unit.

Modelers in general aren't good with Multi FX - they both tend to do the same thing and it's not that great as a result.

For a multi FX you really want to plug it into the return of the effects loop which the MG doesn't have.

That MG is also $200. For that I'd say go with a used Peavey ValveKing 112 or if you want that Marshall name (nothing wrong with that) look at a used DSL (if it's in budget) or a used Valvestate (AVT series).

Just make sure whatever you buy has an effects loop.

You may also be happier with a powered monitor speaker (something like a KRK) hooked up to the Multi FX.