a collection of new stuff
hey everyone due to my crappy work schedule I haven't been able to post my new gear day on here. im ether working or sleeping, it sucks. so here is most of the gear that I have acquired in the past few months.
1. Peavey 5150 mk1
I had the 5150ii for a while and I loved it but I foolishly sold it for a smaller amp. since I let that one go I have been searching for another as they don't pop up in my area very often. so I sold a few in and almost went the mesa single recto rout but his guy popped up at my local shop. 450usd later it sits in my house. I don't think I need a review for this amp everyone knows what it is and what it does. but ill do a modified version: 100w 2 channels with crunch, fx loop, the amp is a monster.
2. Ibanez tsa15h
I was sitting around in my music room a few months ago and decided that I wanted to try and make a dual amp rig. 5150 for dirt and something else for cleans. I tried a few amps but nothing was at the price I was willing to pay for a cleans only amp. enter this little guy. 15w/5w 2 channels. glassy bell like cleans and the classic tube screamer circuit on channel 2. plus it was on a blowout sale for 250 new? yes please.
3 Michael Kelly Custom Telecaster
so my friend owns a guitar shop and he was dealing MK guitars for a while. one day he calls me and says come down to the shop I have something to show you. I get there and he has this telecaster sitting in the guitar room he knows I have a love affair with telecasters and he knows I love purple burst guitars. so im already sold. I end up dropping my card on his counter and say do what you have to do this is coming home with me. it is a custom run for his store built to his specs and tastes which are quite close to mine. this guitar has a mahogany body a quilted maple top. natural wood binding. Seymour Duncan mini jb in the bridge and full size Seymour Duncan in the neck I don't remember the model. both pickups are coil tapped. the tone knob taps the bridge and the volume taps the neck. it uses the standard tele 3 way switch but with the coil taps the possibilities are insane. maple neck with maple fretboard, flame maple headstock and grover tuners. this guitar is insane and plays like buttah!!! oh yeah string through body for sustain.....its a killer guitar. MK knocked this one out of the park.
4. ARTronics aby switcher
I needed an aby switch to make the dual amp rig work, but I didn't want to destroy my bank account any more than I have with the above purchases. I was looking for everything that the radial big shot aby had but with a lower price. enter the artronics aby. amazing build quality at a great price point. 80usd. it has everything you need for running a dual head/cab rig. transformer isolate, phase reversal and ground lift. its great, built like a tank and didn't break the bank.
5 Leinenkugels summer shandy
my new favorite beer. lemonaide and beer together???? yes please hahaha
I think that wraps it up if I forgot anything ill edit the post. now pics!!!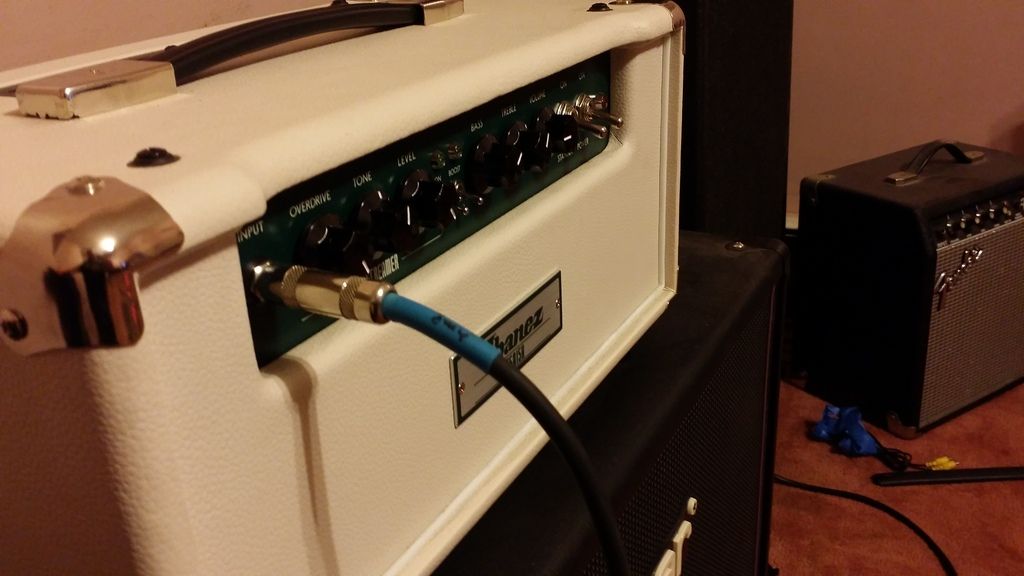 Join date: Nov 2007
410

IQ
Nice scores man


Join date: Mar 2011
190

IQ
Well done! I'm GASing for a 5150/6505 right now, so that didn't help!
I feel your pain. after I sold my 5150ii I was hurting for another one. thanks and sorry to fuel your GAS
That Tele is freakin sweet!
thanks! it plays like a dream!

Join date: Dec 2008
340

IQ

Excellent haul!

Join date: Jul 2009
80

IQ
really nice

nice scores

Join date: Apr 2010
1,580

IQ
helluva nice nice deal! i have been 5150/etc without too long, i gotta get another one of these days.
but yet again nice haul! i imagine you will be busy for a while

holy wow.

Sexy finish. I bet that kills with the 5150. Also, nice cover.

thanks guys. im in love with this rig. I really am I can squeak any sound I need out of this rig. from metal to country all with the tele!! the only thing left for me is maybe a cab upgrade. two avatar 2x12s and ill be set. I urge you guys to try out the MK guitars. if you have a dealer in the area give one a try. their custom shop kills it.