Question on tab notation

Join date: Aug 2006
10

IQ
Hi folks,
For the first time ever today I bumped into a tab and didn't fully understand why it was written the way it was. I'm not sure if I can post the tab here (I don't know if I have permission to share), but this is how the chords are notated:
Also says there's a capo on 5th fret.. is that related? As far as I can tell the chords shown in the diagrams are the ones on the bottom of each graphic, I'm just not really sure what the ones in parentheses above are for?
Thanks in advance to anyone who can explain this one to me..
Join date: Oct 2009
600

IQ
I'm understanding this all correctly, it's saying, "Use the shape of these chords, but put a capo on the 5th fret". Honestly, a better way to represent this would have been to put a 5 on the "1st shown fret", like so: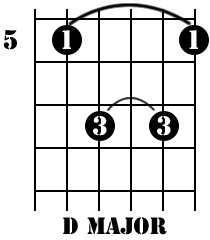 and then to make a note about how you should use a capo, rather than barring the chords.
Does that make sense?...

Join date: Aug 2006
10

IQ
Yeah, I think so.. so to be clear, with a capo on the 5th fret that first chord is Dsus2, but if I were to play that same chord formation with no capo, open, starting from the top of the neck and not 5 frets down, it'd be Asus2?
Not exactly. Other way around. The first chord is an Asus2, but the capo makes it Dsus2.
That's exactly what OP said
Well I'm only human, and prone to reading backwards.

The person who contributed the 'tab' doesn't understand suspended chords. Suspended chords get their name from 'suspending' the third of a triad and using an interval of a major 2nd (sus2) or perfect 4th (sus4 or just sus; the 4th is assumed)

Suspended chords are neither major or minor because the note that determines this quality has been removed and in both cases, he shows the minor third of each of these inverted chords as it's lowest note. Both would be minor chords with other intervals added to them but to accurately name them, one would need to hear them in context in order to determine exactly which note was the intended root by the songwriter.

I'd be skeptical on the accuracy of these voicings just because of the red flag raised by improper naming.