Fender Squier HM-V 5 String bass
Hi all.
Normally I'd be around the guitar forums but of late have started putting together a small home recording setup and have been on the look out for an entry level bass guitar.
I came across a Squier HM-V 5 string last week that's for sale. I have attached some pics.

Around $170 AUD. I don't profess to know much about bass guitars but am familiar with the Squier series of guitars in general as being targetted at the entry level novice. I figure this is similar.
Was wondering if anyone knows much about this particular line? They don't seem very common at all. Have done some looking online and from the serial number it seems this is Korean made, 1989 (?) HM-V series MIK. Neck is straight, body is relatively clean and mostly free of knocks and blemishes. Seems to play ok and neck feels pretty comfortable. No averse string buzz. Output jack is a bit scratchy but that's an easy fix. The controls all work and don't cut out or sound scratchy when turned.
Other than that I have no real info on it, reputation wise, or what the pickups are like, is it good enough to do some basic recordings, mainly rock & metal styles. Or is it complete junk?
Anyone have / tried one of these. Let me know what you think?
Thanks in advance.
Interesting. I have a '90 MIA Fender HM. If I recall correctly, most of these Fenders were made in Japan and the Squiers in Korea. I'm not too familiar with the Squiers. Mine is completely different. Mine has 3 Lace Sensor J pickups, a 5-way switch, and a TBX tone pot. Any faded markings on the pickups? Hit the Fender Lounge and shoot Brother Dave a message or send him an email. He's virtually a Fender historian.
dave@brotherdave.com
Mine had bad flaking paint, so I refinished it sliverburst. Changed the hardware to chrome for awhile, but went back to the stock black. That's the 1st gen Fender Dimension in the background.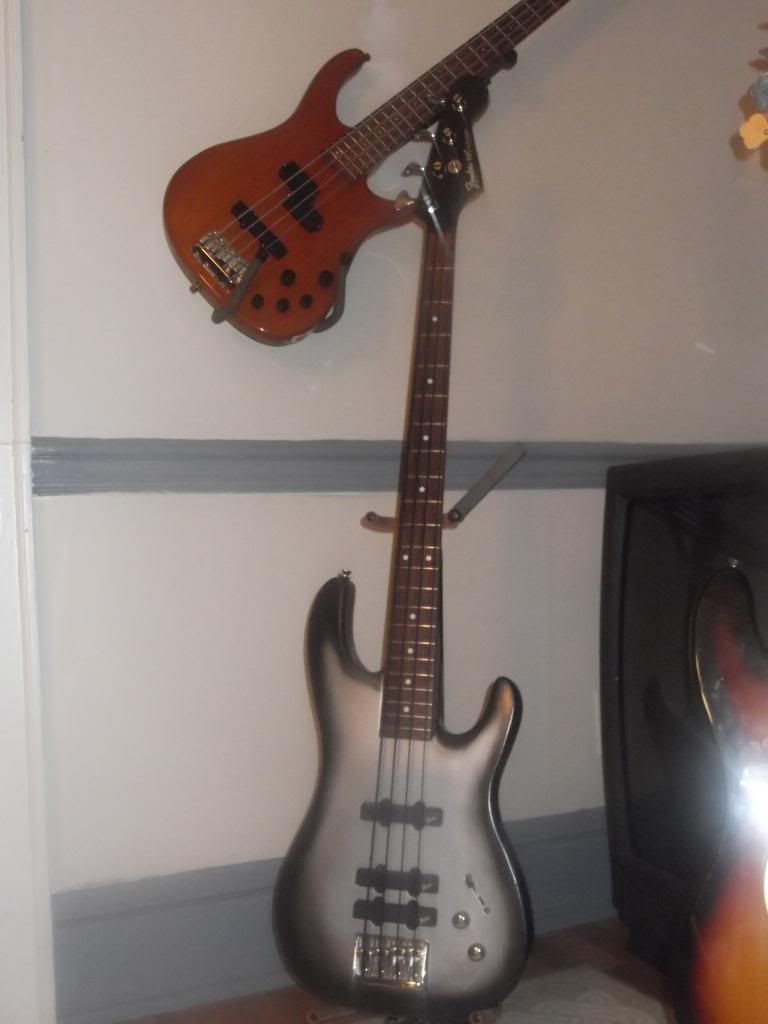 Last edited by deeptubes at Jul 7, 2015,

Join date: Oct 2009
140

IQ
One does not see a lot of Squier basses like that one. But if you like it, then that is all that matters.
I like it in as far as it seems OK. I don't really know if $170 AUD is too much for this as a used model as I cant find much info on it.

If someone has one or has had one I'd value their opinion.

Join date: Oct 2009
140

IQ
While some do not think highly of Fender's Squier guitars (I had a Telecaster, and it was a fine instrument), their basses are highly regarded. So if Heavy Metal - 1980's style - is your thing, then go for it!!!
Well I went for it

Feels really nice. Quite light and the neck is very comfortable. Now I just need to pretend that I can play a bass on my recordings. Thanks for your input!

Join date: Nov 2007
100

IQ
$170 isn't a bad price at all. Nice score.