Soldered in a pickup, doesn't work!
OK so I bought a Gibson Dirty Fingers humbucker and decided to put it in my Ibanez SZ520. Was a bit of a fiddly job, but I have soldered all the same colour wires to the same places as the matching wires on the stock pickup that came out, yet there's no output on that new pickup.

Any ideas or have I fried the volume pot with too much heat perhaps? Either that or the pup is a dud.

Join date: Jul 2008
193

IQ
Gibson and Ibanez pickups may have the same color wiring, but what those wires do may be drastically different.

Join date: Nov 2014
210

IQ
that and if it's a 4 wire pickup tape off or use heat shrink on the wires you're not using. North finish and south finish have to be soldered together for the signal to go from one coil to the other and out of the amp.

when you need reassurance there is a bunch of ways to test a pickup but everyone who swaps pickups on a regular bases should get a multimeter.

by the way good choice with the dirty fingers it's probably the only pickup besides the tony iommi one I'd get from them as I despise gibson.
Last edited by Tallwood13 at Jul 14, 2015,
It's a bit confusing because the stock pup had the same colours as the Gibson aftermarket on that chart. Same number of wires.

It was just wired up so that two wires went to the same place on the switch, 2 to the back of the volume pot and one onto the side.

I wired the DF exactly the same.
Here's a photo of it as it is wired. The braided wire is alongside the red one but it's hard to see. It's wired to the middle pot under my finger for reference: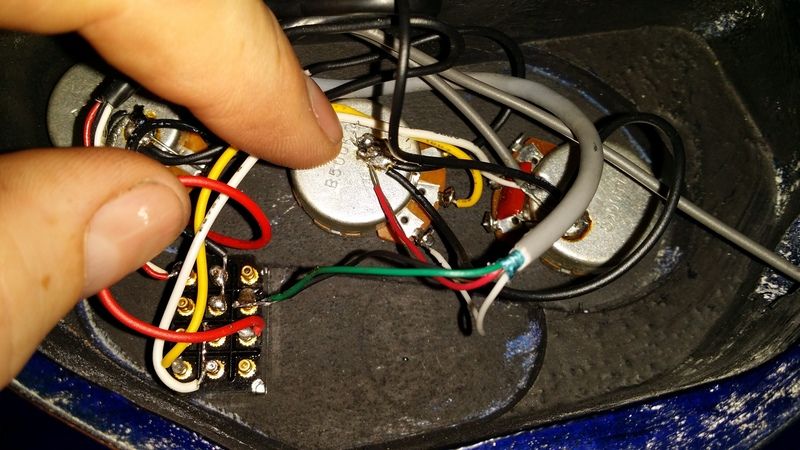 here's something I was told when learning automotive elec - Don't trust colours. the colours may be the same, but may not be the same thing.
No, I just assumed they'd be the same which appears to have bitten me this time!

Going by what's posted on the chart, can anyone tell me where I might have gone wrong with my wiring?

I've got a multimeter BTW. I do a lot of home mechanic stuff. I've messed around with wiring etc. before, just it's usually on cars!
from that photo it looks like hot(?) (red)
is going straight to earth.
Ha, I am both annoyed and amused with it.

I have downloaded a Gibson wiring diagram. Never again will I assume. It says for standard humbucking (i.e. not coil tapping etc.)

red - to controls
green & white - solder together & tape
black & shield - to ground

So green and white, that's simple. Black and ground want to be where the red and braided are now, but where does red want to be? When it says to controls, I can either wire it to the switch or the volume pot, but that would mean I'm missing a connection, right?

Are they saying basically to wire red to the switch and wire that same point on the switch to the volume pot where I currently have white? Or am I missing something?

Apologies for probably sounding like a complete dumbass right now!
red to where white i now, and it looks like there is a yellow line for the switch?

but is a fairly big tangle in there.
A - can you draw up a diagram in paint or something?
B - can you read diagrams?
Yes and yes. To a degree

The old pup was wired both to the switch and to the pot in the same way. That made it look like the new one would have to also be wired to both.
if you can draw up a diagram of your current wiring, I may be able to help.
I'll give it a go. It may be more of an actual diagram than a proper wiring diagram, if that makes sense!
I haven't had chance to draw a diagram yet, but just to update: I tried doing as Gibson said and taped up green and white. I soldered black and braided to the back of the volume pot and red to the point on the side of it - no dice.
So I took red and soldered it to the switch, that didn't work either

yeah, a shitty MS paint diagram will do.

Join date: Feb 2014
10

IQ
Did you find the problem?

If you cannot trust the colours it can be tricky to figure out what is what, but you can at least confirm if the pickup is alive using a multimeter (measuring a non-infinite resistance for each of the coils, typically in the 2 to 10 kohm range). That can give you everything you need except for the polarity. That is where either colours, or trial and error, come into play (unless you have an oscilloscope and tuning fork to stimulate and measure signal polarity).