RCA audio cable for amp head to cabinet with adapter
I have these adapters for rca heads.
I also have rca cables lying around, some from my old iomega buzz video capture board.
If i use these, would they be suitable for connecting an amp head to a cabinet ?
My amp heads are no more than 5 watts maximum. One is solid state, the other is tube amp.
Cabinet is a 30 watts rated 12 inch speaker.
I couldn't find any shops selling speaker cables, and I want to make sure what I have works before I commit to buying new 1/4 mono plugs and soldering the ac plug wire.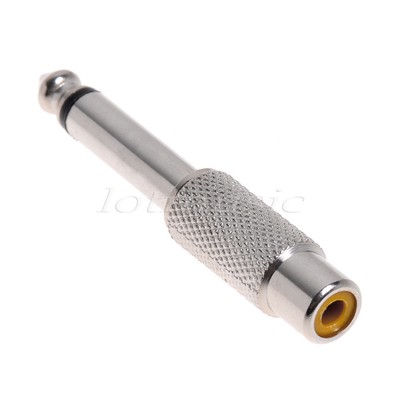 Join date: Feb 2011
310

IQ
No, you can not use RCA cable. It is designed for low voltage use only.

You can however use any typical extension cord if you have 1/4" jack ends you can solder on.

If you don't, just wait until you can get to the store and buy a speaker cable

If the cable fails on a tube amp, you can very likely fry the OT which is not a cheap fix.
Last edited by Robbgnarly at Jul 31, 2015,
OK I managed to get these....
The wire I dug up from the store room and it says 'MITTI High Resolution Speaker Wire"
They're very thick...... inside is not copper but some sort of silver or metal wire.
The mono plugs I bought just less than an hour ago for soldering.
Will these do ?

Join date: Feb 2011
310

IQ
Yeah that should work just fine.

Just make sure to wire the ends the same
The wires could be silver plated copper if that is hi fi speaker cable. Main thing is the increased thickness of the wire to avoid meltdown of your tube amp output transformer as others have stated. Think of an OT as being like a fire engine water pump trying to push the water through a needle... if the counduit didn't break and there was no safety valve the water has nowwhere to go so the pump breaks/explodes. You have saved your valve amp from likely wrecking itself.
Last edited by SHOOTOUT! at Aug 1, 2015,