What sort of pots/switch do I need?
Join date: Nov 2014
220

IQ
cracking can be fixed with contact cleaner I've been told
500k pots for humbuckers, CTS. A500k all across the board and do the 1950s wiring and you're set. If you use push pulls use Dimarzio or Alpha for extra mods if your pickups have more than 2 wires.
Paper in oil USSR surplus 0.047uf capacitors I'd use, use heat sinks on the capacitors to make sure you don't burst them. Orange drop capacitors come up a lot. But Sprague or Mallory are two really good brands.
wire wise cloth wire or nickle braided is usually the best
copper shielding helps big time for more clarity if you're going to replace all the guts
switch wise the kind gibson sells perhaps as it's an epiphone but the ones on ebay that aren't the metal boxes I've had good luck with
for tone controls you can honestly go with anything, the higher the value say 1000k instead of 500k you get more control
and finally . tone controls don't have to be just treble cutting
you can use an audio transformer with an inductance above 0.5h (500mh) to scoop mids
or the fender greasebucket mod for cutting the bass instead for two different sounds, this is a tone knob i actually use. It gives more clarity and gets rid of the noise in high gain settings.
the greasebucket costs under 1$ to do if you can somehow get access to a 4.7k , 0.1uf and 0.022uf capacitor. It's an easy mod to get on google.
Schecter, LTD , Agile and the odd used PRS , Dean or Jackson for under 500$ you get a lot of bang for your buck I've played and owned it all.
ground is still the same way on a modern wiring schematic but notice how the capacitors are soldered in. This retains the treble as you turn the volume down. If you don't touch the volumes ever stick to modern wiring.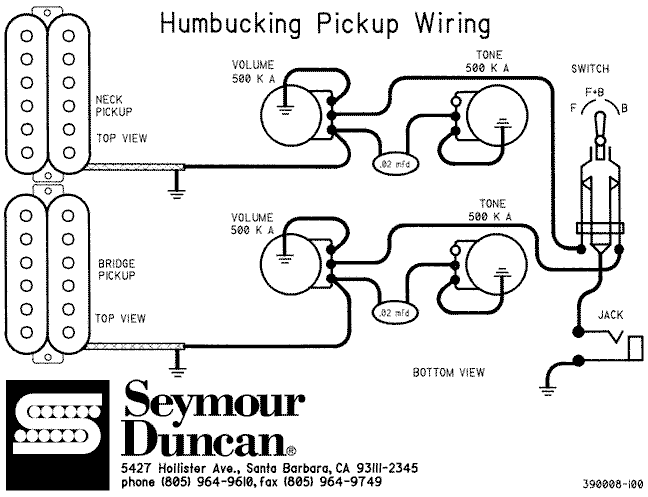 Last edited by Tallwood13 at Aug 5, 2015,