I need help identifying this guitar?
Hey y'all,
I was wondering if one of you could help me identifying a guitar. The brand is most likely Epiphone, but I don't know what model it is. It could be an Elitist J-45, but it might also be something else.
You can see the guitar which I'm talking about at 1:45:32 in the video below:
https://www.youtube.com/watch?v=f3cdnJTaOtI
Thank you in advance!
Last edited by xMusicGirlx at Sep 6, 2015,
These may be pictures of the very same guitar, but from a different angle. Anyone who has any idea now? I have searched the epi wiki for days, but still not one clue.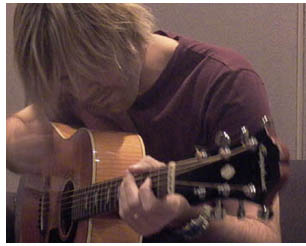 Last edited by xMusicGirlx at Sep 13, 2015,

Join date: Feb 2008
295

IQ
I believe you are right, looks like the Texan to me!
I do notice his pick guard does NOT have the Epi "E" stamped but he could have swapped it out.

Join date: Sep 2011
40

IQ
At spots it looks like two different slopes, one mahogany, one maple. I suppose it could be the lighting.

Although, the "IB '64 Texan" Epiphone is campaigning with now, is mahogany B & S, that guitar certainly isn't. Looks like maple to me.
Looks like the AJ i have...pure shape, i.e....i have the "Basic" AJ-100 in vintage sunburst...this one one Looks more like a solid top as on AJ 200 or the Masterbuilt