EMG89 wiring without push-pull pot
hey everyone, i have an emg81 and an emg89 lying in front of me, i also have a fender-style 3-way switch, and an emg volume pot.
from what i gather the emg89 is both a single coil and a humbucker in one housing, but honestly i am quite confused, and didn't completely understand what wire is what, maybe you can help me out.
what i'd like best is the following: HH setup, 81 bridge - 89 neck, 3-way switch, one volume for both, no tone, with switch positions of the 3-way as follows: top - 89 hum, middle - 89 single coil, bottom - 81.
is that possible?

Join date: Nov 2014
210

IQ
these diagrams on the marshall forum are a good start
http://www.marshallforum.com/654069-post5.html
for the single coil preamp in the 3 way selector I'll get back to this later today as I got to go through some notes
if i was to guess orange and blue are your coiltapping wires
so that being said the switch has 8 contacts
1
3
5
0
0
1
3
5
what do these mean? simple
1 - the 81 pickups hot lead
3 - your 89 pickup in say a single coil setting
5 - your 89 in full power (lets say)
0 - your hot lead on your selector
the other pole (0135) is not used at all.
look up a 2 volume wiring (or go on the seymour duncan wiring generator) and do the 3 way selector my way , for the active portions of the pickup they remain the same and do not have to be de-soldered. The selectors inspiration came from back when fender guitars didn't use 5 way blades so this was pretty common then if i remember right.
hope i could help point you in the right direction though as i haven't slept yet
Does all this stuff have the over complicated solderless connectors?
the volume pot and the switch don't thankfully
See if you can get your head around this..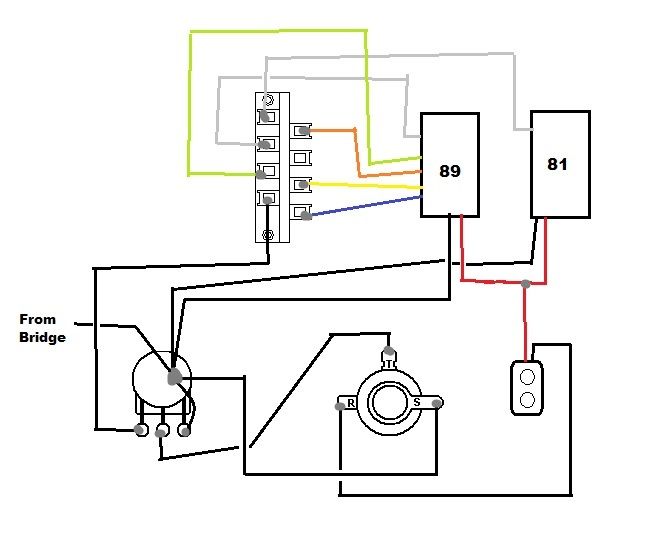 thank you, awesome!

i'll try it that way.
Let me know how that goes.
used the diagram from above, works like a charm in my RG550LTD, thanks a lot!
i remember learning to play guitar on here like 10 years ago, and after so many years this forum still delivers within an hour, amazing!
Glad to have helped! Enjoy.