Manton Customs Build: True Temperament Echo MK II Tele Inspired Guitar
Here's a project I have been working on over the last few months, the guitar is now basically finished having just gone through lacquering so just needs some time to cure and assembling. This is not my first True Temperament guitar and the project came about as I managed to get a good deal on a pre made True Temperament neck, so all I have to do is build a body for it! I decided on my Echo MK II shape which is very much Tele inspired and it's going to be red to contrast the Maple fingerboard nicely.
Basic Specs:
Maple Fingerboard True Temperament Neck
One Piece English Ash Body
Translucent Blood Red Finish With Contrasting Black Grain Fill
Gotoh Black Hardware
Seymour Duncan Quarter Pound Pickup Set
CTS Pots
Dunlop Straplocks
Here's one I built earlier….The end product will look similar to this as far as the body goes except without the strat pickup at the neck.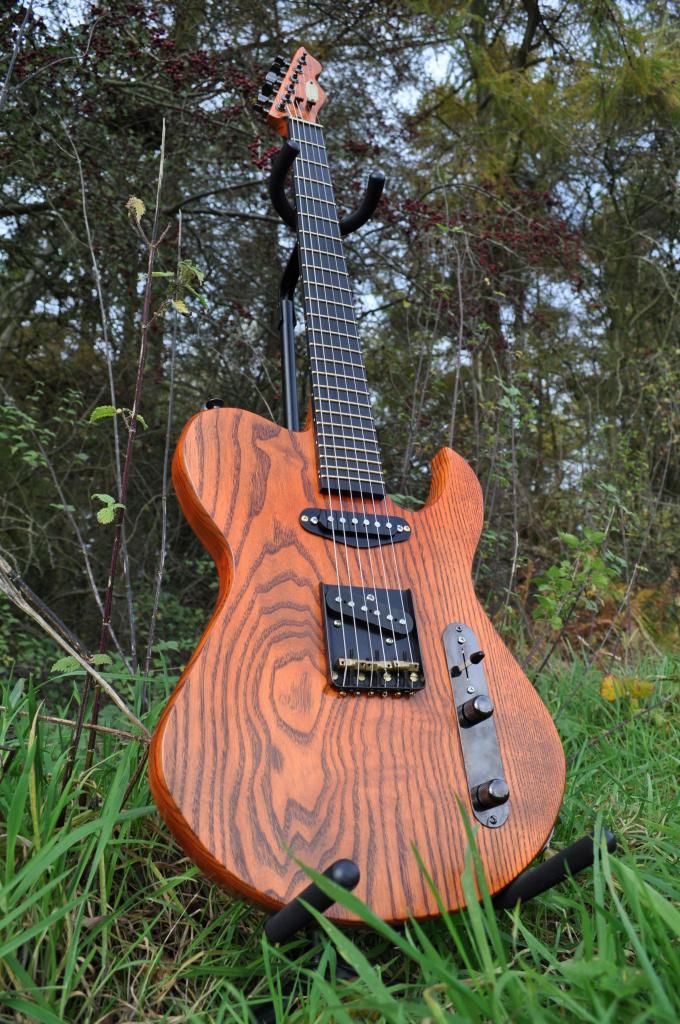 The starting point: the True Temperament neck.
A close up of the wiggly frets. Now let's get to work!
Here I have made a template from Ply to fit the neck nice and tightly. Those two tiny holes came with the neck and is where they attached a spray handle.
This is the body template…please ignore the hideous handwriting!
I forgot to get a picture of the body blank before cutting out, but here it is after the template has been used to cut out the body. As you can see it's a really beautiful piece of wood, this is 1 piece English Ash.
Now I use the template made earlier to cut the neck pocket, here's the result.
Test fitting.
Thanks for watching
Onto neck attachment! I don't particularly like neck plates so I usually use ferrules, here I have just drilled and recessed them with a Forstner bit.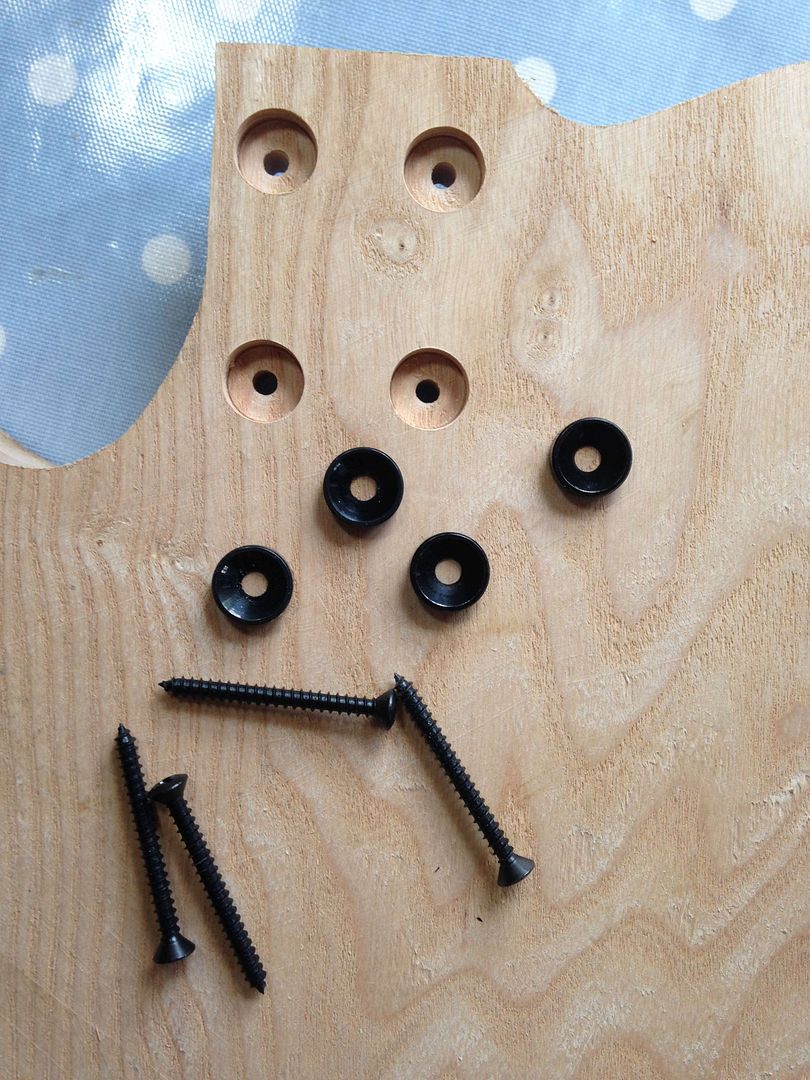 Next I mount the bridge in the appropriate location attaching it with two screws to be used later when routing for the bridge pickup.
Bridge pickup template attached using the screws mentioned above.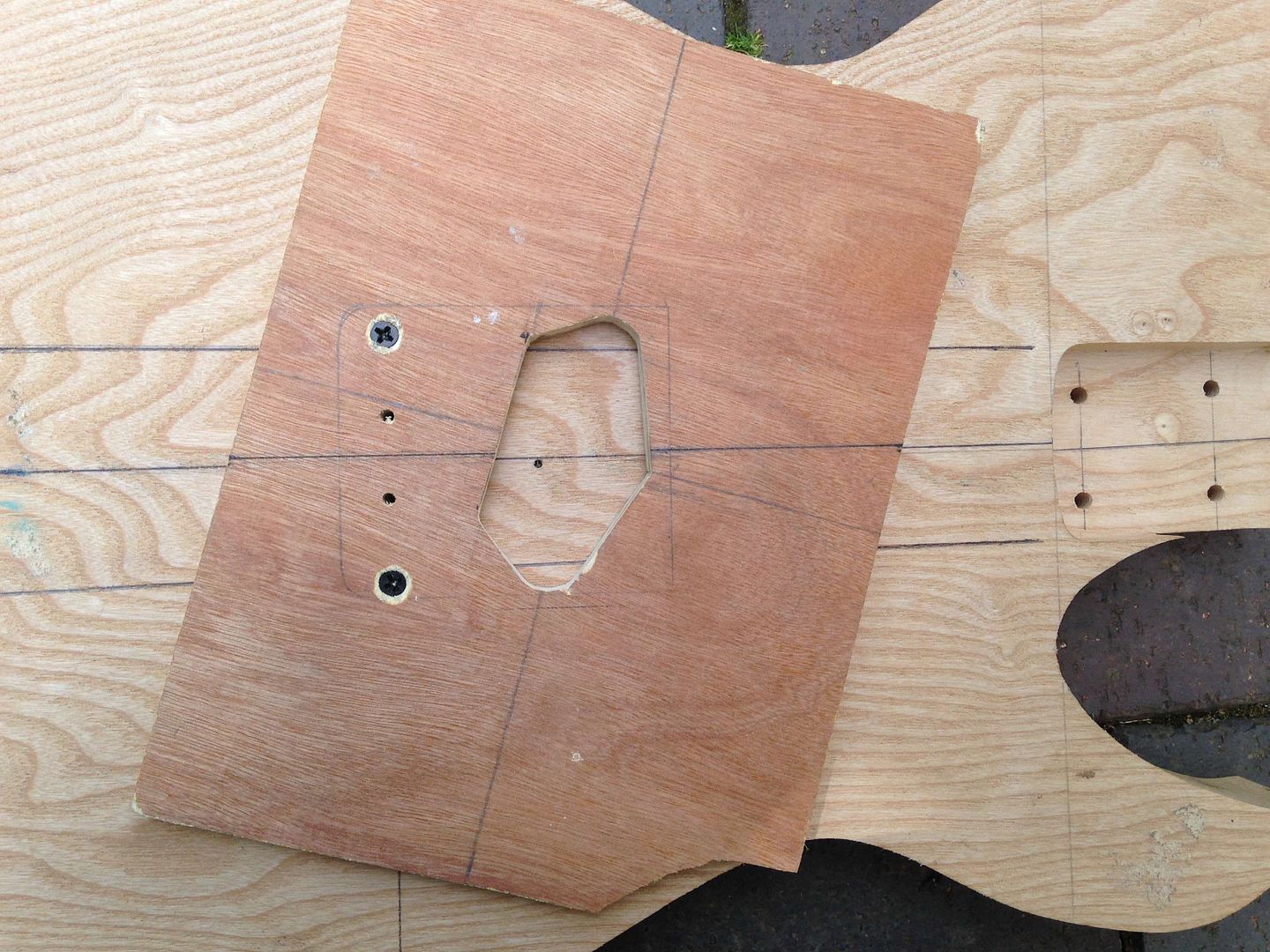 All routs completed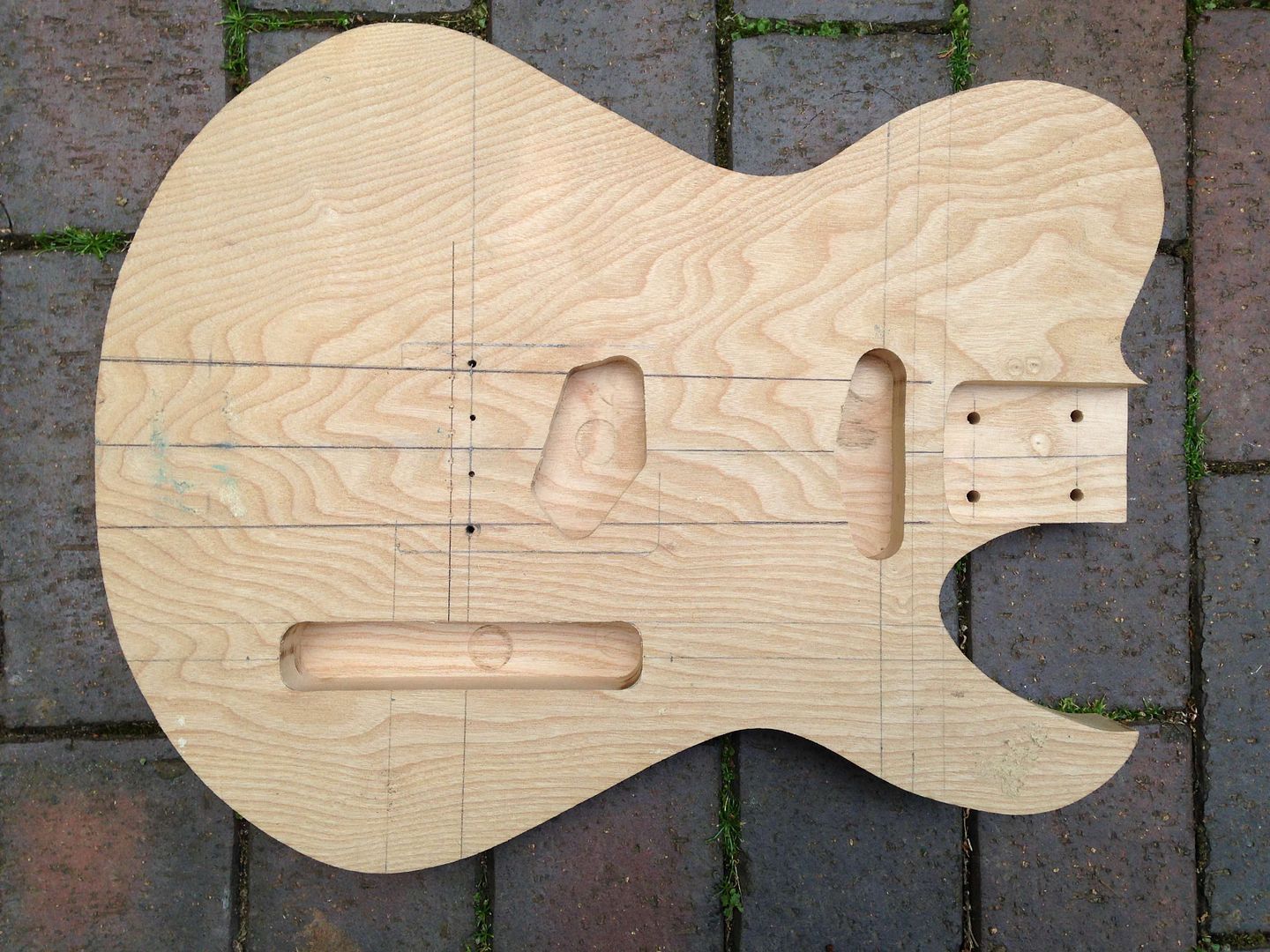 Just for fun a mockup with hardware!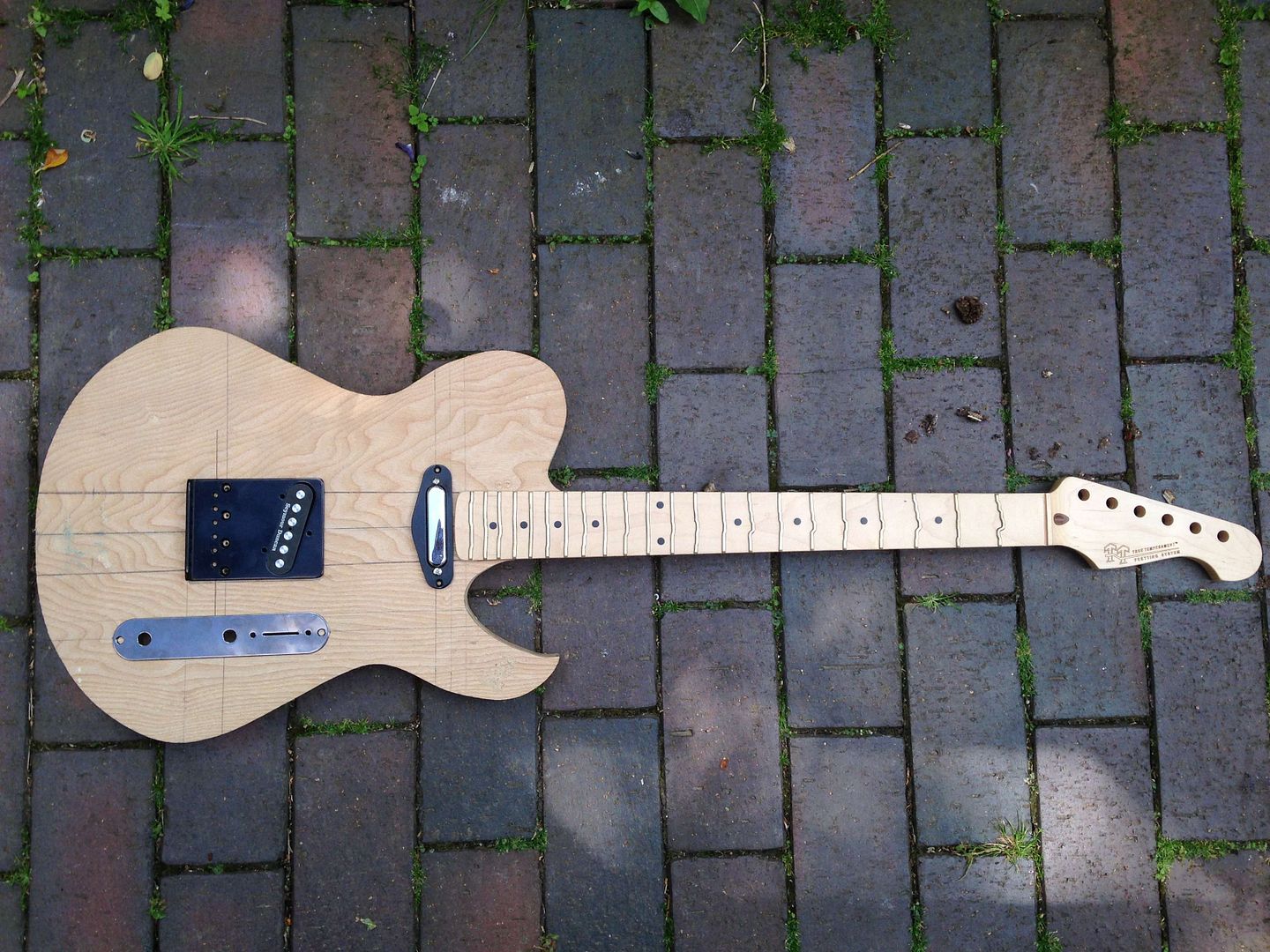 Here I have completed the sanding and cut the roundover, then attached a spray handle.
An edge shot, showing the roundover and the thickness of the body. I prefer my bodies a little thinner as you can see in this picture.
Then a sealer coat of Shellac is sprayed and the grain filler applied. This really brings out and highlights the grain creating a stunning finish once the colour coats have been sprayed.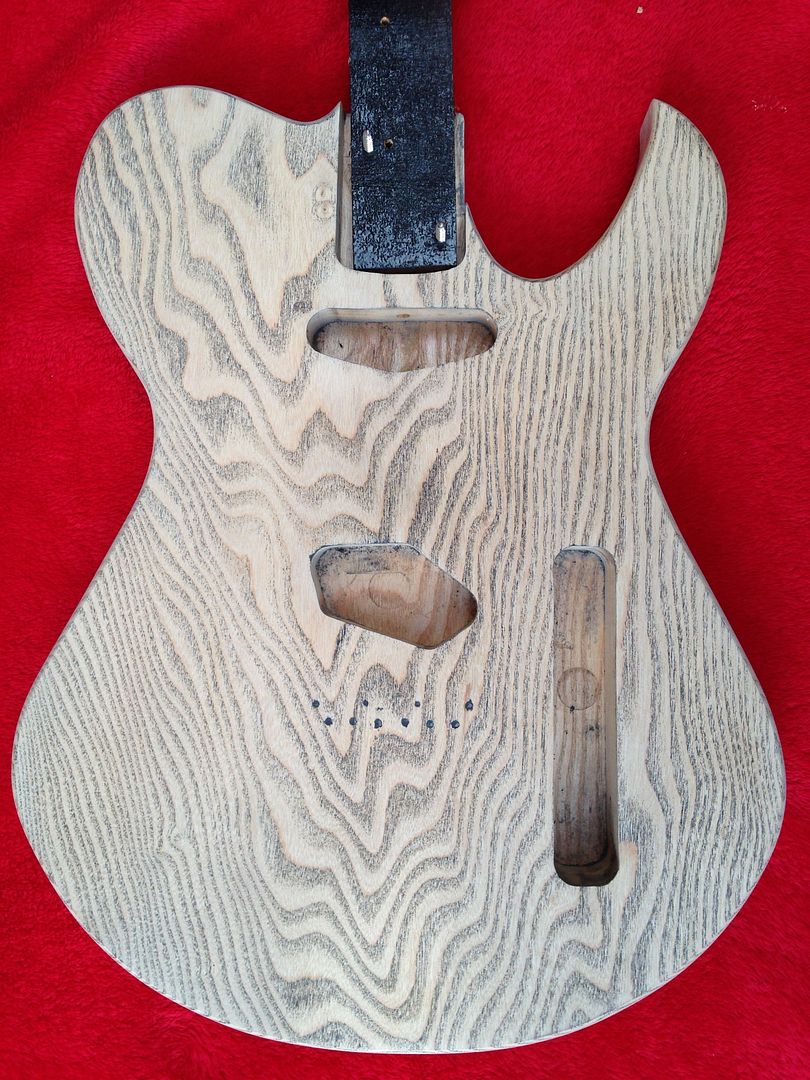 The back after grain filling.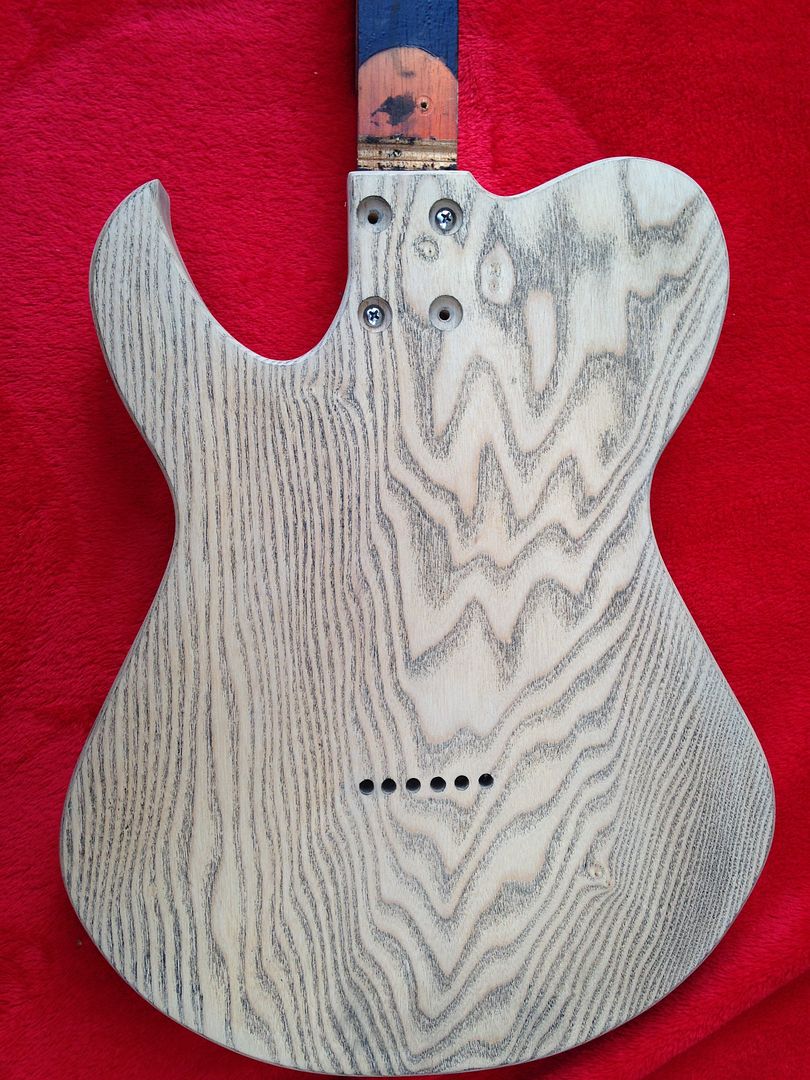 Thanks for looking
Great work so far. I'm curious as to how they level and crown the wiggly frets.
Thank you

. Leveling is performed as usual (with a flat beam or file) crowning would be done with a three corner file if you were doing it yourself. Though they have machines to do the crowning at TT.
As nice as it looked natural, it's not what we are going for on this build so now I'm spraying the colour coats. This picture really doesn't do the colour justice as it proved quite difficult to photograph! It's more of a blood red in person as you'll hopefully be able to see later.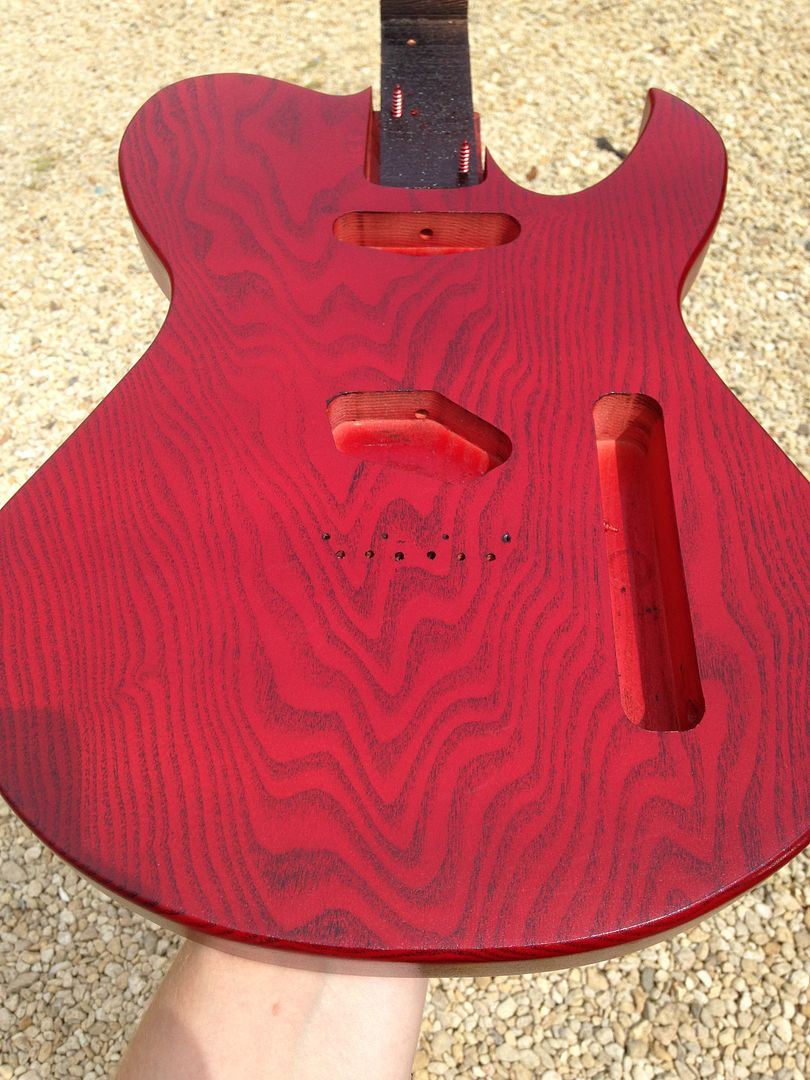 Here several coats of clear have been sprayed and our decal applied, usually the decal would be reserved for the headstock, but this one has the True Temperament logo up there. So I needed somewhere else to display it and think it fits nicely here, the contrast of the red and white looking reminiscent of a sports car!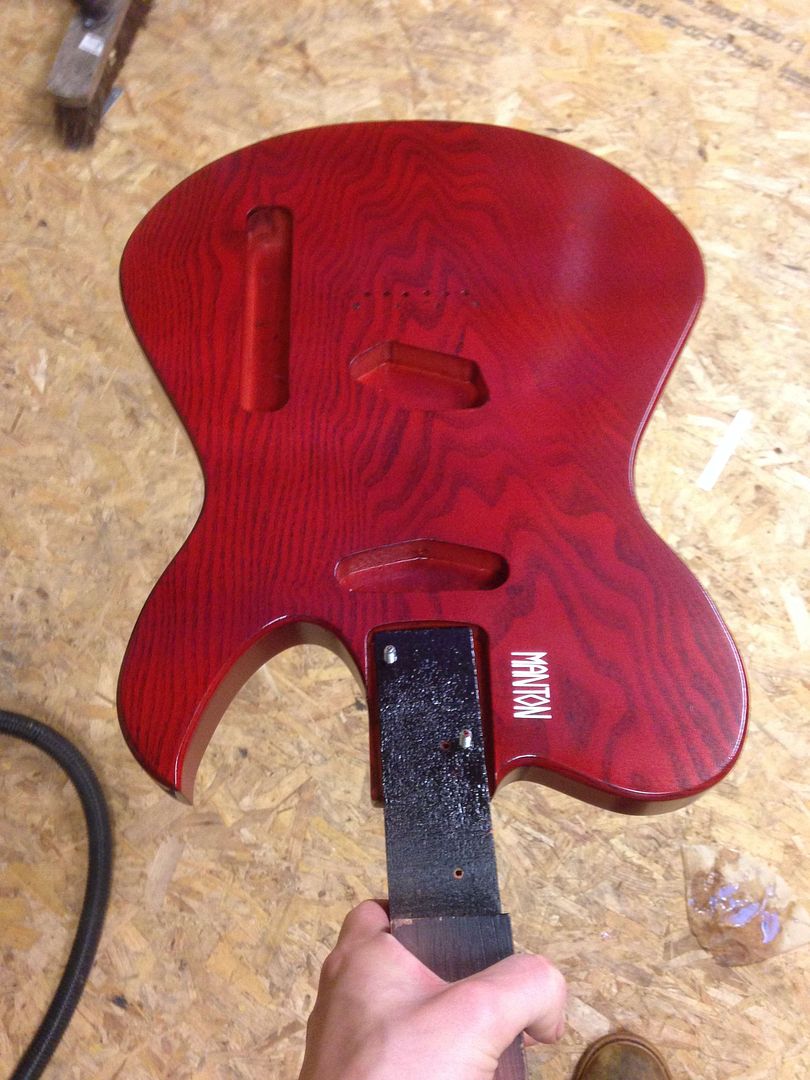 Now the guitar was given plenty of time to cure before wet sanding and buffing which has taken place here and we have a lovely gloss!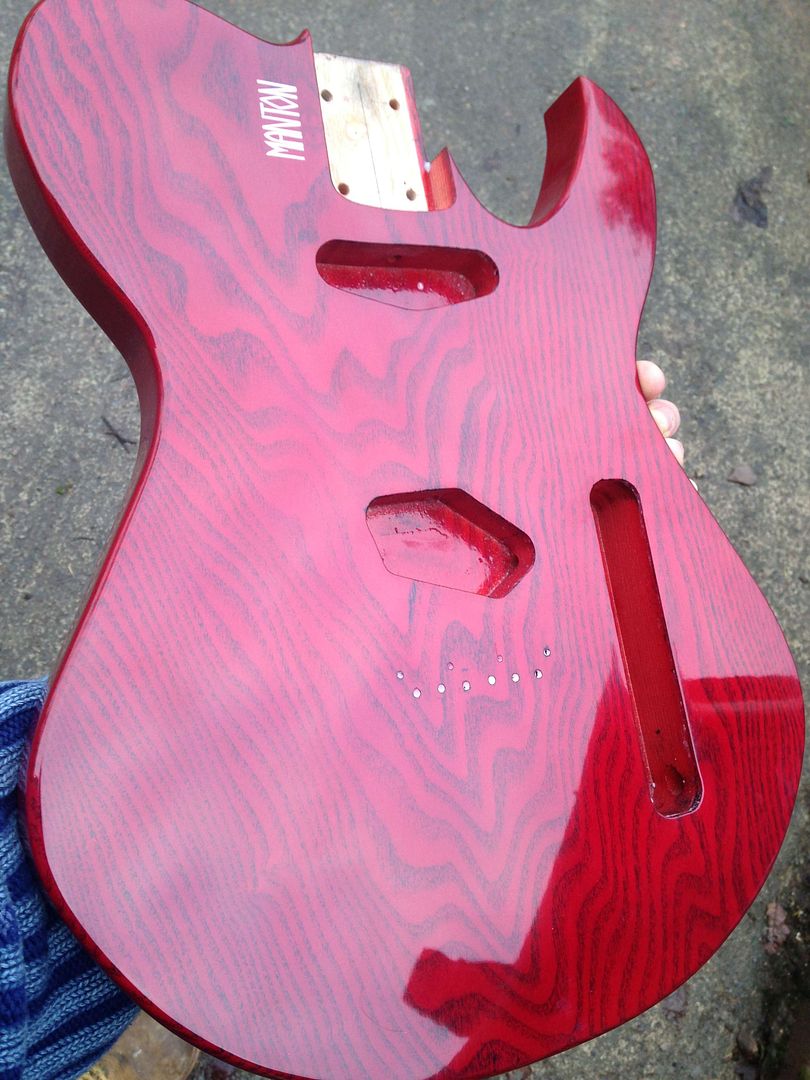 A shot of the back.
I'll get the finished pictures up shortly once I've taken some proper photos! Thanks for watching.
TT frets still make me feel slightly seasick, but that's gorgeous! Nice work as usual

Ha, think I've got used to them now, but know what you mean. Thanks for watching and commenting

.

Join date: Nov 2011
380

IQ
TT frets still make me feel slightly seasick

, but that's gorgeous! Nice work as usual
I always blink and rub my eyes when I see them.
But yea, superb finish.
I can't get past the neck, it just looks so wrong. I'm sure it plays great but damn it's ugly lol